The Right to Information Act, 2005 popularly known as RTI, is a revolutionary step to curb corruption and help common man fight for their rights through sword of information. It covers almost all govt departments.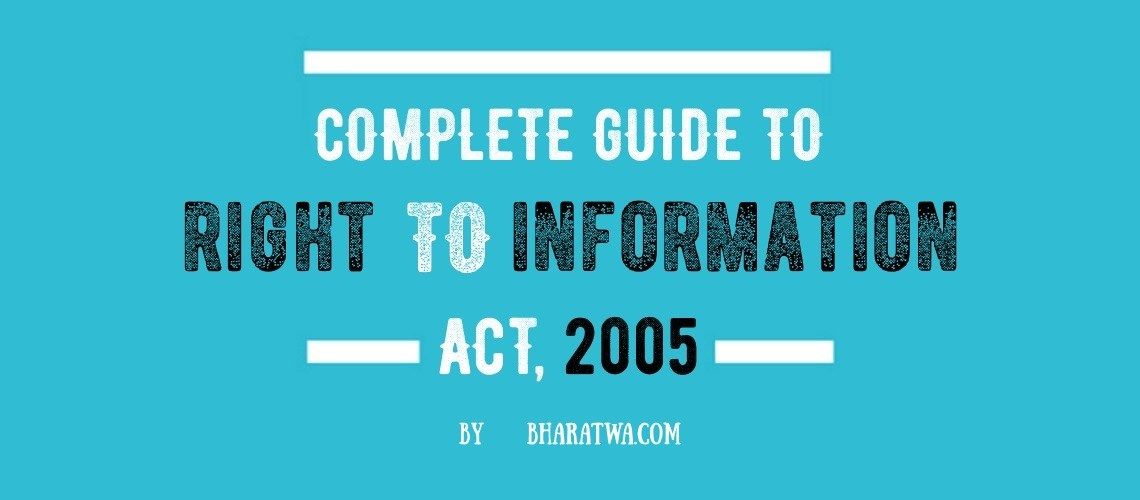 Here we are explaining important points related to RTI like- how and where to file RTI, RTI Governing bodies, RTI Fees, Formats of application and PIOs to be contacted etc.
The Objective Behind Enactment Of RTI Act
Right to Information Act (RTI), 2005 gives the power of knowledge in hands of Indian Citizens when utilized in a proper way as it allows people to request information from any public authority about their work, action or any other record.
Its main objective is to promote transparency and accountability in the working of every public authority. This is one of the strongest pieces of legislation at the disposal of the citizenry and therefore considered as the landmark legislation in the fight against corruption.
Right to Information Act (RTI)- A Powerful Tool Against Corruption
Every govt officer when takes office then swear that he will perform his duties without corruption, fear or favor, affection or ill-will and will uphold the sovereignty and integrity of India, but some don't follow this; not because most don't bear true faith and allegiance to the constitution of India as by law established or they are not honest, duly and faithful but because they are not motivated and guided to use their best of abilities.
Motivation cannot always be done by award and rewards, or recognizing employee's talent or through violent protests and heavy penalties but it can also be done by responsibility-encouraging works and RTI is one such tool which upholds govt employees responsible and gets a commitment to excellence thereby automatically distancing them from corruption.
Also Read:
1. GST- The best Tool to reduce Corruption, Increase Government Efficiency through Technology
2. Why India should be Renamed as Bharat
Important Benefits of RTI to Common Citizens
A common man is so much messed up in discharging duties, job, social networking, travel, building houses, car loans, health, queues for all type of services, etc. that it is really very hard to think about RTI or devote time for such practices.
But if you fathom little more then you will come to know that RTI is not about devoting time but rather it saves your time as well as energy; also it is not that difficult to apply we think but much easier. This could be the glimpse of hope when you are engaged in hurries and worries of the world which have been created by the negligence of a govt department.
It is highly likely that just initial RTI application would solve your problems like pending income tax return, passport-related delays, lack of cooperation in filing FIR or status of any complaint, etc.
Not only you can solve your own complaints but you could be a guiding torch to society around you by inquiring about Money spent on a govt project in a particular period, Social audit of government, way of implementation of govt project or how and in which area your MP/MLA spent the funds allocated to him, etc.
Departments Covered Under RTI Act
RTI Act covers whole India except Jammu and Kashmir. It covers all the constitutional authorities i.e. executive, judiciary, and legislature; in nutshell, we can say it covers all bodies which are owned, controlled or funded by the Indian Government.
Private institutions and NGO which receive more than 95% of their basic infrastructure funds from Indian Government falls within the Act's ambit directly. Other Private bodies don't come under the purview of RTI.
Type of information exempted, from the RTI Act
Classified information related to security, strategy, commercial confidence, trade secrets, intellectual property, scientific or economic interests of the state and foreign relations.
Information Forbidden to be disclosed by the court of law.
Personal information which lacks larger public interest.
The information which may pose danger to life or physical safety on any person.


Also Read:
1. How will GST Impact Government Decision Making, Functioning, Work Culture, and Environment?
2. The Smart States -Implementation of New Technologies
Political parties should or shouldn't be within the purview of the RTI Act is still a matter of debate. Department of Personnel and Training (DoPT) said in an affidavit to Supreme Court in August 2015 stating RTI Act never visualized to bring political parties under RTI and this step may adversely impact political functioning, previous government had failed to amend RTI act intended to exclude political parties from definition of public authority due to conclusion of Lok Sabha in 2014.
Who Governs the RTI?
The Right to Information (RTI) in India is controlled by two bodies which work independently:
Central Information Commission (CIC)- This works under honorable President of India and exercises its power through Chief Information Commissioner who is connected to Central departments and ministries. CIC has its own public information officers.
State Information Commission (SIC)- This includes State Public Information Officers who cover all state departments and ministries.


Where to Apply for RTI?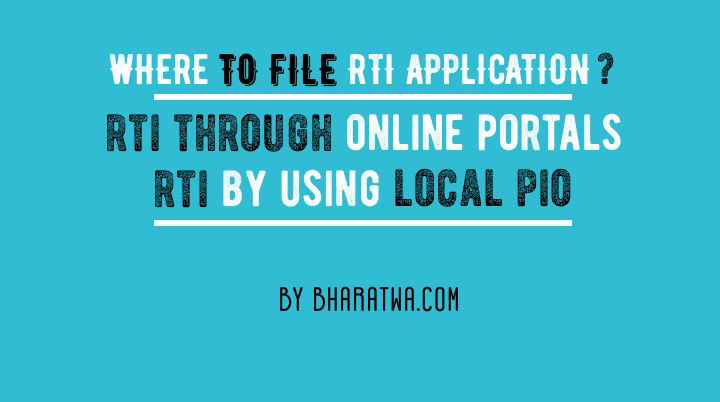 Once you have identified the department whom you are applying RTI to, you can put the plea at any of these three different places:
File RTI online through online web portals.
File RTI offline by visiting local PIOs (You can know your PIO in the same article below).
Write the application and send it to concerned PIO through Reg. post.


How To File RTI Application Online?
This service has not been commenced in all states yet and you can apply online at only following:
RTI Application Link
Center (File RTI here)
Maharashtra Government (File RTI here)
Bihar Government (File RTI here)
Odisha Government (File RTI here)
Karnataka Government (File RTI here) 
Kerala Government (File RTI here)


While applying online you need to register in online web portal by filling all the personal details, address, etc. and set up your username and password. Whole sign up process is as simple as signing up an Email Account and you can also make payment online through your debit card. You don't need to make a payment if you are "below the poverty line".
How To Apply for RTI Offline?
This can be done by following these basic steps:
First of all, identify the department you want the information from and confirm that does it comes under CIC or SIC. Find out the address (go to the last part of this article) of PIO office and department.
Write the application in Hindi or English and inquire about the information you are looking for. Some states have prescribed the format of application and you can follow that. 
The application can be handwritten or can be typed depending on your choice.
RTI Act provides facility to common citizen that he can ask even PIO to write an application for him if he is unable to do so.
Your Subject line should be "Seeking information under the RTI Act, 2005". The application has to be addressed to SPIO or CPIO with the name of the department you are seeking information from. 
Your draft should not be confusing and therefore ask specific, clear and complete questions. Also, don't write ten of questions in single RTI rather ask few and put remaining in different RTI.
Pay Rs 10 as fees to file the application (Rates may vary to some states which have been mentioned in separate para). Person filing plea has to make a payment of Rs 2 per page to obtain documents or extracts of documents.
Mention your name and address as well as other contact details like Email ID, the name of your town and Phone Numbers etc. Your application should be signed by you and need to be sent through registered post or speed post. 
However, It is not always required to send application through post only as APIOs have been appointed across many post offices who receive RTI applications and forward those to PIO or concerned appellate authorities. 
Don't miss to keep the photocopy of the application before you send it. You can seek for attested copies i.e. duly signed and stamped by PIO.
If you don't receive the reply within 30 days then this is considered as refusal from PIO to disclose the information, you need to file appeal addressed to 'The Appellate Authority' which higher to PIO. 
If again you don't receive the same in 30 days then you can make follow up directly from highest authority which is chief Information Commissioner.


What Are The Fees Of RTI Application?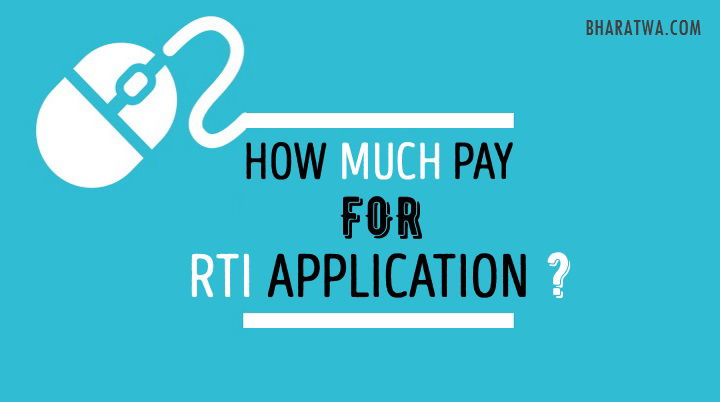 People applying for RTI (of the center as well as all states) except following are charged Rs 10/- as application fees:
Arunachal Pradesh - 50
Chandigarh - 50
Sikkim - 100
Gujarat - 100


Payment can be made through IPO, Cash, and DD. Among all payment methods, DD is accepted universally.
However, IPO method is most sophisticated to use. Indian Postal order (IPO) is a type of cheque issued by Post offices which is available in the form of 10, 20, 50 and 100 Rs. each and 10% service tax extra paid to the post offices i.e. by paying Rs 1/- over Rs 10/- you can effortlessly get postal orders.
Prescribed Format Of RTI Application
Only the following states have prescribed formats of RTI application which are also enclosed herewith:


You can use your own format of application if your query doesn't belong to any of the above states.
Know Your PIO And See Center And State Wise RTI Rules
Since the time RTI Act has been enacted, it has been implemented in all states in their own elegance and therefore there is no common platform or single address to file RTI to central Public Authority as well as state Public Authority. The following table includes the summarized rules of all states and link to RTI website of respective state (In the website of the respective state you can discover your PIO):


If you still, haven't come to know who is your PIO and to whom the application has to be addressed then do simple exercise, google the "RTI PDF of State Name Department Name" and you can find the respective PIO.
For example when I searched "SPIO Offices pdf of Delhi Jal Board" then I found the pdf of Delhi Govt First Appellate Authority, PIO and APIO in search. In case you are applying for central public authority then you will have to search CPIO in place of SPIO. For comprehensive knowledge, you can also read the Right to Information Act, 2005.