In past Rahul Gandhi has been slashed for everything: Senseless Logic, Losing Public Support, Defeat of Congress in Elections, 'Khoon Ki Dalali' remark related to the Indian Army, Sleeping Habit in Parliament, Poor Body Gesture, Abusive Language, Hindu Terrorism Remark, Poor parliamentary Track Record, etc.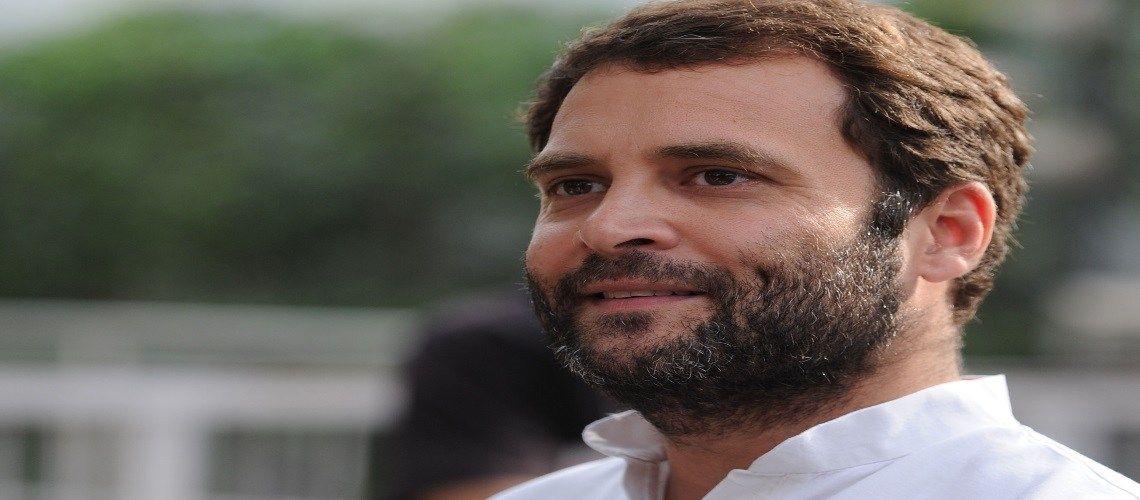 There are top ten reasons as for why Rahul Gandhi has chosen the wrong profession, but still, he is not disliked by all perhaps because there is some innocence reflecting from the face of this middle-aged handsome leader.
He owns property and business of multi crores and at present since his political inning is under crises, every day is losing grip, both outside and inside the party due to series of failures, he must think to retire from politics and transfer his powers to more capable person, this may end his all sorrows, that too forever.
Top Ten Reasons Why He Shouldn't be in Politics and Has Chosen Wrong Profession
Read More:
1. Indian National Congress turns 131 years; interesting facts one should know
2. Why Nehru Chose the Minority and Caste Based Politics
Rahul Gandhi is the Vice-President of the Indian National Congress (INC) party and the Chairperson of the Indian Youth Congress and the National Students Union of India.
He is known as sentimental politician who is fluent in English but weak in Hindi, who has furious emotions but no vision, who has the soft persona as always giving heart-warming gesture but lacks confidence, who is chairperson of Congress but has no control over its internal conflicts and who is most talked about politician, but not for his achievements but for his failures.
Though always maintained a pro-farmer and pro-minority stance, but is he a right person in the wrong field or wrong person at right field? Otherwise, there could not have been great resentment among public and so many jokes mimicking his name, which are flooded with social media, print media, multimedia and in general expression of common man.
His ancestors have enjoyed ascendancy and despite coming from such great family lineage i.e. Pandit Jawahar Lal Nehru, Indira Gandhi, Rajiv Gandhi and Sonia Gandhi he still could not hit the ball in the corner.
He hails so many advantages and handsome familiar face but Politics determine who has the power, not who has the truth or who is gullible and to remain in power you have to perform, may be people around have made you a 'Shahzada' but if you are not a sharp performer then same people may dethrone you and if they don't do so, Politics will spoil you as no science is immune to the infection of politics, tensions of politics and the corruption of power and there are following top ten logic justifying why he shouldn't be in Politics.
1. Rahul Gandhi Gives Senseless Logics Which Have Negative Public Influence
He shows his torn Kurta at Congress meeting and says:
My kurta pocket is torn, and that doesn't matter to me. But you will never see Modiji wearing torn clothes, despite the fact that he claims to represent the poor and plays politics with the poor.
You might have caught his intention, but don't he's playing to be poor in a senseless manner?
2. Rahul Gandhi's Thought Process Related to Indian Army is Under Suspicion
Rahul Gandhi had expressed apprehensions about Surgical Strike and viewed operation as a political fantasy and not real achievement of our brave soldiers:
Jo hamare jawan hain jinhone apna khoon diya hai, Jammu and Kashmir mein khoon diya hai, jinhone Hindustan ke liye surgical strikes kiye hain, unke khoon ke peeche aap chhupe hain. Unki aap dalali kar rahe ho.
This attracted great attention of foreign media and earned a bad image for the country, later complaint was also Filed Against Rahul Gandhi Over 'Khoon Ki Dalali' Remark.
3. Rahul Gandhi is against Long & boring speeches by MPs and Prefer Sleeping
Rahul Gandhi claims himself to be the voice of Dalits and Minority but sleeps in Lok Sabha during debate on Gujarat Dalit assault. Rahul has been caught sleeping on camera many times. But Hey Viewers! hold on, don't make fun of him as this is his greatest contribution to the nation.
4. Poor Body Gesture; Rahul Gandhi seems to be in Political Puzzle
Communication experts reveal that speech pattern of Rahul Gandhi is jerky, a bit absent-minded and when he speaks in public then it appears that Rahul is forced to do so; he shows fidgety behavior before the mike and jolting his tone illogically, nodding his head repeatedly, changing his facial expressions very fast, shifting weight from one leg to the other can show that he is restless, nervous, unsure, low on confidence and indicates vulnerability.
Since he remains thoroughly disturbed so there might be some reason behind this i.e. either he is not capable of handling the position he has been elevated to or mentally not focused completely.
5. Rahul Gandhi has failed to Attain Public Support
When Rahul Gandhi asked the great gathering of girls of Mount Carmel College in Banglore about the failure of Prime Minister Narendra Modi and BJP's Clean India campaign, he was booed by students and this was the great embarrassing moment for him.
Rahul was clearly stumped not just by their approval of Prime Minister Narendra Modi's Make in India programme and Clean India campaign but also the ferocity with which the students responded.
Congress has been continuously getting serious drubbing under the leadership of Rahul Gandhi, who is facing the rising tide of public dissatisfaction, he is losing in elections, see the recent Lok Sabha results: Indian National Congress suffered its worst ever performance under his command in elections and won only 44 seats compared to 206 seats won previously in the 2009 election.
He secured his seat at Amethi but with very tough competition and won with the margin of 107,000 votes from nearest rival BJP's Smriti Irani as compared to the previous margin of 370,000 votes.
Experts say that if Rahul Gandhi keeps heading Congress Party then he will see the extinction of Congress in his lifetime.
6. Rahul Gandhi Uses Derogatory Words Or Abusive Language Rather Than A Constructive Speech
Congress Party heir apparent Rahul Gandhi's abusive language has attracted great critics and this is because most of the time he is ill-prepared to handle questions, speeches or meetings and cannot foresee the outcome or response from commoners, and gives stress on criticism rather than talking in a constructive way, that is why he uses phrases like:
Arhar Modi, Modi Ji 'Fair and Lovely Yojna' about black money, Suit-Boot Sarkar-benefitting rich, Poverty is just a state of mind, China is a dragon. India is called an elephant, but we're not an elephant, we're a beehive, Congress is a funny party-disclosing truth of congress, Punjab is full of drug problem-attracting public attention towards his commitment to Punjab, We will stop 99% of the terror attacks but 1% of attacks might get through-trying to show uniqueness.

7. Rahul Gandhi lacks Patriotism and Trust in Indigenous Values
Rahul Gandhi equated Congress symbol with Hindu God gesture, this is how he knows basic tenets of Hinduism. He was not happy when the international day for yoga was declared unanimously by the United Nations General Assembly (UNGA) on 11 December 2014 for every 21st June.
Once Rahul Gandhi also told U.S interlocutors that Hindu extremists are a bigger threat to India:
The bigger threat (to India) may be the growth of radicalized Hindu groups, which create religious tensions and political confrontations with the Muslim community.
His above statement has sparked a political firestorm and hurt sentiments of the majority of Indians, meanwhile, it also throws light as how Rahul Gandhi was defaming Hinduism without any evidence or record of religious violence.
Rahul Gandhi studied in the U.S. with a pseudonym of Raul Vinci, which is also one more example as how he distances himself from original social and national identity whom he is by birth connected to.
Also Read:
1. Who is More dictatorial, Narendra Modi, Arvind Kejriwal or Rahul Gandhi?
2. This is how RSS has been Misrepresented for political scores
8. Rahul Gandhi is searched on Search Engines by the name "Pappu. Who is Pappu?" etc
According to close sources, he gets his speeches written in Greek as he cannot pronounce some Hindi words correctly otherwise. When he speaks then it appears that he is thinking and daydreaming all the time, because of his such funny lectures many people call him Pappu:
The women standing here are the source of Milk for Amul and Gujarat.
Politics is everywhere, it's in your shirt, it is in your pants!
This morning I got up at night!
India is a river and is energy
Spoke about escape velocity of Jupiter with a group of dalits

9. His parliamentary Track Record Remains Poor
Rahul Gandhi lags at the bottom of India's first MP rankings, he has been stacked at the bottom with an overall rank of 355 by India Today Group ranking of India's best and worst MPs. In his first term, Rahul had an average of 63% attendance, participated in five debates and asked three questions in Parliament.
In his second stint, his attendance was 43%, participated in one debate and posed no questions until Dec 2013. During present tenure also he could not imprint any significant influence on the opposition and his overall graph is just decreasing day by day.
10. Rahul Gandhi Can have Very Good Business Life
Rahul Gandhi is a major shareholder in many organizations and he is worth Rs 10 crore, inherits a farmhouse in Delhi. In his affidavit filed before the returning officer at Amethi, he has declared movable assets worth Rs 8,07,58,265 and immovable assets worth Rs 1,32,48,284. Income shown for the Financial Year 2012-13 is Rs 92,46,973.
He is also believed to have Shops built-up areas of 514.44 square feet and 996.98 square feet, 6 acres, 3 kanals and 13 marlas of land in Mauja-Hasanpur village in Hodal Tehsil of Faridabad and other properties which he will inherit from Sonia Gandhi. Exact worth may be unknown but one thing is certain that he can lead a very good business and professional life.
It is not about renouncing politics but welfare of nation; with quit, he will become a great instrument in nation building and mark end to Mai-Baap culture, Dynasty politics, Corruption, Caste politics etc. This may or may not bring any major reform in Congress itself but will definitely transform his personal life to new heights. He will be left free to do anything, no one would ask about her girlfriend's identity or drug case filed on him in america or about his changing names during education or sleeping during work etc. This will offload a great burden from his head and he can live a happy, comfortable and prosperous life, according to his own principles.