Whensoever we talk about India in the present scenario then we are bound to talk about Nehru, some consider Nehru a great Enigma who has given Stability, Democracy, Secularism, Scientific temper, IIT, IIM, and Nuclear Program;
On the other hand some also considers him as father of dynasty rule, gut-wrenching poverty, red-tapism, corruption, populism, Kashmir Issue, empowerment of Sheikh Abdullah and greatest curse of Minority appeasement and caste-based politics.
A section of people consider Nehru as the driving force behind cheap politics and we shall discuss why.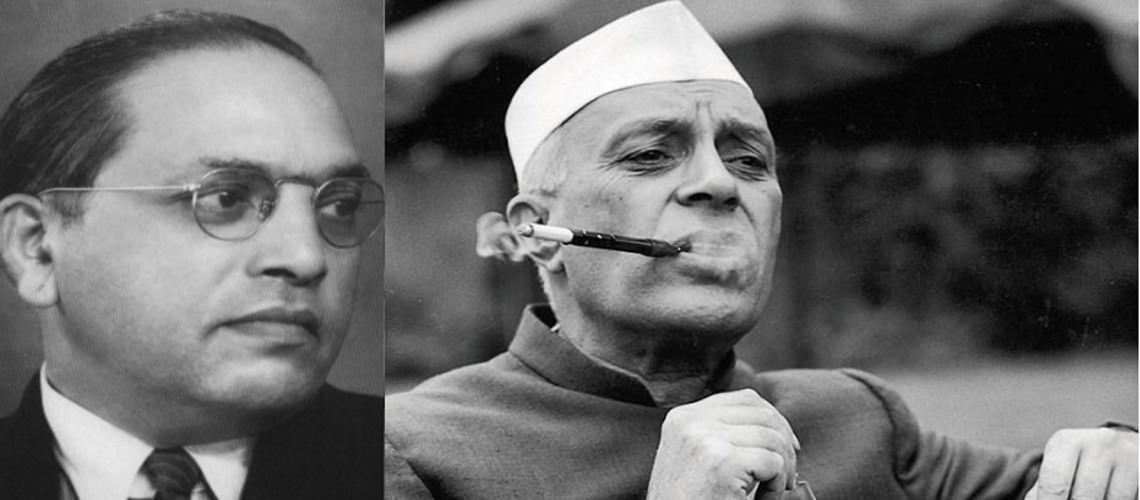 Was Ambedkar In Favor Of Nehru
Enemies often share more than friends, and may even enjoy a closer relationship when they have some common interests, so was the case with Nehru and Ambedkar. Though there was no clear strife between Nehru and Ambedkar their disagreements have been revealed at many points.
After Independence Bhimrao Ramji Ambedkar or Baba Saheb was 1st Minister of Law and Justice in Indian history, but he was not the Choice of Pandit Jawahar Lal Nehru but of Gandhiji, and that too, on the recommendation of late Jagjivan Ram, another renowned Dalit leader of India.
Indeed Ambedkar wanted to improve the overall status of Dalits and Minorities but unlike Nehru was never in the favor of doing politics on this.
This is How Nehru was Pessimistic about Keeping Kashmir As Indian State
Unlike Sardar Vallabhbhai Patel Nehru was never in the favor of considering Kashmir as an integral part of India and had stated:
It is of the most vital importance that Kashmir should remain within the Indian Union... But however much we may want this, it cannot be done ultimately except through the goodwill of the mass of the population. Even if military forces held Kashmir for a while, a later consequence might be a strong reaction against this.
Above is one of the clear glimpses we could get of his bend towards anti-nationalism and Muslim politics.
Distancing From Majority Was In Genes Of Nehru
There is controversy about who was the grandfather of Jawaharlal Nehru, some critics argue that he was Ghiyasuddin Ghazi a Muslim, however, other suggest that he was Gangadhar Nehru, who was Kotwal in the court of Mughal emperor Bahadur Shah II.
In both cases, he was highly influenced by Islam and was not very optimistic about other religions. Nehru got this in inheritance and could not take hard decisive decisions in the favor of nation (Like not allowing the Muslims to Migrate to Pakistan during partition), rather compromised wheresoever he felt useful towards fulfilling his personal fantasies.
Carrying Legacy Of Fake-Secularism As A Son Of Motilal Nehru
His father Motilal Nehru twice served as President of the Congress Party who once chaired the famous Nehru Commission in 1928, a counter to the all-British Simon Commission and broadcasting the message of Britishers to envision a dominion status for India within the Empire and not the full independence.
He was not loyal to Congress Party and joined the Swaraj Party on the name of secularism, which sought to enter the British-sponsored councils. This also reveals his proximity with Britishers and his double standards in Indian Independence movement and therefore Nehru's following his footprints was not astonishing.
Read More
1. Indian National Congress turns 131 years; interesting facts one should know
2. Nathuram Godse: Reasons behind Mahatma Gandhi's assassination and links to RSS
Insecurity In Congress At Beginning Aand Lack Of Public Support For Nehru
The Congress Committee overwhelmingly wanted Sardar Vallabhbhai Patel as the Congress President and the first PM, as he was undoubtedly great leader, had greater public support and was more competent than Nehru in all respects.
Nehru was a soft speaking, Chamcha of the Britishers and an Armchair freedom fighter. Patel stepped down in favor of Nehru at the request of Gandhi despite his name was proposed by 13 states representatives out of 16.
Whole episode created a psychological fear in Nehru's mind about majority and encouraged to play minority politics and follow the divide and rule policy in India.
Nehru's Growing Comfort with Sheikh Abdullah
Like Jay and Veeru of Sholay, both Nehru and Abdullah are regarded as eminent friends of independent India, difference is that Jai and Veeru were fighting for Basanti whereas this Political duo fought for themselves and ruined country, contributed to Article 370 and created Political Unrest which has not settled so far and even giving heat till date.
You might've seen how violence in Kashmir was triggered after the encounter of terrorist Hizbul chief Burhan Wani and rattled the whole nation. Scholars suggest that Nehru was largely misguided by Sheikh Abdullah.
Like a good actor, Nehru also showed that he was against Abdullah but he never cut his teeth and took concrete action against him and this is the reason his descendants (Farooq Abdullah and Omar Abdullah) are still equally powerful in Kashmiris like the Sheikh Abdullah once was. If Nehru was honest then he could have easily utilized Sheikh Abdullah's persona to finish the Kashmir problem for once and for all.
Discouraging Indigenous Values To Save Caste Based Grounds By Nehru
Post-independence, Dr. Ambedkar (1st Minister of Law and Justice) and Professor Naziruddin Ahmed sponsored an amendment making Sanskrit as the official language of the Indian Union. Nehru took it very rudely and the amendment was defeated in the Constituent Assembly.
He was afraid that if different sections of Hindus will unite then those will unmask his true political agenda, he chose to stick to divide and rule policy i.e. more the society will be divided more it will be away from their voice for rights and more easily he would rule them, like his role model Britishers did for almost 200 years.
Read More 
1. Owing to His Horrendous Mistakes, Was Jawaharlal Nehru Unfit for Bharat Ratna?
2. RSS- Historical Journey after foundation and Brilliant achievements
Was Nehru Frightened About Neighborhood And Lacked Guts To Solve International Problems
According to some Scholars Nehru was a boy of Gandhi, today we know him only because of Gandhi, he was positioned as PM by Gandhi and was dependent on him for all decisions, therefore, part of his brain which commands and takes decision remained largely underdeveloped and once the Gandhiji was gone he was in turmoil of his own fears.
His fear from neighboring Pakistan compelled to do wrong treaties outside and minority politics inside, his fear from in-house members and public motivated him pursuing caste-based politics, his fear from China allowed him to reject India's Permanent Membership In UN in 1953. It was because of his psychological fear he went on doing blunders like Liaquat Nehru Pact, Indus Water Treaty,
Helping China to take control of Tibet by sending forces in the Korean war, Refusal for Nuclear tests, Non-Alignment Movement which led India towards away from United States, Population Explosion and support of Indira Gandhi above Morarji Desai, etc.