Bollywood is not only about the glow and glitters all over which it sounds to be at first glance, but also possesses gloom as its larger constituent, It's one segment that has enjoyed the cushiest job in India – money, popularity, and glamour all rolled into one giant goody bag?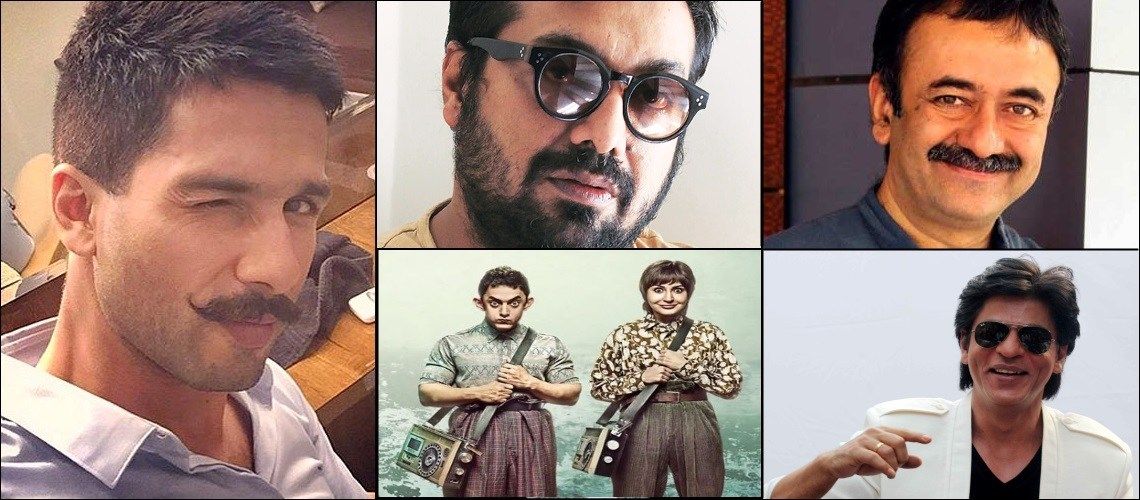 And if you uncover it deeply then you will find how this part of Bollywood probably entered the ranks of India's most hazardous professions: may it be related to fictionalizing history, playing with sentiments of the majority, Rubbishing Religion, Promoting anti-national spirit through Award Wapsi and Intolerance Drive and so on.
Not only it is checking the tolerance limits of Public but along with paid media they are provoking them and fueling their sentiments by imposing biased ideology, adding heinous flavor in the entertainment business, they are really really hurting or hating religions in the name of artistic expression.
Bollywood - World's Greatest Film Industry
It is beyond any doubt that Bollywood has produced great film stars and actors who have managed to do exactly what the mass-market audience wants, have great international achievements and reach.
I am also the admirer and fan of such noticeable superstars like Amitabh Bachchan, Dilip Kumar, Manoj Kumar, Rajesh Khanna, Raj Kapoor, Irrfan Khan, Hrithik Roshan, Aamir Khan, Rajinikanth, and Akshay Kumar, however also disagree with some of their Public views.
Our Mayanagri is one of the most prolific film production center known all over the world, it is no less than Hollywood and film industries of China, USA, UK, France, Germany, and Australia. Every year India produces approx 1255 films which are highest in the world, among these most common are in Tamil (262) and Telugu (256) than in Hindi (221).
Part Of Bollywood (Film-Mafia)- Defaming Indigenous Values
Over past few years, does Bollywood depicting India and it's valued in the wrong picture? This question has gained more prominence especially because we have a series of conflicts with different headlines:
Promoting Pakistani Film Stars, Intolerance debate, Anti-Hindu Portraying in OMG-Oh My God!, Mickey Virus, Bhool Bhulaiyya, Haider, PK, etc.
Indeed Showcasing Hindu Traditions and Rituals in comic tone has become a tradition, meanwhile, Bollywood is mute or speechless while speaking against Islam or any other religion. Undoubtedly Bharatwa is against the refusal of any religion and its values even if you are a specialist unlike Film-Mafia of Bollywood.
Also Read:
1. Baahubali 2 vs Dangal Blockbusters : Baahubali Finally beats Aamir Khan's film
2. Aamir Khan – Number 1 Actor or Emotional Businessmen?
Eat From India And Abuse For India - Aamir Khan's Tag-line
Rajkumar Hirani is a film director and film editor of Hindi films, including Munna Bhai M.B.B.S, Lage Raho Munnabhai, 3 Idiots and is also the mastermind of Aamir Khan's latest film PK.
The entire movie is extremely entertaining, but see the other side that it is filled with poison against Hinduism as it has the scene in which a man dressed up as Lord Shiva Gets scared from Aamir Khan and runs in public.
But, did you see anything against Islam or any other religion? No, Not at All. You would surprise to know that it's hypocrite film director has won 11 Filmfare Awards, this also gives the glimpse of how Bollywood reacts to such shameless directors.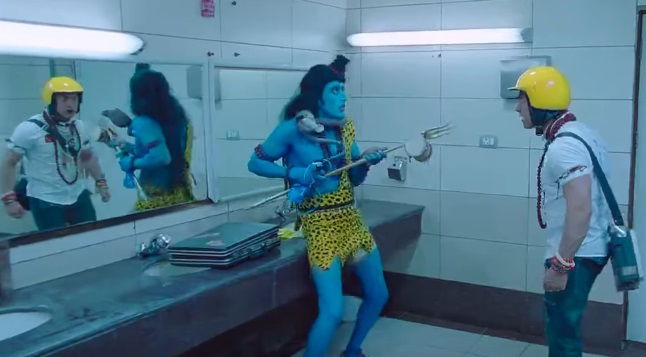 Aamir Khan Mocking Hindu God in Film PK
Aamir Khan comes from the sickular-liberal gang who had signed the petition to govt of US not to issue the visa to Mr. Modi who was politically demonized for Gujarat riots and he was first to feel the heat of intolerance falsely spread by the award returning anti-Modi brigade.
His statements reveal that he wants to leave India forever but meantime he also wants to meet his excessive desire of gathering too much name and fame from India, everyone knows he will never leave, as no country on this planet can house such two-faced old age religious mastermind who will go on producing series of hate films.
Aamir Khan is an eminent film actor and boss of acting but not a religious scholar so how could he and his fellow director comment about something which consumes whole life to have profound clarity. This is the brazen statement of Aamir Khan given on ABP Platform:
I do feel there is a sense of insecurity. When I sit at home and talk to Kiran. (Wife) Kiran and I have lived all our lives in India. For the first time, she said, should we move out of India? That's a disastrous and big statement for Kiran to make to me. She fears for her child. She fears about what the atmosphere around us will be. She feels scared to open the newspapers every day. That does indicate that there is a sense of growing disquiet… growing sense of despondency.

Award Wapsi Gang of Film-Mafia in Nexus with News Traders, However Missing Public Support
Two dozen stalwarts of India's film industry had announced that they would give up prestigious national awards and most of them were pygmies who had got awards on having stronger ties with previous governments and not on their own merits. Major stars of this gang were Filmmaker Kirti Nakhwa, Harshavardhan Kulkarni, Nishtha Jain, Dibakar Banerjee, Anand Patwardhan and Paresh Kamdar etc.
This act was a great blow to the sentiments of common man who never thought that such anti-national voice would come up from such a prestigious section whom they have given lofty space in innocent hearts, it was also regrettable because this was glorified by a section from Indian Media and their News Traders (who sell and buy news against public interests). The Veteran Actor Anupam Kher slammed selfish Filmmakers as:
Award Wapsi Gang has not insulted the Govt but The Jury, The Chairman of the Jury and the audience who watched their films.
Chetan Bhagat Slammed 'privileged class' in his own artistic style:
If Modi and Amit Shah had attended Doon school, spoke impeccable English and were spotted with their English girlfriends, they would not have been attacked so much.
Now, Question of millions is how do historians who have started the intolerance debate really contribute to society? Literally, they don't and Not at all. This is the reason that such protests got great media coverage but did not get the even handful of public support.
Great Irony of Fictionalizing Indian History
Common man is appalled at what has been happening again and again, there have been many instances of turmoil, however film fraternity knows that people forget soon and there is no collective voice against Film-Mafia, therefore Film-Mafia go on distorting the history and their endeavor is and has most of the time been to share with the world stories to get TRP or publicity and not presenting the clean an actual picture of our great nation:
Controversial Twist Made In Indian Movies
Movie Name - Ashoka
Star-Shah Rukh Khan,
Director- Santosh Sivan
Controversy- Whole Pawan/ Kaurwaki episode is fantasy and King Ashoka has been weekly portrayed unlike the wrong person he actually was.


Movie Name - Mohenjo Daro
Star- Hrithik Roshan
Director- Ashutosh Gowarikar
Controversy- There was nothing about the Indus Valley Civilisation in popular culture other than what was found during the excavations but film has shown everything, in fact, this is the live example of historical inaccuracies 


Movie Name - Jodhaa Akbar
Star- Hrithik Roshan, Aishwarya Rai Bachchan
Directed- Ashutosh Gowariker
Controversy- The portrayal of ethnic Rajput people in the movie has been criticised by Rajput community as misleading, politically motivated historical revisionism that minimized Rajput history


Movie Name - Mughal-E-Azam
Star- Prithviraj Kapoor, Madhubala, Dilip Kumar
Directed- K. Asif
Controversy- Historians argue that character of Anarkali is fake and Prince Salim, in fact, was a brutal drunk, he started consuming alcohol and opium from the age of 18 and who would often beat people to death


Movie Name - Mangal Pandey The Rising
Star- Aamir Khan
Directed- Ketan Mehta
Controversy- Both BJP and Samajwadi Party had demanded ban of the controversial film because of "inaccurate portrayal" of Mangal Pandey who was shown of visiting the house of a prostitute


Movie Name - Padmavati
Star- Deepika Padukone, Shahid Kapoor, Ranveer Singh
Directed- Sanjay Leela Bhansali
Controversy- Padmavati destroyed herself but did not surrender, but film has been reported linking her in wrong sense with historical demon Alauddin Khilji - however, facts can be verified after its release only


Movie Name - Dangal
Star- Aamir Khan
Directed- Nitesh Tiwari
Controversy- Despite being eminently entertaining, this film falsify the tradition of Indian wrestlers who used to bow down to Hanumaan during practice and who never eat non-veg


However, there have been some inspirational movies also which carries great public motivation and we recommend you to watch over: Mary Kom, Lagaan: Once Upon a Time in India, Bajirao Mastani, Bhaag Milkha Bhaag, Nobody Killed Jessica, Chak De India, Paan Singh Tomar, The Attacks of 26/11 and The Legend of Bhagat Singh.
If Indian People are Choosing Entertainment over Patriotism and Supporting Film-Mafia
Percentage of Muslims in many European countries are comparable to that of India, however, did you see people becoming national icons in those countries the way it happens in ours?
Are there equivalents of French AR Rahman, Belgian Shah Rukh Khan, German Aamir Khan or British Abdul Kalam? - all are national heroes in India. Although the majority of the population is Hindu, as a minority you can climb to any position in India and you can find - Army General, President, Prime Minister, Chief Justice and so on and we have had all these in the past few decades.
Did the film-mafia and its front-runner Aamir Khan has ever noticed this tolerance limit and support of the public. 
Till now, the fight between peaceful moral brigade and Film-Mafia of Bollywood has been one-sided as peaceful moral brigade is not so violent and united, Film-Mafia assert and public gets hurt but makeup in their own ways and take a vow of silence and also they enjoy the films for entertainment and appreciate if some positivism movie does have.
Film-Mafia should not consider this as the weak point of Indian Public, People watch movies of over-aged heroes like Aamir Khan not because they are obsessed with the hunger of entertainment but only because they are the adherents of Mahatma Gandhi's message of nonviolence and ancient message of Vasudhaiva Kutumbakam.
They also value similar views of Martin Luther King, Jr:
History will have to record that the greatest tragedy of this period of social transition was not the strident clamor of the bad people, but the appalling silence of the good people
Along with above point, Film-Mafia should not forget that A tolerant society is not one where people are forced and bound to respect blindly, but come to respect as a natural consequence of rational debate and when the limit of rationality is crossed then ignition could become a flame which can burn negativity into ashes.
Also Read:
1. 15 Pakistani Movies That Will Make you Forget Bollywood
2. 3 Steps To Start Logistic's Business in India!
Counter-Revolt As A Consequence of Provocations By Film-Mafia is Largely Possible
If the self-appointed guardians of our morality and so-called film stars, directors and producers fail to see beyond their prejudices and go on provoking masses, eroding values, brainwashing public then mass surge against such Film-Mafia can come up.
At the surface it may appear-public is promoting their ideology but indeed such harmonious community is not demonstrating their disagreement.
Film-Mafia is creating hardliners by adding daily fuel to innocent sentiments which is so unfortunate and the whole Bollywood must condemn this.
Common man is listening, getting distressed but meanwhile consoling themselves as- "Things might get better, let's wait or see on good and ignore the bad or let them waste their energy in bullshit or as and when the independent voice will come-we support" and so on….
Their differences have not yet transformed into big protests and is yet to get the shape and momentum but urging giant to rise from its Sukhasana (comfortable posture) could be a grave error for one and all and Film-Mafia should realize this before it becomes too late.