While examining dictatorial qualities then it is obvious to consider three political superstars Narendra Modi, Rahul Gandhi, and Arvind Kejriwal who differ in their ideologies but have assumed central figures in present Indian politics.
These veteran politicians may face electoral defeats or could comfortably lead decimation of their opponents but they are the political fountains & source of direction, of Indian Political affairs.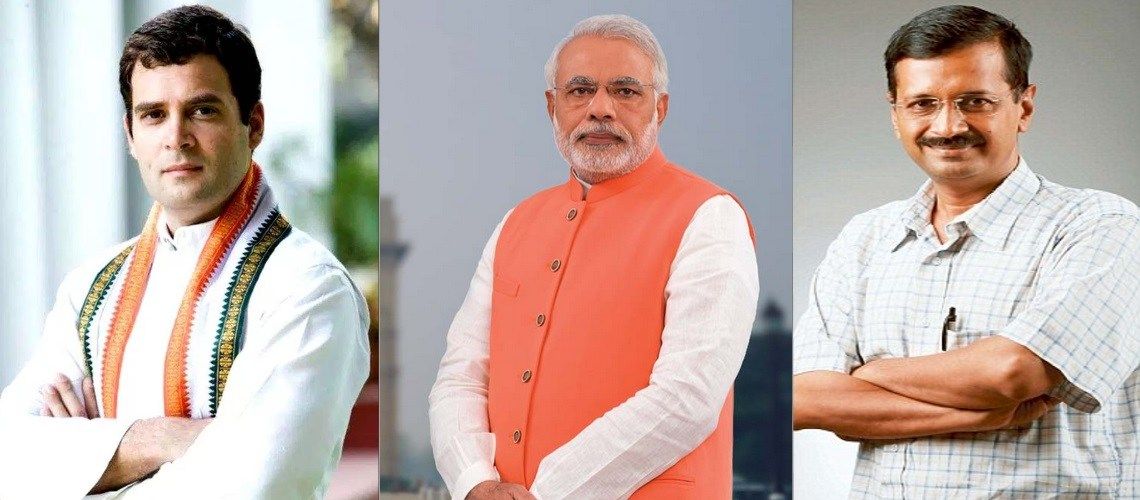 If Politics Draws A Person Towards Dictatorship
Political science is well expressed through this old saying, "Power tends to corrupt; absolute power corrupts absolutely".
We have recently spotted this in the case of Sasikala Natrajan who made millions or billions worth assets over the last two decades, without any job and just by serving corrupt politicians, she was a housemaid who used to take care of shopping, locking doors of deceased CM and Jayalalithaa was generous to consider her as a friend and soul sister.
But, she attained enormous over-confidence from her corrupt nexus & connections and even claimed for the post of CM of Tamil Nadu which she couldn't. This is one example of how people acquire dictatorial power, and when they gain power they exploit and misuse it, like one's birthright.
Who Is The Top Dictator Among Narendra Modi, Rahul Gandhi and Arvind Kejriwal
Narendra Modi, Arvind Kejriwal, and Rahul Gandhi may be different from Sashikala but cannot claim to be lotuses who blossom in the mud.
Have they gathered power through their own caliber or have been stamped to be excellent through a political father? Do they have some merits or are sustaining dictatorial qualities only? Everyone's follower says they are gentlemen, however, opponents say they are confronting a dictator.
It would be really interesting to know who among these three is more dictatorial and hostile.
Narendra Modi
When we analyze different party structures in India then you will surprise to know that BJP is only the party in India which has true internal democracy, though communist parties who are at the verge of extinction in India now, are also democratic, but not to that extent.
In BJP top leadership position is open to everyone, and in just past four years we have seen three different presidents which are Rajnath Singh, Nitin Gadkari, and Amit Shah. There is no doubt there is great change after the advent of Narendra Modi, as before him people were lacking substantially better alternatives on the national scale. The situation was like "Idhar Kuan, udhar Khai" which changed on his coming.
Today very few know that Narendra Modi also has Fascinating Unknown Moments of Childhood & Earlier Young Life and he has struggled so much to reach the political apex, however, the majority of Indians believe that Modi is politically more literate than others.
RSS, A Resistance To Dictatorship
Talking about BJP, Ideology & RSS ground level swayamsevaks keep the party democratic. Even with Modi's charisma or influence of some other great leaders like Murli Manohar Joshi, Atal Bihari Vajpayee, Lal Krishna Advani, and Sushma Swaraj, if RSS pracharaks don't work for the party during elections, Modi or other seniors can't win beyond 1-2 states.
So, BJP can never become One person/ family party. RSS is one of the impacting force which prevents BJP of being getting centered to one person or one family.
Narendra Modi Is A Man With Vision And Dream For India
Narendra Modi is a charismatic leader who can speak extempore and hold public-spirited for hours. He has not gained a central position in BJP by virtue of inheritance or upliftment by a political godfather but through his competence.
At present he can command anybody in the party not because people are bound to obey his orders but because they respect his direction and this has become possible only because of his series of successful initiatives like-
Decisive Stand of Surgical Strikes in Myanmar and Pakistan, garnering international support for India and in forging diplomatic and economic alliances, Economic Leadership which has certainly paid off, Empowering India through his "Make in India" campaign, Schemes For the Masses such as Pradhan Mantri Jan Dhan Yojna (PMJDY), the Atal Pension Yojna (APY), Pradhan Mantri Krishi Sinchayee Yojana (PMKSY) etc., winning hearts of Indian diaspora, UNSC Crusader, Leading the World-the Solar Alliance,
The Swacch Bharat Abhiyan and also because he has served as successful Chief Minister of Gujrat for 12 years, therefore he is the most suitable, non-dictatorial and proved candidate for PM-ship.
Read More 
1. Indian National Congress turns 131 years; interesting facts one should know 
2. Why Nehru Chose the Minority and Caste Based Politics
This Is Why Narendra Modi Is Not A Dictator
Indeed the opposition is deliberately uncooperative, absurd and stubborn as they know that ruling BJP is still under the majority in Rajya Sabha, which is why the Land Bill has not yet got passed. Narendra Modi is acting like a CEO of a company, not a dictator as you will not see any of the following dictatorial signs under his ruling:
Transfer of IAS officers, which was a common practice during UPA regime.
Censorship of Media as you see in China or North Korea.
Not getting everything he wants like Indira Gandhi had done during Emergency. He has never been the president of BJP.
BJP MLAs and MPs are known for expressing their individual views in public, which is a sign of free voice inside and outside the party, unlike Congress and AAP.


Rahul Gandhi
The biggest achievement of Nehru and thereby Congress was to instill in our psyche the concept of 'Unity in Diversity' but he did this at the cost of harming rights of its majority population and encouraging caste-based and minority based politics.
Why Nehru Chose the Minority and Caste Based Politics may be a matter of debate But still achievements of Congress are great and admirable like- role in the liberation of India, Green Revolution in the 1960s, White Revolution which made India world's largest milk producer, Liberation of Bangladesh and Economic Reforms of 1991.
However Fragile leadership, Friction points inside party, corruption, communal politics, scams which sucked in Taxpayers money has turned Congress Party into a turmoil and Rahul Gandhi is getting all such bits and pieces, achievements and failures, honors and dishonors in legacy; sometimes he is blamed for the things he was not responsible for and sometimes he is praised for the things he had no contribution to.
Rahul Gandhi Is A Political Prince Of Congress
Recently Indian National Congress turns 131 years and there are interesting facts one should know, One top interesting fact is that In 2013, Sonia Gandhi became the first person to serve as Congress President for 15 years consecutively and being the heir Rahul Gandhi is supposed to continue the same as top leadership is reserved for person from a Gandhi family only.
When we talk about Congress then we know Congress has been headed by either Gandhi family or their very close mates and it has been very rare that a person like P.V. Narasimha Rao has headed (in 1991) who had independent reforming views.
Does it mean that Rahul Gandhi is the dictator of Congress who will soon get the powers of President? Why the Congress is so much dependent on Rahul Gandhi even though everyone knows he is unfit for politics? Even Natwar Singh, in his autobiography, has said:
If you take away the Gandhis, the Congress will split into 5 factions.
The reason could be very simple as there is no equally ambitious person in Congress who is vying for top post otherwise Congress has no less magnetic, smart and intellectual leaders like Shashi Tharoor, Amarinder Singh, Kamal Nath, Mallikarjun Kharge, P Chidambaram, etc.
There is at-least Top 10 Logic, Rahul Gandhi has Chosen the Wrong Profession, however, people will see him leading congress because of the Undemocratic design of Congress.
Rahul Gandhi, Sustaining Undemocratic Design
Undemocratic setup of Congress is proved through below-mentioned points:
NCP was founded by Sharad Pawar when he questioned the legitimacy of Sonia Gandhi in 1999 then was thrown out from the party for that.
Though Rahul Gandhi was not in politics at that time, however later he never regretted this as Congress has the long history of expelling brilliant leaders like Jayaprakash Narayan and VP Singh and who is bothered to take the same risk.
Rahul Gandhi came out in support of JNU students who were protesting against the hanging of Afzal Guru who was the mastermind of 2001 Indian Parliament attack and who was hanged during the regime of UPA itself. Congress workers were stunned with his stand but no one could question him. This is his dictatorial hold that despite large scams during UPA there is no voice of changing top leadership.
Major scams were Coal scam-Rs 1.86 lakh crore, 2G spectrum scam-Rs 1.76 lakh crore, Chopper scam, Tatra truck scam, CWG scam-Rs 90 Crores, Cash-for-vote scam, Adarsh scam, IPL scam and Satyam scam etc.
People have started hating Congress because of keeping the President-ship of the party in the hands of the members of Gandhi and this was proved in 2014 Loksabha Election when Congress Party got shrunk to just 44 seats, however, Gandhi's are still stuck to their throne firmly.
Mallya took the loan during 2004-2007 and loan got converted into "bad loan" in 2009, but Congress did not do anything from 2010-2014 despite being having in power. Still, no one has questioned, the only reason is that no one in Congress can question, unless and until it comes from supreme and who is supreme, none other than Shri Rahul Gandhi Ji and Mrs. Sonia Gandhi Ji.


Arvind Kejriwal
Adolph Hitler was never elected to the office of President; but he staged a government takeover from the inside, we call him dictator not only because he assumed the Chancellorship but because he was the only in charge and godfather of National Socialist German Workers' Party.
But we cannot dare to compare Shri Shri Kejriwal Ji with Adolf Hitler, existentially there is no comparison, Kejriwal is more tolerant than Hitler, who could have never born a slap or ink spill on his face, but this political masterpiece is also no less than a dictator and everyone knows Who is the most Cunning Politician in India and Why.
Does Arvind Kejriwal's Message Of Renaissance Hold Any Ground?
Kejriwal might have carried out some task for introducing mechanical road sweepers, Launching the E-ration card facility, Deployment of officials in private hospitals, Deployment of private marshals on the chartered and public buses, Creating of a Central Procurement Unit for medicines, Using a Geo-tagging based application for women safety, etc
But still, it has largely failed on Environment and Pollution, Decentralizing governance, Employment, Public Health, Free Water and Electricity Issue. Now people have realized his true nature and cannot see him as the national leader since he has no vision and competence related to national security, foreign affairs, withstanding international economic situations, securing India's self-respect, etc.
Read More 
1. Top 10 Logic, Rahul Gandhi has Chosen the Wrong Profession
2. Who is the most Cunning Politician in India and Why?
Arvind Kejriwal, An Ultimate Unchangeable Authority
Arvind Kejriwal cannot move to the size of Joseph Stalin, Mao Zedong, Benito Mussolini, Hitler, Kim Jong-il, etc. but yes people have really seen a tyrant in him via his 'do not question me' attitude.
He likes to have yes men around him rather than those who question any of his decisions or at least could suggest him not to go shamelessly in targeting Modi and is very quick in using derogatory language or expelling people from the party like a dictator:
Five times AAP members have quit party questioning Kejriwal's leadership. These were "Vinod Kumar Binny", "Yogendra Yadav, Prashant Bhushan, Anand Kumar, and Ajit Jha", 200 Maharashtra AAP members quit the party, "Dharamvir Gandhi, Harinder Singh Khalsa and Prof Sadhu Singh", "Shazia Ilmi".
AAP has become synonymous of Arvind Kejriwal, he is the Mai-Baap in all administrative decisions and single lord from beginning to end.
He is more interested in national politics rather than focusing on Delhi, has delegated all portfolios to the ministers or the deputy CM and this why so many AAP MLAs are facing serious criminal charges and 21 are at the verge of suspension for holding any Office of Profit. No one is there to control Kejriwal as he is like a political rocket who can burst anywhere or on anybody's head, anytime.
When income Tax Department sought derecognition of the Aam Aadmi Party (AAP) for allegedly filing "false and fabricated" audit reports then he called PM a shameless dictator, such surfacing of deep envy and using the word of dictator is his own unconscious admission of being a dictator who want to see himself as PM or something even higher than that.


Arvind Kejriwal Defeats Both- Rahul Gandhi And Narendra Modi In Dictatorship
A bit of dictatorship is required to run a party else that's what happens, leaders won't respect or listen to the governing leader and it would be difficult to run government and carry out welfare activities or lead the nation, however in past two-three years Arvind Kejriwal is the person who has been criticized most for his arbitrary and undemocratic behavior both inside and outside his party.
He does everything that one can possibly think of as a dictator, as a lavish increase in his own and MLAs Salaries, increasing the budget of an advertisement beyond limits, questioning everyone like a boss and when someone questions him then getting fumed, etc.
Being an old party, obviously Congress will have a vulnerable history than others but still, Rahul Gandhi is known as a Soft Guy, especially in comparison to Arvind Kejriwal. If we count total big lies Arvind Kejriwal has made so far then it will cross half-century, undoubtedly he is habitual liar unlike Narendra Modi and Rahul Gandhi.
Kejriwal is the master of everything but the specialist of none because he is jobless and engaged in glorification of his work only which is again a sign of a cunning dictator. Every time when he trolls Narendra Modi he gets trolled himself only.
The way he attacks abuses people no one can just see the Kejriwal's official website which blamed Amit Shah, Modi, RSS for Muzaffarnagar riots and so is the case he is doing with Congress, but how far he runs with previous inertia is a point of interest to see.
AAP sweep will definitely endanger Congress which may be a point of worry to Rahul Gandhi but will not have the significant effect on BJP; and far as Arvind Kejriwal is concerned it hardly matters for him, whole politics is like running a twitter for him, and after all how something can matter to a dictator?