After assembly elections, all election parties in India are set for upcoming Lok Sabha Elections which are held after every five years. As we all know in 16th Lok Sabha (2014) election Bharatiya Janata party (of NDA) won the election and got maximum number of parliament (MPs). But this time the battle is going to be tough and may be most crucial in Indian history; bharatwa.com will be providing you all election updates of 2019 general Loksabha elections.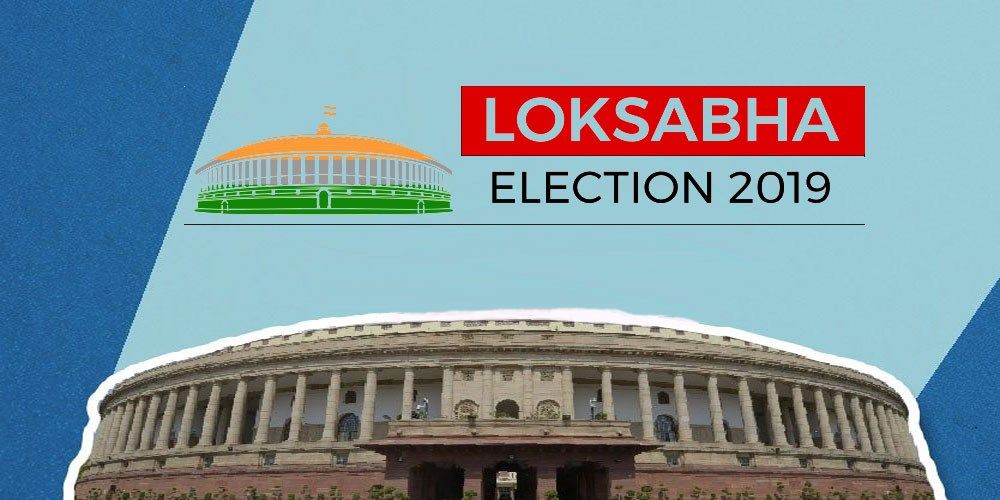 From Raj to Swaraj India has gone long way, from indirect representation of first constituent assembly (1946-49) to full electoral system we are now very near of constituting 17th Lok Sabha Legislative Assembly and here below is the complete update followed by our detailed analysis:
2019 Indian Loksabha Elections- Daily Updates
Rs 72,000/- Each Year to 5 Crore Poorest Families: Rahul Gandhi Pledges to Unveils 'Mother of All' Minimum Income Schemes
According to the scheme named Nyuntam Aay Yojana (NYAY) Rs 72000/- will be directly transferred to the bank accounts of 20 per cent of the poorest in the country and if it is implemented this can lift 25 crore people out of poverty. According to Rahul Gandhi all fiscal modalities have been studied and this can be possible with ongoing budget.
7th March 2019
As we know Rahul Gandhi is relentless in Rafale attack and to bring back the narrative from Pulwama attack to Rafale deal he once again attacked Modi Govt for corruption in Rafale deal.
Rahul Gandhi briefed media today on 07/03/2019, he reviews plea hearing in SC today and targeted Narendra Modi by saying that PM Bypassed Indian Negotiating team over Rafale, he said that Rafale deal is a scam and PM must be probed on rafale deal, he also said that PM is scared of rafale issue, Modi delayed the deal to benefit Mr. Anil Ambani. Referring to leaked documents in "The Hindu" newspaper he said that It is clearly mentioned that PM Modi was involved in Rafale deal, PM Modi destroyed institutions to save himself.
Indian Electoral System:
In 2019, the Lok Sabha elections are going to be held between April and May. It is the great event of political mobilisation and organisational complexity, In 1952, there were 1874 candidates vying for places in the Lok Sabha. In 1996, this number rose to 139,529 candidates and in 2019 it can be even more. In the electoral system of this upcoming election, out of 543 already elected MPs, new MPs will get elected using "first past the post voting" method.
All the members eligible to vote must be 18+ and should be Indian citizens. Everyone who is eligible to vote will be given a voter ID Card using which he can vote. Other two members of the party represent the Anglo Indian community. The president has the rights to nominate these two members.
The distribution of elective membership among states is done in a way that ratio between the population of the state and the number of seats given to each state remains practicable. Among 131 seats, 47 seats are reserved for Scheduled Tribes, and 84 seats are reserved for Scheduled Castes. In this system, no party is allowed to bribe any candidate or to use resources of government for their own campaigning. Polling will take place from 7:00 am to 6:00 pm.
After Lok Sabha election, Prime Minister is elected from the elected members of Lok Sabha. The decision of choosing the right PM candidate is made among elected members only, whosoever gets more than 50% of the vote becomes our new Prime minister.
NDA, UPA & Other Political Parties Interested to have Decisive Role in Forming Government
The Most Known And Active National Parties Of The 2019 Election Are:
Bhartiya Janta Party,
The National Congress Party,
All India Trinamool Congress Party,
Nationalist Congress Party,
Telangana Rashtra Samiti,
Samajwadi Party,
Aam Admi Party.


The Other State Parties Are:
Janta Dal,
Yuvajan Sramika Rythu Congress Party,
Telegu Desam Party,
All India United Democratic Front,
Janta Congress Chhattisgarh,
Indian National Lok Dal,
Jammu And Kashmir People's Democratic Party,
Jharkhand Mukti Morcha,
Jharkhand Vikas Morcha,
United Democratic Front,
Left Democratic Front,
Shiv Sena, Biju Janta Dal,
All India Anna Dravida Munnetra Kazhagam(AIADMK),
All India Majlis-e-Ittehad-ul-Muslimeen (AIMIM),
Bahujan Samaj Party,
Communist Party Of India.


PM Modi vs Opposition's Possible PM Candidates For Lok Sabha In 2019
It is difficult to select the PM candidates, but the citizens of India have their choice to select one. The best and suitable candidate for the 2019 election from a survey found that there could be 13 politicians fighting for the chair of Prime Minister. Bharatwa noted- survey also found that the present Prime Minister, Narendra Modi is leading the race by giving competition to the President of the Indian National Congress, Rahul Gandhi.
In BJP it is clear that if won, they will choose Narendra Modi as Prime Minister. However there are whispers that Nitin Gadkari could also emerge an alternative to Modi. He is the RSS's man in reserve and can be first choice of Narendra Modi enemies, if NDA wins less than 272 seats.
It is understood that if BJP becomes significantly short of a majority, none of NDA allies who have been marginalised by the Modi-Shah politics will insist on making Narendra Modi the Prime Minister again. Gadkari is undoubtedly the most popular minister after Modi and Shiv Sena who is most vocal may be first to support him.
Unarguably 2019 Lok Sabha Election Is Narendra Modi vs all. Apart From Modi, Potential PM Candidates Are:
Bahujan Samajwadi Party Supremo (BSP) and former Chief Minister of UP- Mayawati, she had once asked: "Why can't Dalit ki Beti (daughter of Dalit) become the PM?"
Naveen Patnaik: Chief Minister of Odisha who had already rubbished BJP alliance speculations.
Mamata Banerjee: Chief Minister of West Bengal, having 10s of MPs she could surely have a sizable edge above others.
Rahul Gandhi (Congress President): If his competitors don't challenge his bid owing to Congress's awful failure under his command then he could be perhaps first runner up of PM candidature.
Akhilesh Yadav has promised that next PM will be from UP and Ram Gopal Yadav has once said that Akhilesh Yadav could be PM in future, his posters pitching Akhilesh Yadav as Prime Minister have been seen in Lucknow. However since his party is only strong in UP and very weak in other states, he cannot influence the polls. But since he is very young and has lot of time to prove himself, therefore in next 30 years he can hope to become PM.
Mr. Kejriwal has now learned that "You don't attack a leader who is popular because that will backfire, but when you become unpopular then change the strategy". During 2011 Indian Anti-Corruption movement he was against Indian National Congress and now he says:


"I am missing educated Prime Minister like Manmohan Singh". BJP and Congress keep making governments with regional parties like JDU, TMC, PDP, TDP, therefore, it is almost impossible that he can become PM in the near future. To become PM he has to win at least 5-6 states.


Lok Sabha election is on the door now and every party is trying to come up and give its best but the real battle is between NDA and UPA. In Assembly elections, BJP lost its power in Rajasthan, Chhattisgarh, and Madhya Pradesh. So it can't be predicted that BJP will surely win as Congress is ahead of BJP in many states, however even after losing a few wickets quickly, the BJP is still playing on the front foot.
These Issues Will Hurt The BJP's Prospects In The 2019 General Elections
Indian Farmers Growing Unrest Raises Concerns
The issues are never less in India especially when it comes to a political background. A continuous decrease in the price of food and growth in the agriculture sector the Agrarian Distress is becoming a massive issue. When the NDA tried to increase the minimum amount for the food, it ended with a mass dispute.
PM-Kisan-Scheme announced to provide 6000/- to the farmers annually. The first instalment of Rs 2000/- is being credited in farmer's accounts. Many farmers concur that direct cash assistance is too little and too late.
India's Growth Without Jobs
The next issue is getting faced by the youth, and that is Job Crisis. The Modi Sarkar promised initially to provide jobs to the youth but data shows BJP govt failed abjectly in creating jobs. After Demonetisation within a night 1.5 million people missed their job. On 7th February 2019, the NDA government denied the fact of the job crisis. Around 30 thousand youth protested against this claim, for the deficiency of jobs under the banner of Young India Adhikar.
Rafale Deal Controversy
In September 2016, India signed an inter-governmental agreement with France, dubbed as "Rafale deal", in which India bought 36 off-the-shelf Dassault Rafale twin-engine fighters for a price estimated to be Rs. 58,000 crore or 7.8 billion Euros. The opposition claim that the present party made a favor to corporate industrialists in Rafale aircraft Deal.
As result, the Supreme Court declined the public interest litigation and declared the deal was not commercial favoritism to any industrialist. On offsets, the court said it was "neither appropriate nor within the experience" of the court "to step into an arena of what is technically feasible".
Babri Masjid-Ram Janmabhoomi Dispute
According to the Hindus, the land on which the Babri mosque was built in 1528 is the 'Ram Janmabhoomi' (birthplace of the god-king Rama). But, Mir Baqi, one of Mughal king Babur's generals, is said to have destroyed a pre-existing temple of Rama and built a mosque called Babri Masjid (Babur's mosque) at the site.
According to Bharatwa sources the issue of Ram Temple seems to be never-ending. A report says that the present Prime Minister Narendra Modi and Chief Minister of Uttar Pradesh are urging the construction for the vote from Hindu voters. The disputed land of Ayodhya had been always an issue and a constant topic. So, the opposition is trying to manipulate the situation towards Muslim voter, to garner their vote.
Electronic Voting Machine (EVM) Problems
17 Opposition parties have asked poll panel to use ballot papers for 2019 elections while contending that electronic voting machines (EVMs) can be tampered and therefore against our democratic institution. However former Chief Election Commissioner Naveen Chawla's faith in electronic voting is unshakeable. According to him, "EVM chip is programmed to function in a certain way and it cannot be meddled with". Recently election commission has also rejected such allegations.
Suffocating Democracy
The opposition is claiming the alleged undermining of democratic institutions and processes by NDA. On 3rd February 2019 the present Chief Minister sat on Dharna in Kolkata under the campaign Save The Constitution.
In battleground Bengal, PM Modi and Amit Shah had rallied to counter Mamata's mega opposition shows. However Mamta Banerjiee claimed that: "Narendra Modi and Amit Shah have joined hands to humiliate Bengal. They are trying to stage a coup in the state simply because I organised the opposition meeting on January 19. This is worse than the Emergency."
Mood of The Nation: Will UPA Storm Back to Power after 2019 Lok Sabha Elections
State elections have shown that Congress is still alive despite of continuous downfall. Reason for the Congress debacle is very difficult to pinpoint, it may be perhaps because of incompetent leadership or because their principal opposition is being led by immensely popular mass-leader Narendra Modi. Sadly even if congress wins at majority seats it may not gain the same charm that it had during any preceding UPA reigns.
The United Progressive Alliance is the oldest running union of the nation. Indian National Congress is the main and oldest national party. The party still runs under the guidance of Former National President Mrs. Sonia Gandhi, despite of Priyanka Gandhi's entry. There are 22 members in the United Progressive Alliance, and it also includes national and state parties.
The major parties are the Indian National Congress, Nationalist Congress Party, Rashtriya Janta Dal, Dravida Munnetra Kazhagam, Rashtriya Lok Samata Party, Indian Union Muslim League, Jharkhand Mukti Morcha, Janta Dal, Kerela Congress, Revolutionary Socialist Party, Rashtriya Lok Dal, Swabhmani Paksha, Bhartiya Tribal Party, Jharkhand Vikas Morcha, Kerela Congress, Communist Marxist Party, Peace Party Of India, Mahan Dal, Karnataka Praganyavntha Janatha Party, Telangana Janta Samiti, and Loktantrik Janta Dal.
In 2018 UPA government is sharing the platform with NDA government. UPA is serving 5 states and 1 union territory (Madhya Pradesh, Chhattisgarh, Rajasthan, Karnataka, Punjab and Puducherry). UPA consolidates and Priyanka Gandhi's entry has been made to pave way for UPA's return to power at Center.
Will Finance Minister P Chidambaram Be Able To Rescue a Sinking UPA
At many points, he comes up with controversy with the present Prime Minister Narendra Modi. Presently he is a member of parliament, Rajya Sabha and formerly serving as Union Minister of Finance of India. He carries the experience of a Finance Minister since 2004. At the beginning of 2008 he also got a chance to serve as Home Minister but after the attack in Mumbai Hotel he came back to his position. In the year 2014 Congress Party appointed P. Chidambaram as one of the 13th senior spokesperson from the party.
The Mumbai attack was the difficult faze to handle, agencies facing Chidambaram as having no intelligence. The security had broken, and after massive research, the result came out there was no intelligence warning about those blasts. Later it came as there was no intelligence failure. Chidambaram is still in controversies with Modi for pointing his work.
NDA Dipping graph is Cause of Worry for Modi & Shah! 2019 May See Hung Lok Sabha
The National Democratic Alliance includes 35 parties to work together. Bhartiya Janta Party is the only national party. The other parties include
Shiromani Akali Dal,
Janta Dal, Shiv Sena,
Lok Janshakti Party,
All India N.R. Congress,
Naga People's Front,
Rashtriya Lok Samta Party,
Desiya Murpokku Dravida Kazhagam,
Maharashtrawadi Gomantak Party,
All Jharkhand Student Union,
National People's Party,
Pattali Makkal Katchi.


These parties are state party, and these are granted by Election Commission. The NDA leaders played a vital role in the growth of present government. Amit Shah is one of the closest political leaders to the present Prime Minister Narendra Modi. In 2014 Amit Shah was announced as party's national president.
The leadership of Shah took the Bharatiya Janata Party on another level of success. Under his leadership party won Legislative Assembly elections in Maharashtra, Jammu & Kashmir, Haryana, Uttar Pradesh, Uttarakhand, Gujrat, Assam, and Jharkhand in the year of 2016. Same time under his guidance they lost the seats in Madhya Pradesh, Rajasthan, Chattisgarh, Delhi, and Bihar. His election strategies impressed many politicians, and some also named him Modern Chanakya. He also appointed as General Secretary of the Bharatiya Janata Party for Uttar Pradesh elections.
According to Kamal Nath: "Just as Sonia Defeated Vajpayee's NDA, Rahul Too Would Make PM Modi Sit Out in 2019". In Fact it is not easy of unseating the present government however if many regional alliance are made or Grand alliance (Mahagathbandhan) is made, then chances of the BJP decisively losing the elections are fairly bright which can result to Hung-up assembly 2019.
Role of Rajnath Singh & Arun Jaitely in 2019 General Elections
Rajnath Singh the present Home Minister serving from Bhartiya Janta Party. His words were once in controversy as he mentioned the JNU incident got supported and planned under Lashkar-e-Taiba. Police took this point seriously and made a proper investigation for this statement. In 2017 he launched a web portal named Bharat ke veer. It came as an initiation for the welfare of Martyr's Family.
Arun Jaitley another minister from NDA also gave his hand in the success of the party. Jetly is Finance and corporate affairs, minister. He is also a member of the Board of Governors of the Asian Development Bank. In the year 2016, under his guidance demonetization faced. The banknote of 500 and 1000 rupees was banned to stop corruption, fake currency, black money and also terrorism. 
In 2017 he came with another tool from the government house GST. Both of these were the mass and immediate change for the citizens of India. Both the plans came up as a surprise. Again he was the only one minister from present government to talk openly about the LGBT issue.
Arun Jaitley came up in the limelight after introducing GST. His agreement on the idea of Modi that providing reservation on the basis of religion will be fraud and doesn't count democratic. Providing reservation to Muslim and Christian Dalit will also impact demographically. Some times Jetly was also under the remand from media for his controversial statements. Later on, he claimed his words misunderstood and misled by the media.
These National Democratic Alliance leaders were always around Modi and his work. Some controversies also pushed them to rethink. The Modi era is incomplete and may not reach to height without their support. This is also described in history the golden era for Bharatiya Janata Party.
If Pranab Mukherjee is Eyeing to be the Prime Minister of India in 2019
Pranab Mukherjee the 13th President of India also served the nation as a minister under the banner of United Progressive Alliance. He is one of the senior leaders of UPA. Prior to President Pranab Mukherjee was the Union Finance Minister. His Rashtriya Samajwadi Party also got merged with the Indian National Congress. Pranab Mukherjee Served on different designations to the nation and his work always get pronounced.
As the president, he completed his 5 years, and then after completing it, he denied for re-election. After leaving the presidency, he retired because of age relating to health complications. He received the Bharat Ratna Award for his glorious journey as President. Also, he is the first former President to greet the Rashtriya Swayamsevak Sangh event. The opposition was also in favour of Mukherjee. Many opposition leaders were happy with this decision. 
Under the guidance of Mukherjee India made success and growth. President of India is recognized as the 'first citizen'. By tradition, no president till date had returned to politics. His speculations of becoming PM in 2019 has been refuted by Mukherjee's daughter, who claimed that Mr. Mukherjee had no plans to return to active politics.
Latest Opinion Polls and Surveys
17th General Elections of India are going to be held in mid of 2019. Various organizations are working to find out the detail with a variety of surveys. The opinion poll range got started from the last year 2018. The organizations collected the information to generalize the elections and to throw their opinions. 
The exit polls also got prepared, and the public already has an idea to whom to vote. Also, the constitution has a tremendous history with lots of mystery so, you can never get dependent on these surveys. In a democratic country like India, public opinion doesn't take much time to change.
The result can vary in the last moment as well. This year the election is more interesting, and the nation is prepared to vote. These surveys are done to help the citizens to choose their leader wisely. It is important because the upcoming generation is dependent on the decision of their new leader. 
Democracy had always come up with a surprise and given the right decision. As always described, it will be for the people, by the people, and of the people. The generation knows their power and how to utilize it. You can see the latest opinion polls and 2019 Lok Sabha Election results on bharatwa.com.
According to 2019 Lok Sabha Elections Times Now-VMR Opinion Poll: NDA may fall 20 seats short of magic mark of 272. You may visit wikipedia page to see all latest poll surveys.