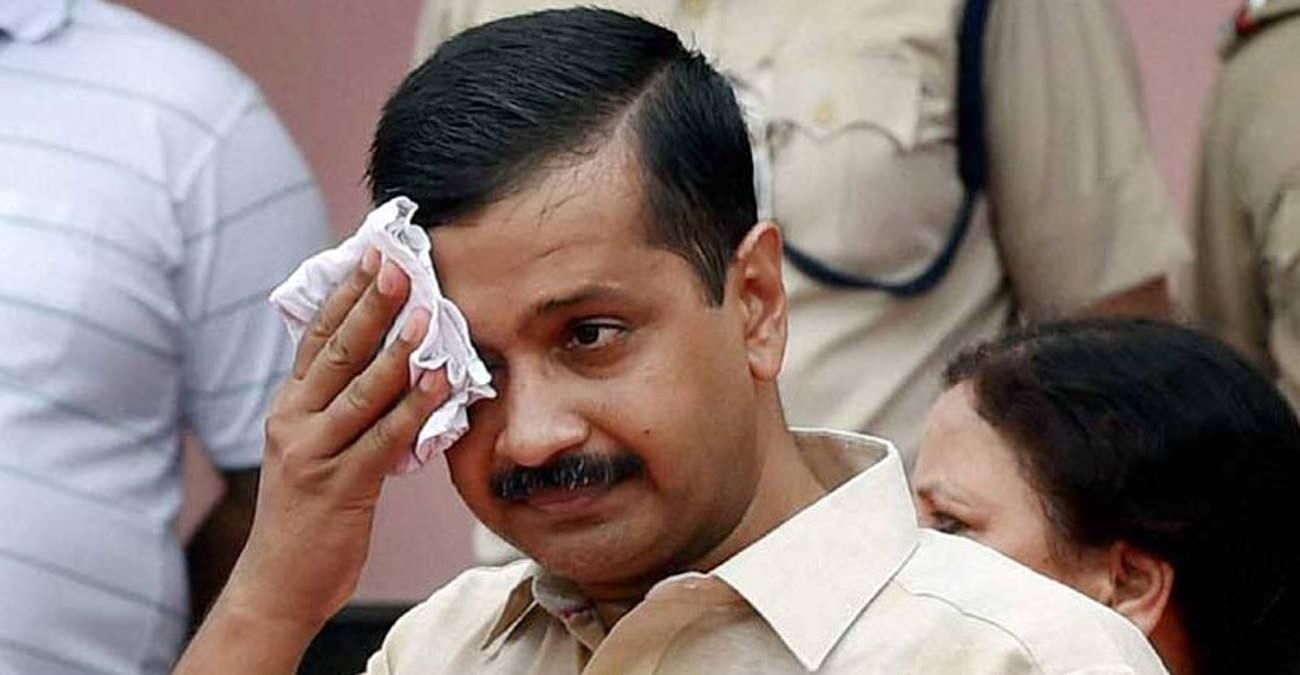 Arvind Kejriwal never wanted to be the Delhi CM because this post is too small and his greed is too high, his lusty eyes were always focused on the post of India's Prime Minister and that too in dictator style which he already and failed at small scale. If you look at his work of past two years then you will realize that he is suffering severe memory loss otherwise how come he could have forgotten promises of Lokpal, Mohalla Sabhas, Janta Darbars, CCTV and how come he could have turned his blind eye to the fact that his room was bugged, bugged by his own corrupt colleagues upon whom he once based the edifice of political renaissance. 
He failed as Delhi CM because he missed many things and is involved in corruption charges to the extent that he has downgraded whole political section.
Abraham Lincoln has once said:-
Elections belong to the people. It's their decision. If they decide to turn their back on the fire and burn their behinds, then they will just have to sit on their blisters.
But Kejriwal who could have learned from Shiv Sena on being better loser went on blaming EVM like a fool as if blames will compensate for him.This is established fact that a government fails badly when it is unable to keep the promises that were made to the people after coming to power. 
When Satish Upadhyay, the Delhi BJP president presented the first year report card of Kejriwal Government and analyzed their performance, it became clear that Arvind Kejriwal has failed in Delhi. The report stated that the Kejriwal Government could not even fulfill most of the promises that they made to the people of Delhi.
Big Misses of the Kejriwal Government which cannot be ignored
Even after one year, the electricity cost in Delhi is the same as before. Nowhere is water free in the city, whether it is in the group housing societies, unauthorized colonies, villages or jhuggi clusters. The lower class and middle-class people are especially agitated with Arvind Kejriwal when they get heavy water and electricity bills every month. It is fully clear that Arvind Kejriwal has given lollipops but couldn't keep his promises to these people.
Also Read:
1. Narendra Modi: Fascinating Unknown Moments of Childhood & Earlier Young Life
2. Top 10 Logic, Rahul Gandhi has Chosen the Wrong Profession
The Kejriwal government had also promised Wi-Fi for the youth, houses for people living in jhuggis, more schools and colleges, CCTVs for the security of women and marshals in busses. Nevertheless, none of these promises were kept.
Shree Kejriwal Government fought elections on the grounds of anti-corruption, but their Cabinet Ministers were found to be involved in corruption and also in a number of scams. There were only misses and hardly any hits in the Kejriwal government. The incompetence of Arvind Kejriwal is clearly visible at the end of one year.
When Arvind Kejriwal came to power, people of Delhi were confident that the AAP will work for the public welfare. However, at the end of one year, it can be seen that the Kejriwal government has only created mistrust among the people. Satish Upadhyay has called Kejriwal an anarchist and has recounted the 70 promises that the AAP government were unable to keep.
Massive Charges against the Kejriwal Government
Apart from all the misses that Satish Upadhyay had stated in his report; Kapil Mishra, the rebel AAP leader, recently leveled serious charges against the Kejriwal Government. With Kapil Mishra's conflict on AAP key developments, it was revealed that rumblings in AAP is still continuing and all wasn't well. The charges leveled against the AAP government are as follows:
Kapil Mishra alleged that instead of reporting that they had 45.74 crores in bank accounts, AAP reported to the Election Commission that they had only 9.42 crores.
Kapil Mishra had accused the Kejriwal Government of accumulating large amounts of money through shell companies.
He also accused the Kejriwal Government of converting black money into white money through hawala transactions.


Not only did Kapil Mishra accuse the AAP Government of money laundering, he also dared Arvind Kejriwal to quit as the Chief Minister of Delhi. Unfortunately, Mr. Arvind Kejriwal who always tries to portray himself as honest politician became mum on this whole episode. One who gives character certificates to others failed to save his own image.
His image has been further torn apart by the report of Shunglu Committee who found seven cases of irregularity and corruption charges. CBI has already filed FIRs in two cases of Arvind Kejriwal led Delhi Government's misdeeds and also probing rest.
The committee report said:-
Dr Agarwal is appointed as senior resident on an ad hoc basis on his mere application by the resident medical officer of CNBC hospital, when there was no vacancy in that hospital and the established procedure is to invite applications through advertisements and effect selections after interviews by a panel of expert.

Would the Delhi People Reelect Arvind Kejriwal as CM in 2019?
Also Read:
1. Fascinating Biography of a Monk Who is Hailed by Masses and goes by name Yogi Adityanath
2. How Mr. Manmohan Singh has been able to keep his image clean
In the time of distress, Kejriwal has abandoned Delhi and as an effect not only he lost in Punjab and Goa but got expelled from the hurts of Delhi people, he is at the brink of extinction in his ruling state and next election may be suicidal for him. The public had put garlands to him, media has devoted a disproportionate amount of time to him, but all have been just exercise of futility. With so many misses and allegations, it is clear that Arvind Kejriwal has failed in Delhi. 
He couldn't deliver the promises that he had made to people when he came to power. Kejriwal's incompetence and poor governance in Delhi are visible not only to the opposition parties but also to the common people of Delhi. Col. Devinder Sehrawat, MLA of AAP spoke about the alleged scams that Arvind Kejriwal was a part of. Asim Ahmad, another MLA of AAP said that development in Delhi had come to a standstill because of the incompetence of Arvind Kejriwal.
It would be really very interesting to know that people of Delhi will elect Kejriwal who is constantly ranting against Modi on every step the latter takes or not, but still looking at all above factors, it is unlikely that Kejriwal will come in power again. However battle will not be so easy for Congress and BJP also, as voters of Delhi who have recently re-composed themselves from Kejriwal's ill-treatment would look for a CM who is not just popular and acceptable but would also get ample time to interact with people and build a rapport with them.