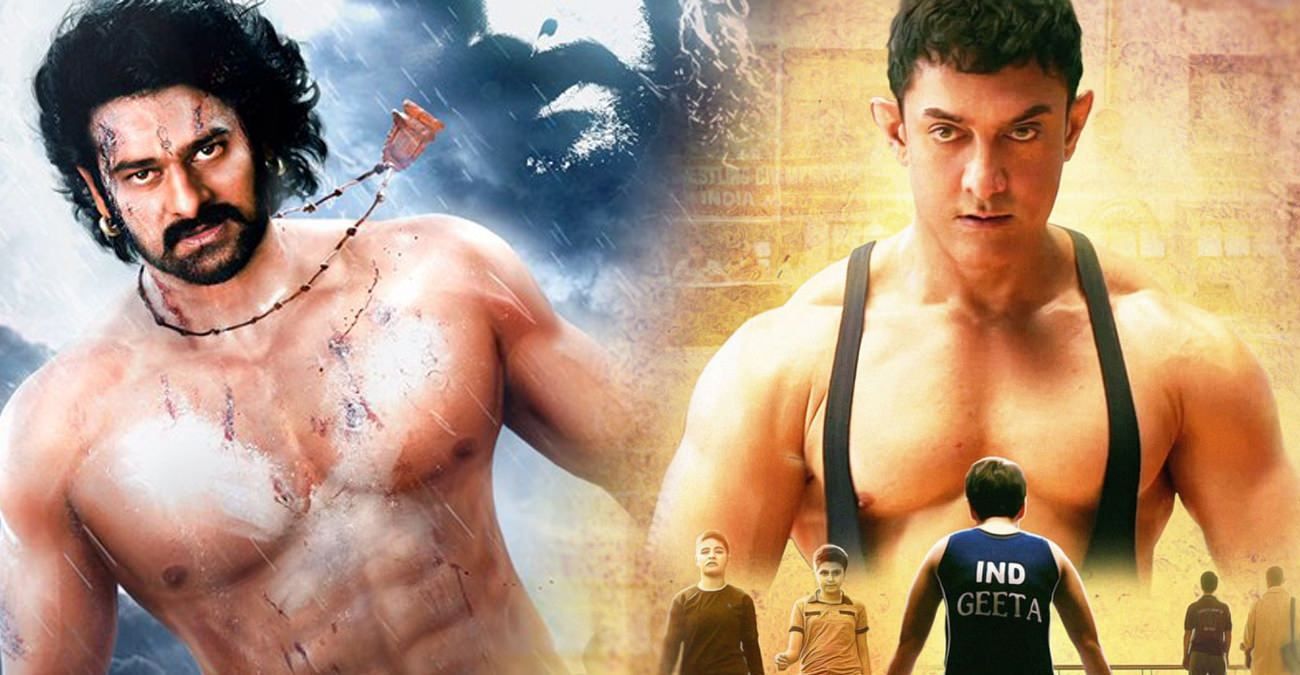 It is better not to compare both the movies because there is no comparison at all, it is beyond any doubt that Dangal is a very good movie, it is basically biographical sports drama which is very interesting and inspirational. But Baahubali 2 is an iconic film which stands 7th in Top 10 highest-grossing Indian Films so far. Both films are good but Baahubali 2 is exceptional which beats Dangal in all respects. 
I highly admire Aamir Khan that at the age of 50 he act so perfectly, he gained so much weight and then lessen it. Prabhas has also done great efforts, he worked for many years and finally, his hard work paid him.
Indian Cinema has a long Success Story
Although people do so many things for recreation like meditation and yoga, exercise, music, photography, etc. But still watching movies is considered as one of the most entertaining things, which people of all ages enjoy. In this age of internet and 24-hour satellite television, it can be said with a degree of certainty that despite the proliferation of various means of entertainment, and with the continued mushrooming of many more avenues of time pass, the two Cs - Cinema, and Cricket - still continue to rule supreme.
Also Read:  
1. 15 Pakistani Movies That Will Make You Forget Bollywood      
2. Aamir Khan – Number 1 Actor or Emotional Businessmen?
For now, we are discussing cinema or films. The films in India may basically be segregated into two major categories. First one is our domestic cinema and the other one is foreign language cinema that is now getting increasingly popular. The domestic cinema may be divided further into two main segments - Mumbai based Hindi-Urdu mix language films and the regional cinema or the films made in regional languages like Bengali, Punjabi, Tamil, Telugu, Malayalam, Bhojpuri, and many more. 
Ever-since India has launched its first talkie film in 1931 Indian Cinema has gone through many revolutions. After long journey today we enjoy some perfect movies like Zindagi Na Milegi Dobara, 3 Idiots, Bhaag Milkha Bhaag, Dilwale, Prem Ratan Dhan Payo, Drishyam, Dil Dhadakne Do, Dangal and Bahubali 2 etc. 
Today Indian cinema has reached a great height that today release of movies is not only awaited by Indians but also the global audience.
Dangal Vs Baahubali 2
I have watched too many good movies in my life, may it be Hollywood movies like The Matrix (1999), The Usual Suspects (1995), Titanic or old Amitabh Bachchan and Rajesh Khanna's movies. And I am equally fan of present stars also. In the recent days, of course, Dangal and Baahubali 2 are those which appealed me most.
Dangal tells us a poignant and inspiring story of a wrestler hailing from a small village in Haryana. The man, Mahavir Phogat, has a regret that despite being a good and dedicated wrestler, he could not make a mark in his field. We see that deep within his heart, he wants to win a medal for India. 
As is usual, the parents mostly tend to live their dreams through their progeny. Here again, Mahaveer has a problem. He has only daughters – four of them and finally, he decides to do the unthinkable. He wants his daughters to train as wrestlers. This is easier said than done. This beautiful film Dangal, a true life story of the few living people, tells us how they ultimately succeed. 
Dangal is great in the sense that the daughters also accept and decide to work hard and ultimately they are able to realize the dream of their father. The Phogat family is able to prove that girls are no less, or maybe even better than the boys. No doubt, all the Indians loved and blessed Dangal. 
'Bahubali 2: The Conclusion'. This is a sequel to the film 'Bahubali: The Beginning' that was released about 2 years earlier. It was on the cards that a second part of the film is in the making and will be released soon. It was anticipated with much eagerness. One thing I have observed that though the film is said to be a sequel of the first part.
But going by the story-line, we see that it is actually a prequel to the first part, since the viewers, as well as the protagonist of the film Mahendra Baahubali, are being told the story of his much illustrious father Amrendra, the original Bahubali, and we the viewers are mesmerized by the grandeur of the film, its visuals, the plots and subplots, and imagery.
There is no doubt that like the first part of Bahubali, the sequel two is captivating and has done remarkably well in terms of viewership and funds collections
Thus, while in the first part we had seen the Bahubali Junior or Prince Mahendra, romancing the beautiful warrior girl Avantika, in the sequel we see more of the love story of his parents, the Prince Bahubali and a young Devsena. In the first part, we had seen Devsena as the woman who was always seen tied in chains. Here we see her in a much livelier and lovelier form and she wins our hearts.
Also Read:  
1. 12 Traits That Help You To Realize Your Dreams!     
2. The 14 Book Entrepreneurship Boot Camp: The CEO and Entrepreneur's Thought
The beauty of the film lies essentially, as was the case with its first part, in its astonishing visual effects, and also in its concept and the story-line. The film is basically created by the people who are at the best masters of regional cinema, but have the genius and the courage to make a film for the pan-Indian audience or shall we say for the global viewership. 
For long we have watched the superheroes created by the West but this film makes us feel proud of our homegrown heroes and brings out the art of storytelling that is so deeply rooted in our ancient literature that was so derisively named a "mythology" by the West. The success of the film in global markets also makes us take pride in the fact that we too are capable of creating and showcasing cinema of Global Standards. 
Though I was mesmerized after watching the film, its huge success prompted me to read the reviews and I found the following gems in certain reviews:
For some, the royal city of Mahishmati depicted in the film is nothing but the historic city of Maheshwar located on the banks of Holy River Narmada, now in Madhya Pradesh.
For someone else, the place is nothing but the recreation of the Vijayanagara Empire of King Krishnadevaraya. Indeed, the ruins of the historic city of Hampi and its surroundings, if restored to their pristine glory, would look as good as the sets of this legendary movie.
In some reviews, I find a mention of the facts that the story that the movie portrays most probably belongs to the period of Indian epics, or to the Vedic period.


Why Baahubali 2 Beats Dangal?
Somehow, in my wildest thoughts, I ended up comparing these two movies and I come to the conclusion that Bahubali, the two parts if seen together, deserve to be rated far above Dangal or any other movie, as it has India and Indian printed in bold all over, and perhaps, this makes it look so gorgeous. 
Dangal, though a great movie from all angles, is the story of the people who are very much living and we can see them existing just there in our times and in the parts of the country everywhere, and in comparison, Bahubali – the twin movies, is a creation of the genius minds, the result of hard work, determination and accomplishment of a dream that its creator had perhaps dreamt sometime.
Success in Terms of Box Office Collection
Before the end, I am tempted to borrow from the statement of one of its star actors, who had said in an interview that the Baahubali 2 film shows that there is no limit to creativity and that it is made for a global canvas. Indeed, the film has drawn viewers in hordes, from all sections of society, in every language. 
Unfortunately, if you surf on the internet then you will find some site concluding- "Here is why SS Rajamouli's film might not make Rs 2000 cr", those people are part of prejudiced media as:
Dangal was released on 21 December 2016 whereas Baahubali 2 has been released on 28 April 2017. After the release Baahubali 2 has broken several domestic and international records, just in three weeks duration, it reached the figure of Rs 1500 crores whereas first 6 weeks collection of Dangal was only Rs 385.66 crores.
Both the films have been released in domestic as well as international theatres, however, Baahubali 2 has yet not been released in China whereas Dangal has already been released in 9000 screens in all over China. Dangal has earned more than Rs 1100 crores in China and that is why it is reaching whopping Rs 1719 crores till now. Baahubali 2 will be released in China in coming months.


Final Take on Bahubali 2 vs Dangal
Also Read:  
1. Walmart Joins E-Book Market through Japanese Partner      
2. 3 Steps To Start Logistic's Business in India!
Indeed it is not only the quality and response that matters for a movie but also how many screens do you get for your movie and despite hits China remains the difficult territory for many Indian films. It may be favourite destination for pseudo-secularists like Aamir Khan who has been recently vocal against Indian intolerance and Narendra Modi. 
But it may not be that cooperative to Indian historical fiction film directed by S. S. Rajamouli and still if he gives access he will definitely limit him to much lesser screens to Baahubali 2 as compared to Dangal.
Dangal's major chunk of money is coming from China, therefore if you exclude China then Baahubali 2 is the only Bahubali film in India so far which has not only created new records but has set new parameters and targets for Bollywood as well as whole Indian Cinema.