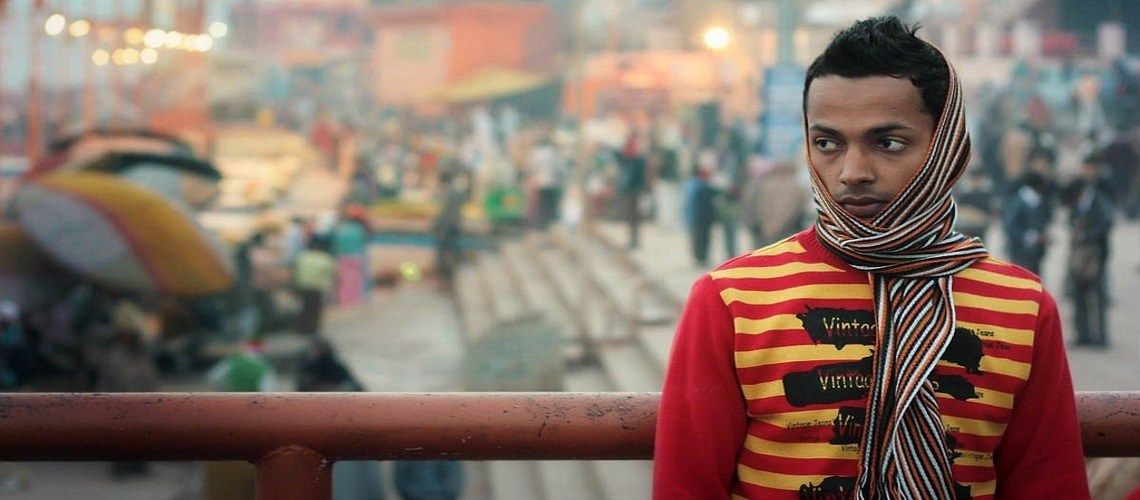 Since time immemorial UP has been greatly civilized than any other community on this Planet, undoubtedly a state of high values and rich in all Socio-economic aspects in most of the history. However today the divisions are so gross that these surface before us even on first sight, may it be religious, cultural, caste-based, political or imbalance of power.
But, was it the always case since the beginning or appeared recently due to polarization as an effect of political will or due to the bigoted mindset of some religious heads or anti-social entities. 
These are great questions which haunt a common nationalist and unless and until we go to the very source of the problem we cannot resolve the other problems which are basically consequences or just by-products.
Does Division Really Exist:
Had this not been there then there could not have been Mathura Violence recently in which 29 innocent people got killed including an SHO & a Superintendent of Police, Muzaffarnagar riots in 2013 caused 62 deaths on the name of religion and Jihad and how there have been around 12000 recorded communal incidents since 2010. 
According to divide and rule policy of Britishers it was their prime object to create divisions among Hindus, Muslims and their sub-classes to prevent the alliances who could challenge authorities and if we go further deep towards Mughal period then they had surpassed even Britishers, what Britishers could not do in later stages they had already done. 
That is the reason today areas like Saharanpur, Muzaffarnagar, Meerut, Bijnor, Moradabad, Bareilly, Rampur & Agra are densely populated with Muslims which inhabit both Shia & Sunni Muslims. 
Divisions certainly exist today also and their extent is backed up with statistics which is highest in India & its graph is on ever increase which is a matter of worry and before we go to the communal picture we must dive into the previous history to have a holistic view on the matter.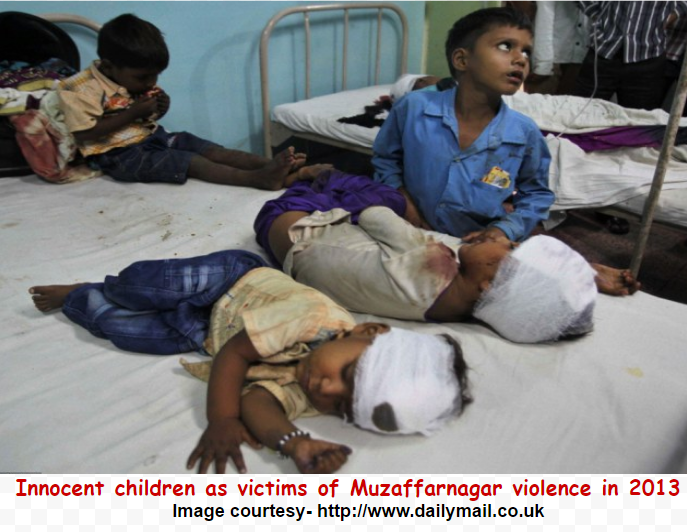 History far prior to the present scenario:
From the stone age to iron age Civilizations have evolved and flourished here. Archaeologists find evidences of stone tools, prehistoric art remainings and structures which dates back to around 70000 years ago and thereafter great civilization like Indus valley civilization along Sindhu River (present Baghpat district, Meerut District, Saharanpur district) which was the first urban settlement around 3300 BC embarks persistence of intelligentsia who domesticated in the form of society when European and American world was still in stone age. 
Ancient links have also been discovered in this land. According to scholars great epics Ramayana and Mahabharata have the same historicity like the Islam & Christianity have with their Prophets, however, Ramayana dates back to perhaps 4000 to 6000 BC and Mahabharata Dates back to 2500 to 3200 BC. 
Historical evidence of Ramayana has been found present in Ayodhya & Prayag- Allahabad and of  Mahabharata in Mathura, Panchal & Hastinapur (present Meerut). It has been the knowledge epicenter from where emerged Maharishi Valmiki during prehistoric times, Amir Khusrow & Sant Kabir during middle ages and great sparks of independence Begum Hazrat Mahal and Mangal Panday against British Rule in 1857 AD. 
UP has seen great up and downs, peaks and valleys with different rulers and dynasties like Maurya, Kushan, Gupta, Harshavardhana & Pratihara Empire and being bestowed with fertile plains around revered Ganga and the Yamuna it was always in the sight of foreign invaders. 
Babur established Mughal Empire in 1506 AD while defeating Ibrahim Lodi, during the reign of his descendants Uttar Pradesh was the main center. 
The third ruler is known as "Akbar The Great" who ascended to the throne when he was just a teenager &  ruled the majority of India and reached zenith among all Muslim rulers mainly because of his political qualities, bravery & cultural dominance due to grip on the kingdom, ruled from Agra & Fatehpur Sikri. 
During Mughal rule region of Uttar Pradesh became increasingly Muslim populated and today areas like Saharanpur, Muzaffarnagar, Meerut, Bijnor, Moradabad, Bareilly, Rampur & Agra are densely populated with Muslims which inhabit both Shia & Sunni Muslims.
Were there any communal riots during the Mughal period between Hindu's and Muslims?
Indeed the phrase "communal riot" may not suffice to the extent of evilness of Mughal rulers, during most of the period there was no one to address grievances & listen to voice of Hindus & their struggle was one-sided only, so any revolution if had arisen was oppressed and crushed by slaughtering innocent people and even complete upheaval at few places. 
Among all Aurangzeb had proved himself as a top murderer who led many genocides & killed around 4.6 million in the name of Islam & Jihad, mutilated lakhs of brahmins in Haridwar & Banaras. Records say that he was fond of making mountains of Hindu Skulls which were visible from many miles and this was his Jihad to terrify and convert Non-Muslims to the Muslim religion.
UP was among most hearted because of being in the closest proximity of ruthless rulers. Wikipedia has listed few as under:
1. Khanwa Holocaust 
Year - 1527 AD
Ordered By - Babur
Number of deaths - 200000 Civilians


2. Ghara Holocaust
Year - 1560 AD
Ordered By - Akbar
Number of deaths - 48000 innocent peasants and common people


3. Chittorgarh Holocaust
Year - 1568 AD
Ordered By - Akbar
Number of deaths - 30000 Civilians including 8000 women


4. Mass Killing
Year - During the reign of Aurangzeb
Ordered By - Aurangzeb
Number of deaths - 4.6 million civilians including lakhs of brahmins in Haridwar & Banaras


However, historians say that above incidents could be just tip of the iceberg and majority of massacres have gone unnoticed in historical records as history itself was written by those who were in power & who could misinterpret it easily according to their suitability.
During British Rule & as in center during the revolt of 1857:
Towards the end of 18th Century, many parts of present Uttar Pradesh was under the control of British Rule. During their governance capital province remained Allahabad or Lucknow. 
British rule has brought great destruction to Uttar Pradesh, due to big economic setbacks old businesses and trades were on the verge of extinction, farmers and artisans were terrified by exploiting policies and land taxing, further their disruption of social and political system resulted in great revolt which is known as "Great Movement of Independence in 1857".
This originated when animal fat (extracted from cow and pig) as grease material for cartridges was given to Mangal Pandey (Indian soldier at Barrackpore) and which was to bite before use who could not do this being against of Hinduism & stood against heinous act and this was the point from where revolt originated and afterwards when news of the death sentence of Mangal Pandey broke, atrocities escalated to Meerut Cantonment & then reached almost all major cantonments of India. This was joined & supported by many kings and Nawabs as well.
Politics and Caste-based Cards UP:
Caste-based politics which is played in UP has very rare match, maybe just 2-3 states only and lust of power are main motivating factors to all parties which are keeping the divisions always alive by providing fuel & flare and people have no options but to opt, anyone of these, because central agenda is always based on "division"  and perhaps same formula will be applied in 2017 Uttar Pradesh Legislative elections when main parties i.e. Bharatiya Janata Party (BJP), Bahujan Samaj Party (BSP), Samajwadi Party (SP) and Indian National Congress (INC) will contest for victory. 
Following statistics which is based on India Census 2011 shows the population-wise percentage of sections in the society which are very important for parties for strategic castes & religious calculus:
Caste - Yadavs (% Of Total Population - 7)
Caste - Lodhi (% Of Total Population - 3) 
Caste - Kurmi (% Of Total Population - 3) 
Caste - Jats (% Of Total Population - 1.7) 
Caste - Kushwaha (% Of Total Population -  4)
Caste - Other OBC (% Of Total Population - 20) 
Caste - Jatavs Dalits (% Of Total Population - 9) 
Caste - Non-Jatav Dalits (% Of Total Population - 11) 
Caste - Tribals (% Of Total Population - 0.8) 
Caste - Brahmins (% Of Total Population - 12)
Caste - Vaishya (% Of Total Population - 2)
Caste - Thakur (% Of Total Population - 7)
Caste - Tyagi & Bhumihar (% Of Total Population - 1.1)
Caste - Muslims (% Of Total Population - 19.3)
Caste - Christians (% Of Total Population - 0.18)


Once the great socialist Frederick Lewis Donaldson has said "It is a sin to have Politics without Principles", yes it must have the Principles and should have rationality, morality, and character in the center as well but Politics of UP has different Principles, which are: 
You cannot win without playing a caste card.
Rubbish Hindu region so that Muslims can be lured
Broadcast the message to the poor "You have always been exploited & looted by opposition & we are the only hope".
More a person will donate funds to our party more we shall reciprocate in return to power in the future in terms of all kinds of privileges (crime ignorance and monetary benefits).
Broadcast misconceptions to make situations in your favor at the expense of larger common interest.
Dispute on holy shrine "Ram Janam Bhumi".


There is no big gain on contributing to central politics: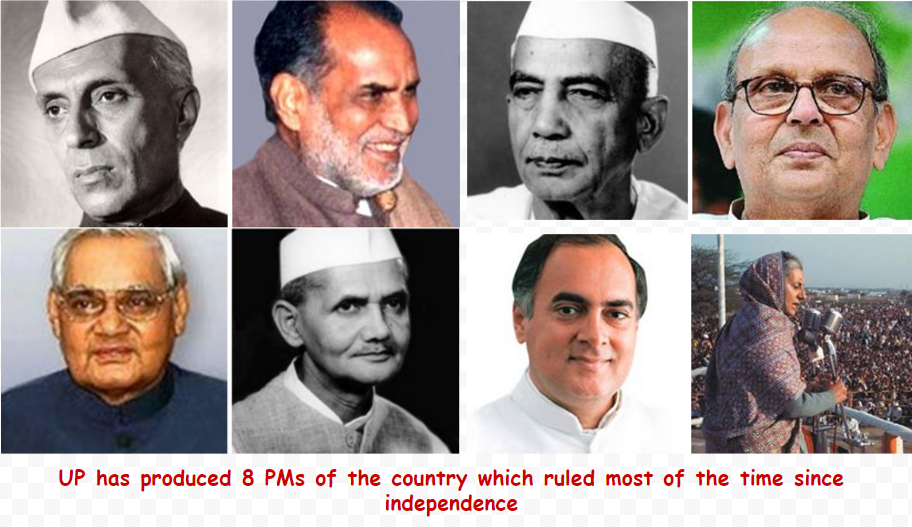 How It is frequently a misfortune to have very brilliant persons in charge of affairs who expected too much from ordinary men but did almost nothing in return on reason whatsoever, It is surprising to know that since Independence Uttar Pradesh (UP) has produced eight Prime ministers i.e. 
Jawaharlal Nehru, Lal Bahadur Shastri, Indira Gandhi, Rajiv Gandhi, Choudhary Charan Singh, Vishwanath Pratap Singh, Chandra Shekhar and Atal Behari Vajpayee who represented a UP constituency. 
Despite these big names who were in power in the center for most of the period so far there is no big achievement in terms of socio-economic reforms and overall growth in terms of Education, Health Care, literacy & per capita income, which stand low when we compare to other states. 
It is a most populated state (828 per sq. km) but GDP wise it is on the third position which in fact is not an achievement too since when we compare per capita income then it stood on the 27th rank in 2013-14 & on 29th rank on literacy wise parameters.
The Hope of Future lies in Unified Society:
"We are only as strong as we are united, as week as we are divided", this realization is enough to transform to a great state and society. Hope is being able to see that there is light despite all of the darkness, Uttar Pradesh has seen zenith at the time of Ashoka & Harshavardhana as well as the lowest of the low during Mughal and British rules.
But today it is not very difficult for the high tech youth and highly aware common men to supersede the caste-related, religious, communal, and locality bars and to give the new direction to the body politic and birth to new Uttar Pradesh.