Prior to Independence; Before the Birth of a Nationalist Party:
Known for outspoken nationalism and devotion for motherland, for whom ideology and organisation is always on the top, which takes live force from glorious & splendorous history of India, who are committed to take away mother Bharti to its highest prosperity, that which is not only a party but a revolution, and whose story is a composition of struggles of so many Patriots and millions of workers and such great beings who could turn the flow of history in 20th as well as 21st century.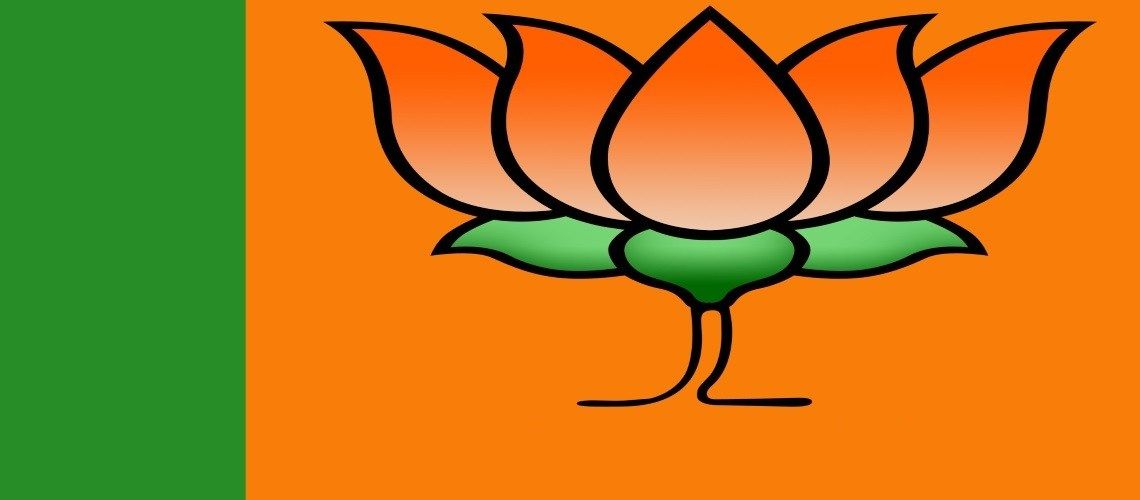 This is the story of such personalities who have given a new direction to country's politics as well as towards love and devotion to it, this is the story of the origin of BJP. In previous one thousand years, the preponderance of slavery went on increasing with each foreign invasions & rules by Muslim Rulers & Britishers. 
Mother Bharti got painted & injured so many times, may it be on the name of religion, Jihad (Jihad is not a violent concept. Jihad is not a declaration of war against other religions. But Someone (misunderstood the meaning of Jihad) or superiority claims of races. During most of the military campaigns against India and during the nightmare of slavery many many great people were still able to keep the uniqueness and culture of the country safe & alive and they guarded its interests by sacrificing their precious lives. 
Of such beings how can we forget Maharana Pratap, Chhatrapati Shivaji, Guru Govind Singh, Mangal Pandey, Rani Lakshmibai of Jhansi, Veer Kunwar Singh, Swami  Vivekananda, Maharishi Arvind, Swami Dayanand Saraswati, Doctor Keshav Baliram Hedgewar, Guruji Madhav Sadashiv Golwalkar, indeed they defended motherland with great devotion and renounced everything they have had with them. 
With due course of time great men have given sharpness & edge over evilness & unlawfulness, independence struggle was based on patriotism but independence had also brought the curse & tragedy of division. Muslim league's communal base of two nations got support from communists & Britishers, on the other hand with strong desire to come in power & with a fake mask of secularism Congress could not stop the division of the country. 
This was a sad and unfateful moment when mother Bharti was wounded & her arm was torn apart by creating Pakistan.
Circumstances after independence which led the foundation of new Party:
Post-independence once the bilateral treaty was signed which is known as Nehru Liaquat Pact or Delhi Pact thereafter Pandit Jawahar Lal Nehru ignored the rights of Pakistani Hindu Minorities, then by expressing displeasure and dissatisfaction Mr. Shyama Prashad Mukherjee resigned from cabinet of Nehru Government as he could not support the anti-cultural policies of Congress party which was now on the pathway of Nehruism and not Gandhism. 
Many other intellectuals who recognized this danger felt the need of a new party. In this context, Doctor Shyama Prashad Mukherjee met with then RSS Chief Guruji Madhav Sadashiv Golwalkar with a proposal of making new Political Party. Guruji chose to keep RSS isolated from Politics. 
However, decided to introduce few loyal volunteers into Politics to transform the body politic and this was how Bharatiya Jan Sangh came into existence, on 21st October 1951. During its first election, it got three seats and also validation as a national party.
Doctor Shyama Prashad Mukherjee's march to Jammu & Kashmir: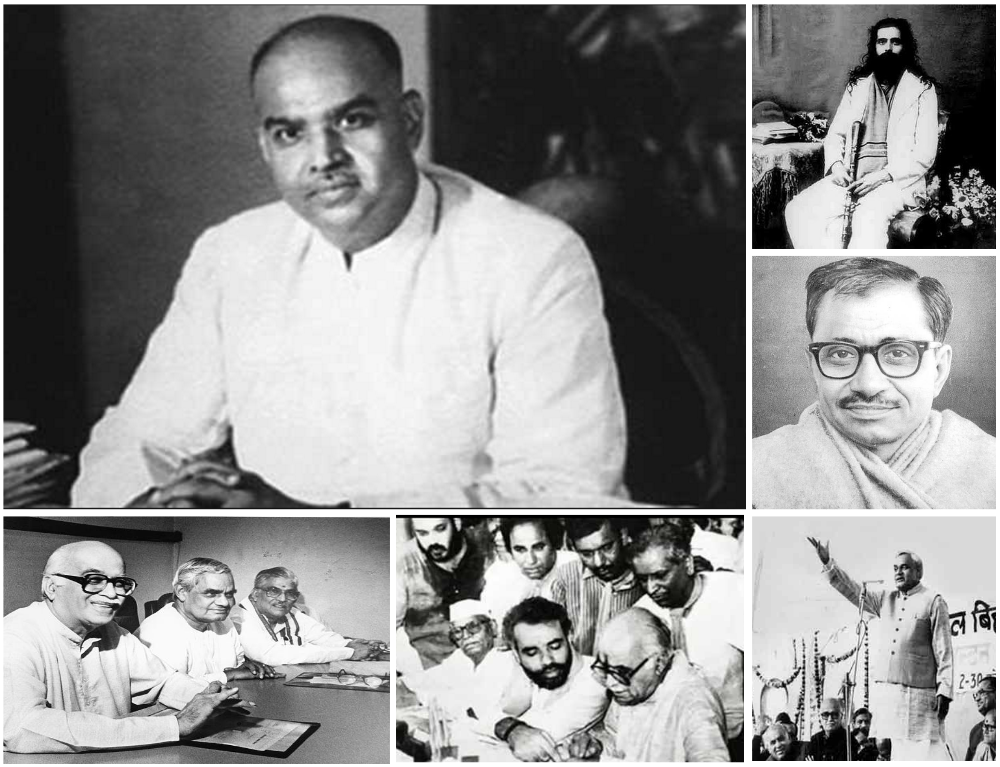 In 1953 no indian was allowed to go to Kashmir without a permit which was against the sovereignty of great nation and therefore Doctor Mukherjee decided the protest, on 19th May 1953 he entered in Jammu and Kashmir without any permit, he was put behind the bars and after having followed this incident mysteriously his health got deteriorated and on 23rd June 1953 he lost his life. 
His sacrifice have had not wasted and his death followed nationwide demonstrations and government was compelled to dismiss Sheikh Mohammed Abdullah from the post of J&K PM, later he was also arrested while permit system was abolished. At that time Article 35A was the real devil of Jammu & Kashmir. 
It was really a foolish statement to say that it will change religious demographics of the state. It was issued by the President of India on 14 May 1954. It was the result of an agreement between Abdullah and Pundit Jawaharlal Nehru and has given great freedom to separatists and radical groups.
Depicted photographs include Doctor Shyama Prashad Mukherjee, Guruji Madhav Sadashiv Golwalkar, Pandit Deendayal Upadhyay, Lal Krishna Advani, Atal Bihari Vajpayee and Narendra Modi
Under the leadership of Pandit Deendayal Upadhyay:
After the Doctor Mukherjee, Pandit Deendayal Upadhyaya took responsibility on his shoulders & remained General Secretary of Jan Sangh for next 15 years. He awakened the constructive imagination among common men. He wanted to base India's identity to its culture not on western democracies, communist ideologies or like fake secularism but on India's own ethos, spirit, glorious colors of every state like Bengal and uniqueness. 
He was a great philosopher, economist, sociologist, historian, journalist, and political scientist. His constructive approach towards nation can be observed with his following statement;
"We are pledged to the service not of any particular community or section but of the entire nation. Every countryman is blood of our blood and flesh of our flesh. We shall not rest till we are able to give to every one of them a sense of pride that they are children of Bharatmata. We shall make Mother India sujala, suphala ("overflowing with water and laden with fruits") in the real stories & sense of these words. As Dashapraharana Dharini Durga with her ten weapons, she would be able to vanquish evil; as Lakshmi, she would be able to disburse prosperity all over and as Saraswati, she would dispel the gloom of ignorance and spread the radiance of knowledge all around her. With faith in ultimate victory, let us dedicate ourselves to this task."
He led many historical movements like Goa Liberation Movement, Pondicherry Freedom Movement, Dadar Haveli Freedom Movement, the movement against cow slaughter and strong demonstrations against expatriation of Berubari Land from West Bengal to Pakistan. 
By now Jan Sangh had established itself as a political entity with distinctive ideology among the hearts of common men. Pandit Deendayal Upadhyaya was assassinated on 11 February 1968 at Mughalsarai in UP when he was traveling in a train (Sealdah-Pathankot Express), this was a sharp hit to the moral excellence of the country as Ma-Bharti had lost great son forever. 
But as we know when a great man dies, for years the light he leaves behind him, lies on the paths of men, this was very true for him as the base he had left kept the Sangh ever moving towards its goal.
First big success in Elections:
In 1967 Jan Sangh got the victory on 35 Loksabha seats with 9.41% vote shares, this was now a 2nd largest party in India, throughout the country, Jan Sangh captured 268 seats in state assembly elections which enabled the party to participate in 9 state governments. The first time the downfall of Congress has begun and its supremacy downgraded.
Merger into Janata Party & Emergency period:
On 13th February 1968, Mr. Atal Bihari Vajpayee was elected president of Jan Sangh, now this was the beginning of Era of Atal Bihari Vajpayee and Lal Krishna Advani, the country was standing on such a turn that people were forced to struggle with emergency and democracy was facing a great threat. Corruption, Inflation, and misgovernance were on ever rising. Indira Gandhi became quite unpopular for her dictatorial decisions. 
On 12th June 1975, Allahabad high court rejected the candidature of Indira Gandhi, she didn't get relief in the supreme court as well. In the judgment dated 25th June 1975, she was even made deprived of voter right in the parliament. On the same night of 25th June 1975 unfateful chapter of our democracy was written and state of emergency was imposed on the country which continued for next 21 months. 
Repression rules followed the suspension of elections, Civil liberties were curbed, banned Rashtriya Swayamsevak Sangh (RSS), etc. Invoking article 352 of Indian constitution Government launched massive crackdown of the opposition and arrested thousands of leaders under preventive detention including Vijayaraje Scindia, Jayaprakash Narayan, Raj Narain, Morarji Desai, Charan Singh, Jivatram Kripalani, Atal Bihari Vajpayee, Lal Krishna Advani, Satyendra Narayan Sinha, Gayatri Devi, the dowager queen of Jaipur and so many others. 
Jan Sangh fought for truth and right, it got massive public support and a new alliance emerged in the prison, as to save the country and to keep country above party, Jan Sangh merged into Janta party. The message of revolution & great transformation was passed upon to common man by Mr. Jay Prakash Narayan as well and now his voice was thousands and thousands of common workers of Jan Sangh who stood for the national interest and integrity. 
Public agitation reached its peak and Janata Party emerged as a great hope of common civilians at the same time Congress got highly defamed.
Post Emergency Scenario & Appearance as Bharatiya Janata Party (BJP):
In General Elections in 1977, Indian National Congress lost grip from power, this was the first time and Morarji Desai became first non-congress Prime Minister of India, Atal Bihari Vajpayee became foreign minister and Lal Krishna Advani information minister. Even Mrs. Indira Gandhi was defeated by Raj Narain in the Rae Bareilly constituency by a margin of 55,200 votes. 
The transformation had secured democracy but this experiment could not go for long as government was dropped due to groups and lack of trust, there were clashes between ideologies & egos. " A Conservative government is an organized hypocrisy", this is what happened; followers of distorted secularism wanted Jan Sangh to refrain from Rashtriya Swayamsevak Sangh which they could not as how someone could kill his own ideology. 
According to their popular belief "All intellectual tendencies are corrupted when you consort with power & you are greedy to power but when you stick to principles then power is only a consequence and not the aim." After intermediate elections, Congress again came into power and Jan Sangh de-merged and re-branded itself to Bharatiya Janata Party, on the fortunate day of 6th April 1980 and Mr. Atal Bihari Vajpayee became first Party President in 1980. 
After the sudden assassination of Mrs. Indira Gandhi congress got huge sympathy votes while BJP was confined to just two seats, this turned positive during 1979 elections when they got 86 seats, during this period Ram Janmabhumi Mukti movement got great pace and Lal Krishna Advani started his Rath March from Somnath to Ayodhya and got huge public support. 
During 1991 Parliament Elections BJP reached to 120 seats. That was the turning point of BJP. Because of all these historical reasons, now we have a Prime Minister Like Mr. Narendra Modi.
Ekta yatra to Lal Chowk Srinagar:
During early nineties terrorism and violence against Kashmiri Pandits were on ever-rise, separatists were spitting venom against India while great turmoil and unrest had hit this Himalayan State. The whole country was pained and irritated by Kashmir incidents. Having accepted this as a challenge Doctor Murli Manohar Joshi (then Party President) decided to raise national flag on lal chowk and by doing so on 26 January 1992 message of unwavering unity and national integrity has strongly prevailed. 
The nation was feeling pride and Mr. Narendra Modi who was accompanying Mr. Joshi and who later became the Prime Minister of India was also before the public in a very constructive role.
Ram Janam Bhumi Dispute: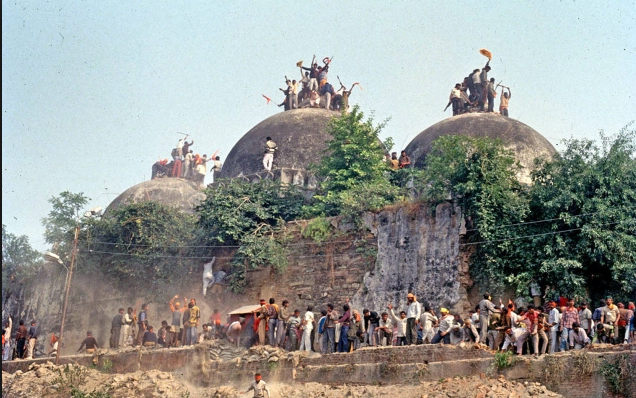 On 6th December 1992, agitating uncontrolled mob demolished the disputed structure and Bharatiya Janata Party (BJP) was credited as well as targeted for the incident.
BJP and NDA governments in subsequent elections:
Mr. Atal Bihari Vajpayee who owned a charismatic personality remained parliamentarian for four decades (with 10 Loksabha turns and 2 Rajyasabha turns), such an influence that he has been lavishly appreciated by even opposition and enemies. During 1996 elections BJP appeared as a single largest party and got 161 seats and Atal Bihari Vajpayee took the oath as a Prime Minister of India. 
Due to fractured majority government could not last for long & when figures turned against Mr. Vajpayee resigned from his post. Rest parties could also not lead for long and intermediate elections were held again on 1998 when BJP led NDA got full majority and BJP secured 182 seats and Mr. Vajpayee took oath  2nd time as PM and was able to sustain government now. 
To benefit nation he took many bold decisions like made India a great Atomic Power & did Pokhran Atomic Test-II (first was done by Indira Gandhi in 18th May 1974) which followed many international sanctions but never bowed down and compromised with countries security and dignity, he also won the Kargil War which was imposed by Pakistan on the name Jihad. This government lasted for 13 months only and was dropped when All India Anna Dravida Munnetra Kazhagam (AIADMK) withdrew its support. 
Again there were intermediate elections & great victory followed this time. Atal Bihari Vajpayee became prime minister the third time. Vajpayee government extended the process of economic liberalization, initiated privatization and increased ties with foreign countries. He initiated policies like Sarv Shiksha Abhiyaan, Swarnim Chaturbhuj Yojna, Pradhan Mantri Gram Sadak Yojna, Kisaan Credit Card and many such policies which revolutionized growth in all dimensions. 
After dissolution of 13th Loksabha in 2004: This was a premature dissolution to pave the way for early elections perhaps in the view of a good showing of Bhartiya Janata Party in four state assembly elections. However, during 2004 elections BJP got 136 seats only. The key of government swung to the hands of Congress again. Congress-led United Progressive Alliance was in power now with a comfortable majority of 335 out of 543 Lok Sabha seats. 
During their term record corruption allegations were labeled and suspected on them like 2G Spectrum Scam, IPO Scam, Bihar Flood Scam, Commonwealth Game Scam, Scorpion Submarine Scam, Punjab City Centre Project Scam, Taj Corridor Scam, Coal Distribution Scam, Army Ration Scam, Westland Helicopter Deal Scam, Mgnrega & Nrega Scam etc. 
By now people had started giving a response in terms of votes and Lotus started blossoming in many states, in 2008 BJP got the first victory in Karnataka, followed conjunctive three-term wins at Madhya Pradesh & Chattisgarh, In Gujrat, BJP returned 5th time while in rest of states it was involved in one or another role.
Narendra Modi in power & ascension to center:
Under the leadership of Narender Modi Gujarat evolved as a role model of development, prosperity, good governance as well as a model of unity in diversity for the entire country. Modi had emerged now as synonymous of victory and attainment as well as a hope & desire of common man, not only of Gujrat but across the length and breadth of this nation, the whole country began seeing country's future under his leadership. 
When BJP nominated Narendra Modi as PM Candidate then it appeared as if the whole country was waiting for this, he stood and every nook and corner of the country was colored in his colors, his public appearances followed unprecedented public support. On 16th May 2014 election results were declared, BJP led NDA got 336 seats and BJP got 282 seats. 
It was after 30 years that public has given the full majority to a party. On 26th May 2014 Mr. Narendra Modi took the oath of PM. The whole country got infused with the great spirit and Morale of Narendra Modi, a superhuman whose temperament can be glimpsed with his following quotes:
We do not need Acts  but Action.
Once we decide we have to do something, we can go miles ahead.
We are not here for any positions but for a responsibility
IT+IT=IT;  Indian talent + Information technology = India Tomorrow
Each of us has a natural instinct to rise like a flame. Lets nurture that instinct
Mind is never a problem, Mindset is.
Hard work never brings fatigue. It brings satisfaction
Desire +Stability = Resolution, Resolution +Hard work=success
Following data shows that how Jan Sangh steadily evolved in past decades and paved the central position as Bharatiya Janata Party in Indian Politics:
Growth Pattern of Bharatiya Jana Sangh (1951 to 1977):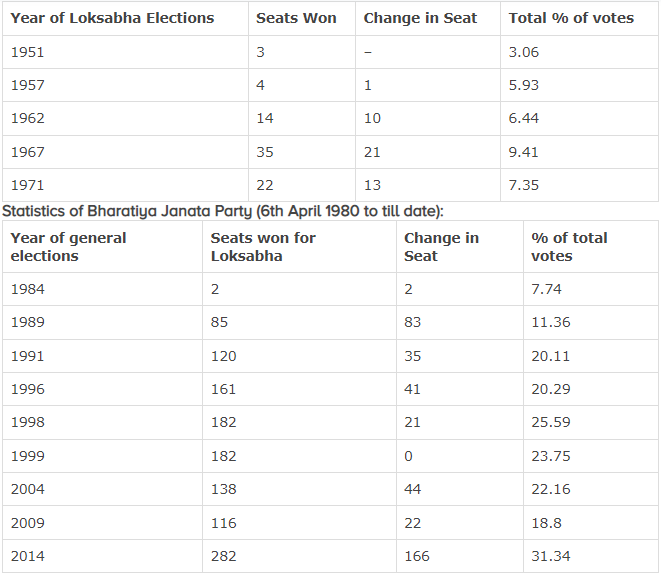 When Vajpayee became the first BJP president then there were 25 lakh workers which have outgrown to beyond 11 crores now, present president Mr. Amit Shah is heading the biggest party of the world now and serving Ma Bharti like what its predecessors have done in past.