Ajit Doval is someone who has become a household name in India in the last 5 years. Perhaps not since KPS Gill, has someone from the security apparatus attained such an aura and name recognition.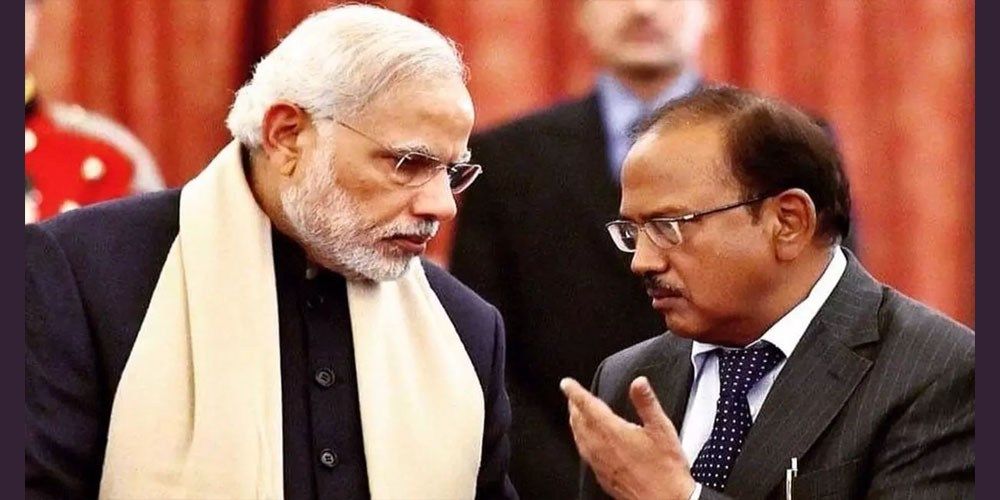 The present National Security adviser is widely known and appreciated for his tough stance and nationalistic approach on matters relating to foreign relations, counter-terrorism, intelligence network, covert operations, and the 2 famous surgical strikes against Pakistan.
National Security Advisor To PM Of India Shri Narendra Modi
In a chequered career of almost half a century, Ajit Doval has taken up highly responsible and equally endangering profiles. He served in length and breadth of India and has held key International positions. Outside to India, he is well known in many senior diplomatic circles of several countries.
In his present profile, he is a close advisor of Prime Minister Modi and members of the cabinet concerning several matters of India's security policy. Today he can be called as the de facto second most important person in India.
Ajit Kumar Doval - 5th & Current NSA Chief To PM of India
What sets Ajit Doval aside from his predecessors is the forward-looking approach. The Doklam standoff between India and China is the best example of this. Although the disputed area belonged to Bhutan, Indian troops moved swiftly occupying the high plateau and taking Chinese troops by total surprise. In fact, the Chinese were constructing the road which they were planning to extend to Doklam high plateau.
Knowing that any occupation of Doklam will give the Chinese strategic advantage to send their tanks and machinery to the strategic Tri Junction area and also to cut off India from the Siliguri Corridor, India moved its troops swiftly. After an eyeball to eyeball confrontation, India and China mutually agreed to withdraw and go for status quo.
In fact, it was Doval's long term sightedness and the threat posed to the Siliguri Corridor which made him act highly proactively on moving ahead on Doklam. This is nothing short of genius thinking. This is as regards to strategy.
What Ajit Doval Did During 1984 Operation Black Thunder
Now cut to 1988, almost 30 years back, when Khalistani Militants were holed up In Amritsar's Holy Golden Temple with huge stockpiles of arms and ammunition. After the experience of Operation Bluestar in 1984 when the storming of Golden temple by Indian Army caused damage to the shrine and many casualties, the Government in Delhi did want to take any chances by conducting an open operation. This is when Ajit Doval comes into the picture.
As a senior Intelligence Bureau officer, he entered the Golden Temple disguised as an Auto Rickshaw Driver. He mingled with the militants by posing a Pakistani Informer and assuring to help them in achieving their goals.
After a complete analysis of the situation inside the temple including the firepower of the militants, he convinced the government in Punjab and Delhi to cut off electricity and water supplies instead of going for a frontal assault.
A harsh step but it prevented any major loss of life and the Operation known as Black Thunder was a complete success. This shows the brilliance of Ajit Doval in field operations.
Ajit Kumar Doval - The Great Indian Spy Who Spent 7-years In Pakistan As A Muslim
Another region where Doval was very deeply involved was Kashmir. He had undertaken several intelligence operations in Kashmir right from the 1990s and even before that. With a well-connected spy network, he got in touch with many militants and persuaded a lot of them to take on the anti-India militants.
This policy paid off and considerably weakened the militant groups in the valley. This paved the way for holding of elections in the year 1996.
Perhaps the most famous of his exploits was spending seven years in Pakistan as a deep undercover agent where he actually disguised as lived as a Pakistani national and gathered extensive information of the anti-India planning that was being carried out in that country.
He is the only national Security Advisor who has gone so into roles of such high-risk operations outside the country and that too with one of the sworn enemies of India.
From VIF Director To NSA Chief: Meet PM Modi's Favorite Think Tank
After his retirement from IB, Doval founded the Vivekananda Institute of Studies which is a strategic think tank center where many senior security strategists, thinkers, diplomats, academicians and defense experts are involved. It contributes in many ways to the shaping of India's national security and foreign policy.
This brings forth the intellectual in Ajit Doval as well. Security expert, master spy, strategic thinker, and a knowledgeable intellectual genius is what Ajit Doval is made of. He is truly a great gift of India and a great gift to India.