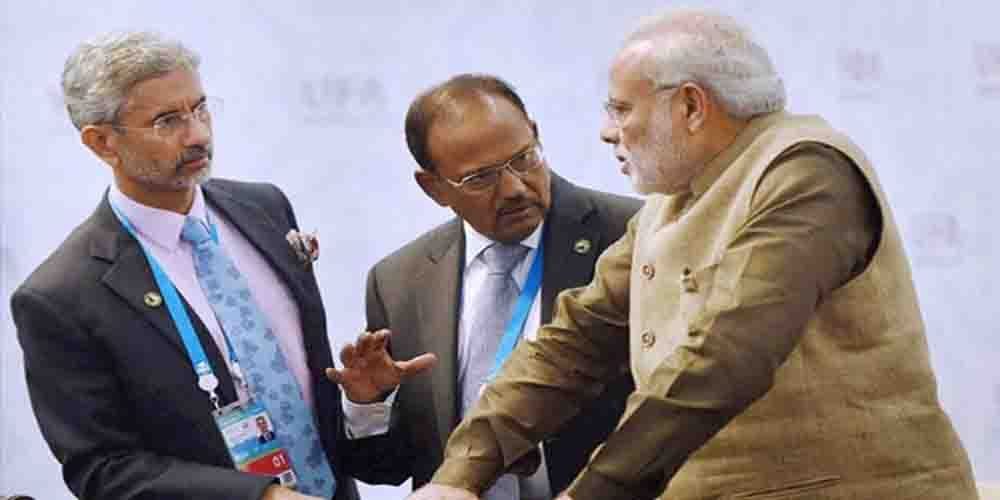 NSA Ajit Doval has made all plans to foster the relationship between China and India over border issues; he has also called for a "larger plan" to tackle all disputes in the country. There were about seventeen rounds of special representative talks between India and China concerning the Problem of boundaries shared between them. But Ajit Doval's 27th July visit to China may is important amidst war speculations.
NSA Ajit Doval's China visit: What is his Secret Plan?
Also Read:
1. Imagining World War III Scenario Amidst Rising & Established Superpowers
2. What Will Happen If A War Breaks Out Between America And North Korea
Ajit Doval will be traveling to Beijing to attend a BRICS meeting on the 27th and 28th of July and the visit comes with the great expectation to solve issues between two neighbors; one the issues is the Doklam standoff with Beijing. There have been lots of questions thrown to Doval and his plans to curb the issues as the leader of the special representatives for boundary talks but he has not given direct reply yet and has once said:
We will keep you informed as and when there are developments
Right now, the Chinese and Indian soldiers have been locked in a face-off around Doklam area of the Sikkim sector for more than a month now due to the fact that the Indian soldiers stopped the Chinese army from building a road in this area. This problem has created lots of tension between these two countries to and lots of speculations have risen. 
The upcoming visit of Ajit Doval may foster a good relationship between these two countries with his "secret plan" which is to meet with them and talk peace but meanwhile, keep our forces ready for war and no compromise at the border.
Ajit Doval is very much familiar with sikkim reason since 1970 when he first went there as an undercover agent, even he has role in uniting small parties and creating pro-India sentiments, therefore he has played main role against annexation of Sikkim for many years. According to his secret plan he had already warned Modi government to keep forces ready for all-out confrontation with china and he is leading war preparations at Indo-China border. India has taken the rigid stand only after detailed assessment and preparation.
There have been special talks between India and China. These talks were anchored by 17 special representatives concerning border issues between these two countries. Ajit Doval who is a former Intelligence Bureau chief spoke on the annual K F Rustamji lecture he said "we might have to see China Border in a different way once the border is settled between the two countries… we have got a big border which is about 3,488 – Km but right now, this border is an issue".
Ajit Doval visit Beijing may ease Doklam tension but Chinese Media is highly skeptical about him, therefore Doval Must Abide by His Secret Plan
Chinese media is now training guns on NSA Ajit Doval and has given the signal that Doval's visit will not lead to any solution on border issues. Chinese media is clearly divided over the outcome of NSA Doval's visit and State-run Global Times calls NSA 'one of main schemers' behind border row:
As Doval is believed to be one of the main schemers behind the current border standoff between Chinese and Indian troops, the Indian media is pinning high hopes on the trip to settle the ongoing dispute.
China Daily has seen it in the different context:
The two sides need to explore ways to avoid confrontation. It would be damaging to both countries and regional stability if India cannot use its reason and wisdom to avoid the military collision, both countries are currently on course for.

China is Mother of All Disputes
It is imperative to note that Ajit Doval is the head of the Indian side at the talks of the Special Representatives with China. Doval has also acknowledged China's strength in as world economic power and its friendship with the Pakistani government. The K F Rustamji lecture which held the meeting for the peace talks was organized by the BSF in memory of Rustamji who is the founder and the director general of the force. 
Doval has also made concerns over the eastern sector where claims have been made on Tawang which is not acceptable. Doval has expressed his heart and he was surprised that while McMahon Line was agreed till Myanmar by China, this agreement was not accepted later on. In Doval's speech, he said " the fact that is there is a settled population in places such as McMahon, Myanmar but most especially Tawang and they have been a part of the national mainstream" he also said they is a need to work out a "larger plan to tackle China."
Also Read:  
1. World War III- The Countdown of End of The World!
2. Top 5 Most Lethal Flying Weapons Ever Created In The World
The Sikkim stand-off between India and China concerning Doklam area is one of the tactics by China at the Indian border. Looking at the big picture, after many roads in Pakistan, Nepal, Sri Lanka, Myanmar and Bangladesh, China has now shifted its attention to Bhutan which is the last neighborhood of India. 
There are no doubts that China has concluded to change the status of a disputed tri-junction which is a good strategy that is intended to know how strong Indian-Bhutan relations are; also to know the status of India as the second pole to China in South Asia. The unsettled border dispute between India and China has caused lots of disputes and there is the need for resolution between these two countries. 
After several talks on why New Delhi may not consider handing over Tawang to China. One of the reasons is that there is a great importance of this area because, taking over Tawang might give China an opportunity to cut India's North East from the rest country. 
As a result of this, Doval's doctrine means finding a possible solution to India and China border dispute but always keeping Indian flag high.