For anyone who has read the book "The Accidental Prime Minister", even a die-hard BJP supporter of last 25 years (and obviously a present-day Modi Bhakt, beyond all levels) will be at pains to admit that Dr. Manmohan Singh was a misfit to head a country like India.
On the contrary, such blind follower will rather accept with hidden unease that Dr. Singh was perhaps unlucky to get the profile of the Prime Minister and the country was lucky to have him. Contrary to the general feeling, the author of the book, in fact, elevates the former PM.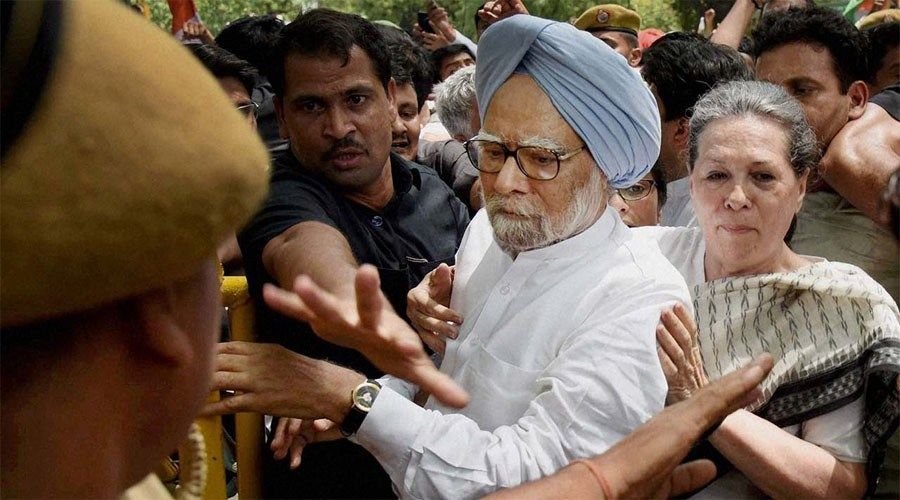 Now, Come forward to December 2018, when Dr. Manmohan Singh released his collection of works. This has spread to over six volumes, consisting of the Oxford days, M.Phil. and thesis on economics, for the first volume; the second and third volumes on several years of researched works on trade, monetary policy, globalisation and international economic order; the fourth one on his speeches as Finance minister during the Narasimha Rao regime and last two volumes is a collection of his speeches and press conferences during his stint as the prime minister.
Someone who manages to read even one-third of these works might as well shake off every inch of political loyalty to other parties.
Dr. Manmohan Singh-13th Prime Minister of India
The reality remains, that Dr. Manmohan Singh was a scholar and an erudite luminary, who was not just accidental but also an unwilling prime minister. He was unfortunately thrust into the messy and self-serving world of the Indian political system. He perhaps decided to overlook the ugly side of the Indian political scenario due to his deep desire to change the economic scenario of the country.
As an Economist, who rose to eminence during the socialization era and as a bureaucrat who oversaw the opening up of the Indian economy, he firmly believed in the competitive free market economy and global integration. At the same time, he was an ardent advocate of social equity with universal healthcare and education.
In essence, he was a capitalist who did not share the typical dislikes of the vulnerable sections of the society and a socialist who did not dislike the profit generation.
Dr. Manmohan Singh's Inclusive Growth Strategy Helped Mitigate Disparities
Every governance act of his was driven by economics and the need for "inclusive growth", a term which he himself had coined. Unlike the quintessential Indian Politician who takes every step with the intention of wooing the voters after 5 years, Dr. Singh was never bothered on the dynamics of re-election.
With a single-handed focus on economics and globalization, he never got deep into party administration or inter-party alliances. This might have been a bane or a boon but the focus was clear as far his approach was concerned.
2G Spectrum Case/ Coalgate Scam
Having lived under media glare for almost 25 years at a stretch, media savviness was something totally alien to his nature, till the very last day. 
There was never a tendency to claim credit and build an image during the boom years of the Indian economy; nor was there any attempt to shield away from the press, once the barrage of corruption accusations started, from the 2G spectrum case to the Coalgate scams.
Both these characteristics are hallmarks of the present government, which has used, or rather misused social media beyond all levels.
Dr. Manmohan Singh: An Unusual Life in Unusual Times
It needs to be noted that UPA 2 was criticized heavily for its poor record on corruption, but till date, there has not been a single finger pointing on Dr. Singh of any personal benefit or even a mild form of disproportionate asset accumulation. In this, he stands out as a man of impeccable repute. At the end of the day, his party's image was tarnished but Dr. Singh's image was untouched, which continues as such, till this date.
From the very early days of his high profile position as RBI Governor in 1982, till his last day in 10, Janpath as the prime minister, Dr. Singh maintained a simplistic and frugal lifestyle with never the stamp of a VIP personality both in his political career and personal life.
Manmohan Singh Loyalist Towards Congress Party & Gandhi Family
Some Great Achievements Of Dr. Manmohan Singh Are- Civil Nuclear Agreement with the USA, RTI, MGNREGA, NIA and reeling India at the time of Global recession. However, being an absolute loyalist of the Congress party and the Gandhi family Dr. Singh has not been swayed by any position of power or prestige. It goes without saying that a luminary of his stature would have been given any plum role of choice by the successor government.
However, Dr. Singh has been unwavering in his loyalty to his party. This is something rare in Indian Polity. Dr. Manmohan Singh has once said "History will be kinder to me than the media" and he is gradually appearing like a very effective PM.