Ancient History:  There has been no time in the Indian history which stands without the record of great Bengal. Stone age findings led to prehistoric accounts dating back 20000 years and with copper monuments beyond 4000 years.
There are many written accounts in Indian, Buddhist, Roman, Latin, Egyptian & Greek texts which give the glimpse of role of Bengal in ancient history. It has been glorified by great hindu dynasties like Maurya, Gupta, Gauda Empire, Mallabhum Kingdom, Pala Empire, Chandra & Sena Empires. Even the world conqueror Alexander could not withstand the counter-stroke from Best Bengal who at that time was known as Gangaridai and dropped the idea to cross mighty Ganga.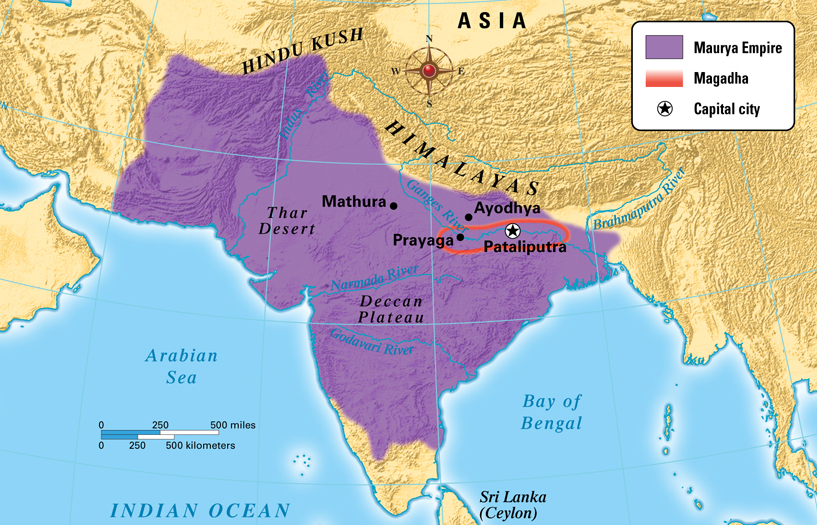 Quotes from Foreign visitors:
The first idea of democracy originated and lived here in the form of janapadas for over a thousand years which are also mentioned in Mahabharata as Vanga, Pundra & Suhma. These ruling Janpadas were representatives of an assembly of scholars who had the right to elect janapadas & dethrone them, however, few were monarchical also. During Mahabharata, Bengal was headed by king Paundraka Vasudeva, Chitrasena, and Sanudrasena who were in association with Jarasandha.
The Golden Period of Economic Well Being:
West Bengal is geographically privileged with all forms of land & this has been one of the main contributing factors towards its glorious past, on south side it connects to bay of Bengal, the north Himalayan range include tourist places like Darjeeling & Siliguri and middle range include big fertile deltas which are extended along Murshidabad, Nadia, Kolkata, Hoogly, and Howrah.
Its well off geography is expressed with national Parks as Buxa National Park, Neora Valley National Park, Jaldapara National Park, Gorumara National Park, Sunderban National Park, Singalila National Park.
Farming started from prehistoric era & continued in all ages however affluent industrial record can also be traced to many centuries or perhaps thousands of years back. Fame of Textiles of Bengal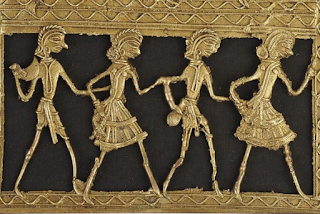 An Old Art Craft Work
Muslin spread all over the world long before B.C. In fact, Mummy has been found wrapped with Muslin dated 2000 B.C. in Egypt which is the purest, finest & most gentle fabric produced & exported from great Bengal. Before being British colonialist it was leading Silk, Sugar, Salt, Pottery, Metal Work, Shipbuilding, Jewellery manufacturer and business hub of minor arts & craft & Ivory Carving whose material was being traded through 20 big ports in coastal areas to distant countries.
Aurangzeb's personal physician was overwhelmed by the enormity of Bengal & expressed his observation on the conclusion of his 40 years in India as :
"Bengal is most known in France among all parts of huge Mughal Empire. The huge wealth, which flows to Europe, is a proof of this country's fertility. In fact the productivity of this country in silk,cotton, sugar and indigo surpassed Egypt. Everything is in plenty here. Here there is plenty of fruits fertile, food grain, Muslin, golden textile and silk" (Majumdar, R.C.).
Robert Clive who established East India Company roots in Bengal also mentioned about Bengal as :
"The city (Murshidabad) was as wealthy as London and populous. However the difference is that there are some citizens of this (Murshidabad) who were infinitely greater wealthy than the citizens of London".
Bengal presidency was largest among all and due to magnificent size and potential was subjected to repeated divisions whereas Madras and Bombay presidencies remained unchanged.
Historical Places:
Recently gold coins were found in present Saharan in Murshidabad which belongs to the reign of Chandragupta and Samudragupta during 4th Century AD. This is not only the evidence of its rich culture but there are many historical places which still stands tall such as: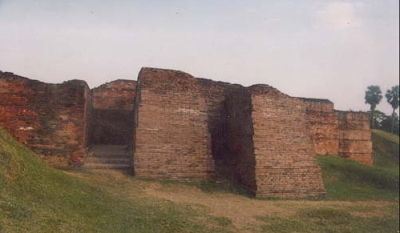 Chandraketu Fort: Contemporary to Mauryas (400 BC)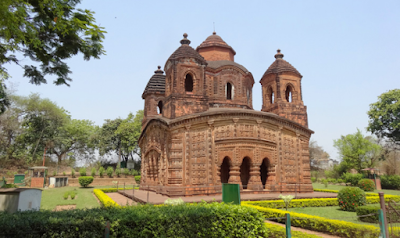 Bishnupur Temple: Ancient temple with rich architecture  of 15th Century A.D.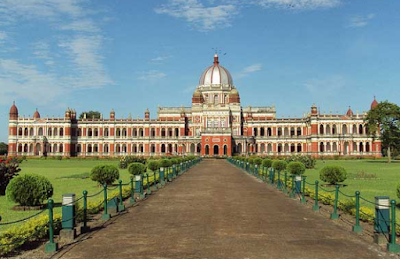 Cooch Bihar Palace of Mughal Era lies at the  Indo-Bangladesh Border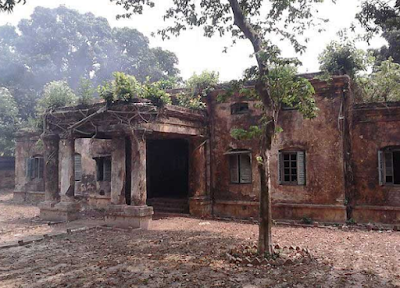 Barrackpore where sepoy mutiny originated. Revolt  was sparked by great freedom fighter Mangal Pandey  who was killed by Britishers in 8th April 1857?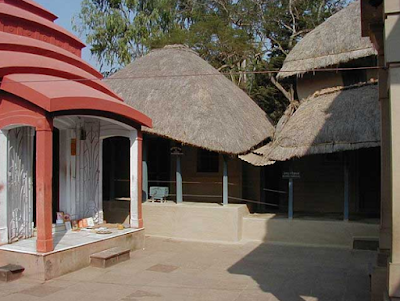 Kamarpukur : Birthplace of Ramkrishna Paramhansa.
The Culture Of West Bengal:
The historical and geographical region of Bengal includes East & West Bengal. Today east Bengal is known as separate country Bangladesh which reflects many traditions same like West Bengal.
It has its own language called Bengali and this is richest in art, music, cultural heritage and peculiar cuisines whereas on social planes Bengal has been able to produce great reformists and thinkers like Raja Ram Mohan Roy, Vidyasagar, Ramkrishna & Paramhansa.
Bengali literature has earned great reputation all over the world which has been nurtured & contributed by Kazi Nazrul Islam, great poet & painter Rabindranath Tagore, Sharat Chandra & Ishwar Chandra Bandyopadhyaya etc.
Bengali theatre dates back to 200 years and so far produced big figures like Girishchandra Ghosh,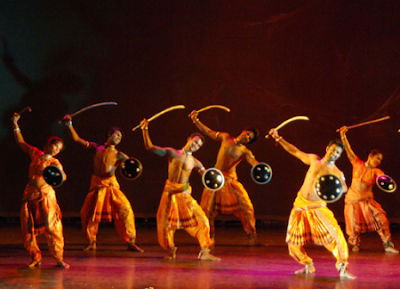 Martial Dance
Rabi Roy, Sisir Bhaduri, Badal Sircar, Shobha Sen and Soumitra Chatterjee. Theatre had been the platform of common will towards freedom during independence.
Bangla music includes Bangla classic, Bangla folk & Rabindra Sangeet. 2% of the total population include tribal people which have distinct and varied culture. They do the tribal dance in the group. Rich cultural heritage is reflected through folk dances which depict war between Gods/Demigods and Demons, many of these are also religious songs which are sung to please Lord Shiva and his divine consort Parvati.
Martial dances and tribal dances are the most famous among masses in the state.
Bengali Dishes: Bengalis are fond of eating long range of delicious foods like in sweets chum chum  & Rasgulla, Snacks like Andesh, Muri & Moa however their cuisine is incomplete without variety of any kind of fish like  salmon, hilsa, bhetki, magur, carp and rui or other seafood like prawns, even bengali brahmins eat fish. Today when many well-off cultures are suffering with over-eating disorders, Bengalis are very conscious about healthy foods. Indeed they prefer both taste as well as health.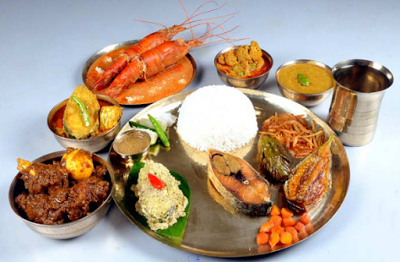 Traditional Bengali Dishes
Spiritual Side: World famous temples like Dakshineswar, Kalighat, Mayapur & Tarakeshwar are great worship.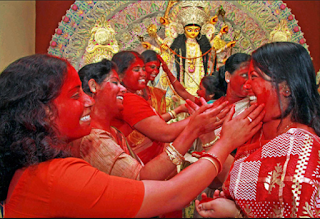 Durga Puja Festival places of Shiva, Lakshmi & Kali and Durga Puja is the biggest festival in the state which is celebrated for four days and during conclusion idols are immersed in rivers and water bodies as the religious ceremony.