Article 35A which forms a part of the Indian Constitution empowers the Jammu- Kashmir state's legislature. It gives the power to define the permanent residents to the state legislature and provides privileges and special rights to those residents. This provision restricts citizens from the other parts of the country to acquire property in the state, avail state-sponsored scholarship, take up government jobs, and to settle anywhere in Valley.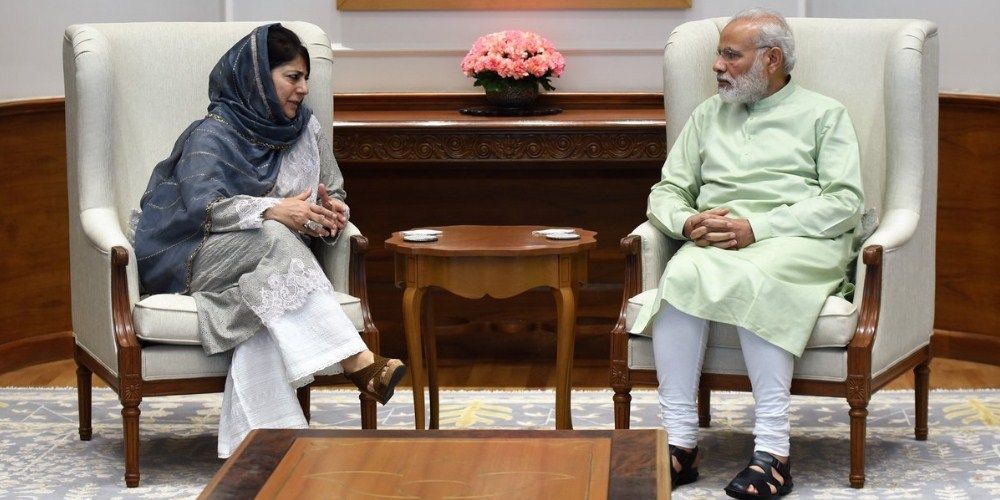 Also Read:  
1. Hedgewar's RSS: Circumstances behind origin, It's Inspirational Sources and Objectives
2. This is how RSS has been Misrepresented for political scores
Recently, Mehbooba Mufti (Chief Minister) has warned Modi government that if Article 35A is tinkered, no one will last to hold the national flag in the state. To this, the state opposition which was led by National Conference said that this will trigger an agitation.
Article 35-A Abrogation Will Trigger Stronger Agitation Than Amarnath Land Row: Abdullah
Omar Abdullah created hype on Article 35A by saying:
On the basis of a constitutional provision wherein the union of India was responsible only currency, communication, defence and foreign affairs, that time also it was only one India, over time that position has been eroded, but there is no reason as why autonomous Jammu and Kashmir ceases to be a part of India.
He defended Article 35A and warned of consequences if it is abolished. Congress who has given Omar Abdullah six years of power has no regret on this statement. Farooq Abdullah supports Article 35A by saying:
Article 35A is vital and non-negotiable for the people of Jammu, Kashmir and Ladakh and those trying to divide us on regional and religious lines to further their agenda will have to be defeated.
Mr. Virender Gupta of BJP has Accused Omar Abdullah by saying:
There is nothing anti-national if any person is defending Article 35A. However Omar is creating hype on Article 35A, when the case of its legality is being heard in Supreme Court. He is trying to divide the people on the regional as well on religion basis.
Mr. Ashwani Chrungoo (Migrant Kashmiri Pandit) says:
Coupled with Article 35A, which have provided a constitutional mechanism to promote fissiparous and separatist tendencies in J&K. This Article has created a state within a state and provided justification to so-called sub-nationalism.
This Is Why Article 35A Should Be Removed
Also Read: 
1. Who Did the Congress Had in Mind to Save When Col Purohit was Jailed?
2. Owing to His Horrendous Mistakes, Was Jawaharlal Nehru Unfit for Bharat Ratna?
Article 35A It was added to the Constitution through a Presidential Order, i.e., The Constitution (Application to Jammu and Kashmir) Order, 1954 - issued by the President of India on 14 May 1954. It was the result of the agreement between Abdullah and Pundit Jawaharlal Nehru and has given great freedom to separatists and radical groups. With respect to the Constitution, all states are equal. Equality should be provided in the Constitution for the residential purpose as well.
Here are more reasons why Article 35A should be removed.
The main purpose of this provision was just to appease the residents of Jammu and Kashmir. Until they totally integrate into the Indian tradition and culture, their district will not tamper.
By virtue of Article 370, Article 35A was incorporated into the Indian constitution. It envisages special provision to Jammu and Kashmir in terms of scholarships, settlement in the state, employment, and acquisition of immovable property.
The idea of having a separate state had become obsolete and shabby in a country like India. In contrast to the other states of India which are been governed by the Indian Constitution, there is no such reason to let Jammu and Kashmir have a separate constitution.
After passing of 6 decades, the Article is still breathing in the air. Even after the hypocrisy adopted by the state government of Jammu and Kashmir in ceasing the opportunities like settlement, employment, acquisition of immovable property, the Article 35A is dwelling discontent among other Indians without compromising their case.
Article 14 of the Indian constitution says for Equality for all. A non-resident was deprived by Article 35A of such rights. Also, if a woman marries a man who doesn't have Permanent Resident Certificate, then she too is not given PRC.
Some people of the state think that by removal of the Article 35A, children will not get educational opportunities and this will result in unemployment, business class of the state will have to compete for more. But the question is for how long will these people keep state residents in the fear competing? By doing this they are undermining their own caliber. 
The actual purpose of Article 35A was to strengthen the relationship between Jammu and Kashmir and other parts of India, but this ultimately resulted in something else. It ended up creating more difference between the state and other Indians.


Also Read:  
1. Religious Demographic Change in Kerala: Will Kerala Become a Muslim-Majority State?
2. Why India should be Renamed As Bharat
The people living the Jammu and Kashmir should express their willingness. They should stand up for their rights and speak that they won't suffer just because they are a part of this state. The Article 35A should end here, people of Jammu and Kashmir and other parts of India should live together with equality.
Article 35A is the real devil of Jammu & Kashmir because along with article 370 it goes against the fundamental right of Indian Citizens, it is really a foolish statement to say that it will change religious demographics of the state. Indeed Jammu & Kashmir's demographics can only be balanced if Kashmiri Pandits are resettled and given their rightful place; that cannot be done without dealing or without encircling or without overpowering radical groups.