Reliance Industries Group, founded by Late Dhirubhai Ambani and now controlled by Mukesh Ambani, is the largest private-sector business conglomerate of India. The major business interests of Reliance Group include petrochemicals, polymers, PFY, natural gas, retail trade and telecom. The company group started its business activities under the guidance of Late Dhirubhai Ambani as a small yarn trader in Mumbai in 1966. Gradually, the company started trading of fabrics.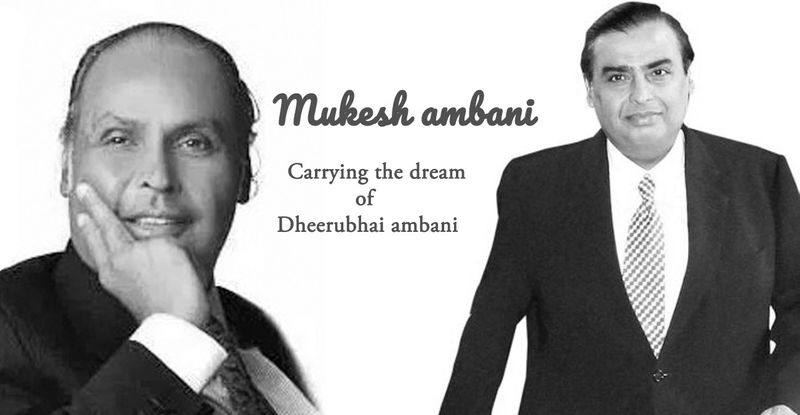 Anil Ambani vs Mukesh Ambani - Why Mukesh Ambani is More Successful?
Also Read:  
1. How Corrupt is Mukesh Ambani? Why He is at the Hit List of Some Politicians and Businessmen?
2. Reliance Jio is killing Us with Sinister Design: Airtel, Vodafone, and Idea
Thousands and thousands of stories are told about how to become successful, many successful parents want their children to inherit not only their wealth but also dreams. When we look at the path that has been trodden by the wealthiest man in India, the challenges become as visible as the feats.
At the time of division Anil Ambani was happier than Mukesh Ambani, he had got aprx 25000 crores cash, telecom industry planted by his elder brother, and much more whereas Mukesh Ambani had only one entity- RIL, but he had the vision and he had his own way of thinking, since he had worked with Dhirubhai Ambani so he was the perfect vehicle of his dream. With his vision, he created world's largest petroleum refinery at Jamnagar in Gujarat besides other successful ventures.
The foray into telecommunications had happened in 1996 when Reliance started laying its own fiber optic cables across the length and breadth of the country. Besides, Reliance Communications was the brainchild of Mukesh Ambani, but the telecom business was handed over to his younger brother Anil Ambani when the businesses were divided among the two brothers, after the demise of Late Dhirubhai Ambani. The fiber optic cables mostly remained unused for a long time.
Dhirubhai Ambani Started Reliance with Modest Beginnings but Mammoth Aspirations, He had the Dream of Establishing India's Largest Company
Dhirubhai Ambani had once said:
Our dreams have to be bigger. Our ambitions higher. Our commitment deeper. And our efforts greater. This is my dream for Reliance and for India.
With above vision and after struggling for first few decades they went on utilizing all opportunities and subsequently when the Govt of India permitted the private sector to begin manufacture of PFY – polyester filament yarn, Reliance entered the business in 1982 and soon it emerged as the largest manufacturer of PFY in India. The company also started the manufacture of fabrics under its own brand name VIMAL.
Mukesh Ambani was abroad for studies but gave up midway to join his father in 1983. Meanwhile, in the year 1977, Reliance had come out with its ambitious fundraiser by way of an IPO and took the lead in spreading the equity investment culture in India. Ever since Reliance has never let down its investors. Later, when the country opened up to foreign investments, Reliance tapped the global markets by issuing its ADRs in 1993.
The company has consistently received a fabulous rating from the reputed global rating agencies. Gradually, the company went for backward integration and entered the fields of petrochemicals, polymers, and today it owns the biggest private sector petroleum refinery in India. In the last decade, Reliance has entered the business of oil and natural gas exploration in India. Besides, the Reliance Group has also entered into the retail trade and it is now the leading player.
Dhirubhai Ambani's death Smarked a feud for control and finally, their mother brokered a demerger in 2005
Ambani brothers were once referred to as Ram-Lakshman in corporate circles but finally, the split and became rivals of each other.
According to sources, there were many differences between two brothers. Once Anil Ambani had planned investment of Rs 10,000 crores in Uttar Pradesh and was also interested in investing for Hydro Projects in Uttaranchal, Himachal Pradesh, and Delhi whereas Mukesh Ambani was not convinced with those risky plans.
Finally split was feuded via press conferences, meetings with ministers, letters to the Prime Minister, interviews to news channels and dragging each other to court.
From Dhirubhai to Mukesh: Ups and downs in the Reliance Industries
Today Reliance Industries Limited is a Fortune Global 500 company and is the biggest private sector company in India. But like any other business, Mukesh led RIL has seen many up and downs. Once the company had to shut down it is retail fuel oil dispensing business since the company could not match the subsidized prices offered by the public sector oil retail companies.
However, since the oil prices have been liberalized and public sector oil companies are free to decide their pricing, the chances of Reliance being able to revive its oil retail dispensers have brightened.
Also Read:  
1. Reliance Jio Crush: 'Dhan Dhana Dhan' offer, with More Data and Validity
2. 3 Steps To Start Logistic's Business in India!
Recently, after the Govt of India auctioned 4G telecom licenses, Reliance acquired the controlling stake in a company that had obtained 4G Spectrum licenses in all the circles across the country. This has led to the launch of telecom services under the new venture, Reliance Jio Infocom Limited. Jio has by now acquired over ten crore subscribers within a few months of the launch of Jio 4G services in September 2016.
The company has come out with highly competitive and innovative plans to attract consumers and it also provides ample value for money to its millions of subscribers. Though the subscribers of the Jio were offered lots of freebies, in the beginning, close scrutiny of its business plans by the experts indicates that the pricing offered would be profitable, and also beneficial to the subscribers. Besides, all its consumers would enjoy better services through 4G.
The company's own network of fiber optic cables is seen as the game-changer for the sector. Now, the company is about to launch DTH services at highly attractive rates, and primary scrutiny of its plans, available unofficially in the media, indicate that its subscribers are going to benefit immensely.