Politics is meant for preservation of fundamental rights, ensure the safety of all citizens, leading country towards peace and prosperity, the defense of nation's existence and sovereignty, augmentation of its power etc. however Indian politics hardly stands of any of these. 
Religious and caste-based politics are still the keys to the Indian politics, especially in the states like UP and Bihar; which are predominantly rural in nature and there is less importance on education.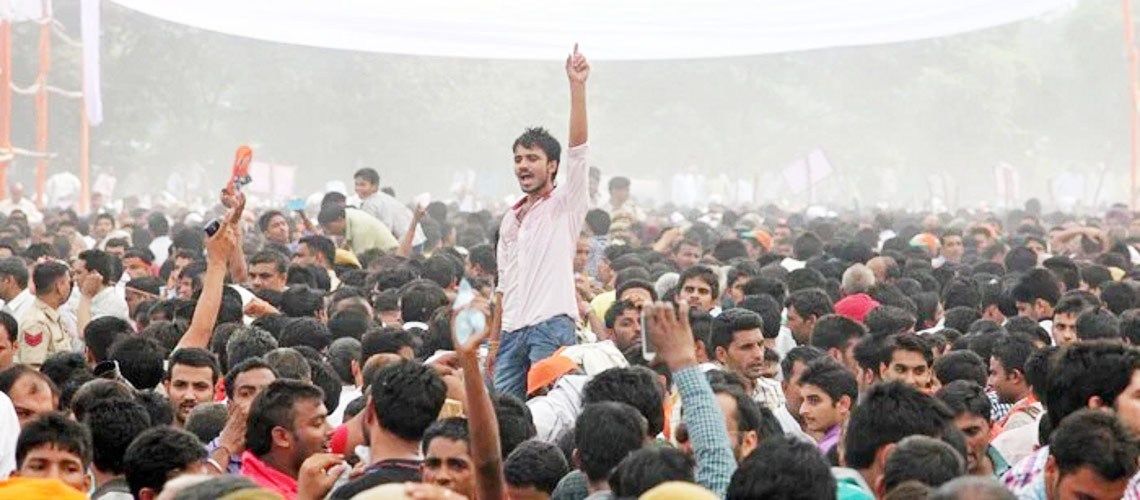 Largest democracy has been successfully running in India for the past almost seventy years but still, it needs more transparency and refinement. A lot of radical changes have occurred since the time we have attained freedom but many are expected to come on war scale if we hanker to behold the position of leading nation among world fraternity.
Religious and Caste-based Politics have now Become a Trend to Achieve Votes
It was supposed to be free from discrimination and exploitation but after the fraudulent politicians took over the power of Indian politics, a noticeable change had occurred lately. Religious and caste-based politics have now become a trend to achieve votes from the most commanding class in the society. The political leaders try to woo the various sections of the society with cheap means in order to win the elections.
Unfortunately, since independence, it has never happened that all the electorates have queued for voting at once, by choosing not to vote or by choosing to vote someone based on our individual gains whereas compromising national interests, we choose an incompetent government, who only works to exploit us. The whole problem is rooted in lack of unbiased voting; and fundamental region behind such voting is, division in our society.
Reasons why the Politicians use Religious and Caste-based Politics
Also Read:
1. The extent of religious and caste-based divisions in its existence 
2. This is how RSS has been Misrepresented for political scores
Of course being the oldest party of India which was founded in 1885 and ruled most of time since independence, Indian National Congress must also be held responsible for basing Indian Politics, on divide and rule policy and not on development; otherwise how come Ishrat Jahan, Batla house encounter case could have arisen, whereby our great Shaheeds had been turned as involved in fake encounters and one who killed terrorists was jailed.
Now look at the statement of Manmohan Singh:
Minorities should have the first right to resources.
According to the constitution, all are equal before the law. Then from where does, the question arises that minorities should have the first right on country's properties? In Education and government jobs, etc seats have been reserved for the minority candidates. These are nothing but a clever strategy to shore up his party's position through vote bank politics.
Arvind Kejriwal Flirts With Caste, Reservation Politics
Arvind Kejriwal who is popularly known as 'Mr. Dharnewaj' and against whom Mr. Kapil Mishra is in protest nowadays sought support from Hardik Patel to clean Gujarat Politics and Hardik Patel intern supported Mr. Arvind Kejriwal ahead of 2017 Gujrat Polls. The convener of Aam Aadmi Party and Delhi's Chief Minister, Arvind Kejriwal promoted caste politics when he supported Patil to divide Gujarat. 
During his Gujarat tour, he met the families who were killed in the quota stir violence. He offered jobs to the families of the outsiders rather than creating jobs in Delhi. In this way, he planned his success in getting a maximum number of votes from different caste communities.
On one side Mr. Arvind Kejriwal says 'Mukesh Ambani keeps Modi in one pocket and Rahul in another' and on the other side he himself uses the money to political scores. He had announced Rs 1 crore aid to dead Fauji's family and Rs 1 crore to Grewal's family as political opportunism. 
Arvind Kejriwal went to give money to flourish cheap politics: His dirty political stunt and drama of donating money is nothing but a trick to flourish power game. He has even mastered the art of playing religion and caste politics.
Kejriwal appealed for donation ahead of Punjab and Goa Polls, however, later APP donors demanded the return of money wasted by AAP on making 'Kejriwal vs Jagdish Mukhi' posters. He even went on asking people to donate money for his Aam Aadmi Party and misused like an owner. 
As you all know that corruption starts from these political donations. Politicians are at the top of the black money ladder, anyone who want to influence the politics, there's only one thing to do: "Write a big, fat check...Write the biggest, fattest check that you can possibly write or settle with a politician off the table."
Akhilesh Yadav: Following Minority Appeasement and Making Law and Order Situation Extremely Horrible
UP government has donated one crore rupees and a flat to a person thereby giving the message: "Eat beef and get murdered in UP."
After the beef ban in UP, a man was allegedly murdered by the mob on rumors that the victim had consumed beef. Although they are just rumors and there has been no confirmation of the case, UP's chief minister, Akhilesh Yadav announced a compensation of one crore rupees to the victim's family. To Dadri victim, he gave compensation of Rs 45 Lakh however it was not only the mob who was responsible for this heinous act but the absence of law and order under his rule, therefore Akhilesh was equally responsible for the same as well.
Also Read:
1. Who is the most Cunning Politician in India and Why?
2. Who is More dictatorial, Narendra Modi, Arvind Kejriwal or Rahul Gandhi?
This is also a great irony that to Muslim victims he pays lofty amounts whereas when a Hindu boy "Sanju Rathore" died in Rampur communal clashes, he became mum because it happened in Azam Khan's constituency and also he is less bothered about Hindus.
Political Angles of Jat Reservation Aagitation
Jat reservation agitation was a series of protests where the protesters demanded inclusion in the OBC category in a hope that their Caste would be eligible for the benefits provided by the government. Experts believe that hands behind such Andolan were none other than of the Congress party who successfully continued to stir the quota violence in Haryana. 
It should be noted that Jat reservation demands were already rejected in 1979-80 by Chaudhary Charan Singh, who was then prime minister and great Jat leader himself.
It is beyond any doubt that we have achieved many goals in terms of rising above caste and religions for common good, like- Not much consideration of caste and religion in our cosmopolitan urban spaces, selection for private jobs- free from communal grounds, our constitution also demonstrates the same through various provisions: right to equality, right against discrimination, right to equal opportunities for employment, but still Caste and religion based politics are creating a negative impact on the Indian political arena.
Final Take
If politicians do not stop this, they won't be able to come out victorious with their dirty politics of caste and religion. The leaders of the various political parties should understand that such discrimination is creating a hindrance to the overall development of the nation. 
In the 21st century Indian Citizens are more aware of their rights than ever before and now politicians cannot fool them for years and years. The public is breaking the trend, even doing experimentation or giving chances to a party in which they find a hope, just see the BJP's latest sweep in UP, Congress sweep in Punjab and dream victory of Arvind Kejriwal's AAP in Delhi legislative assembly elections 2015. 
This is the indication of awakening Indian masses and alarm for politicians who still haven't come out of their cheap politics, who are still fixed to their ugly roots, which can be uprooted in future.