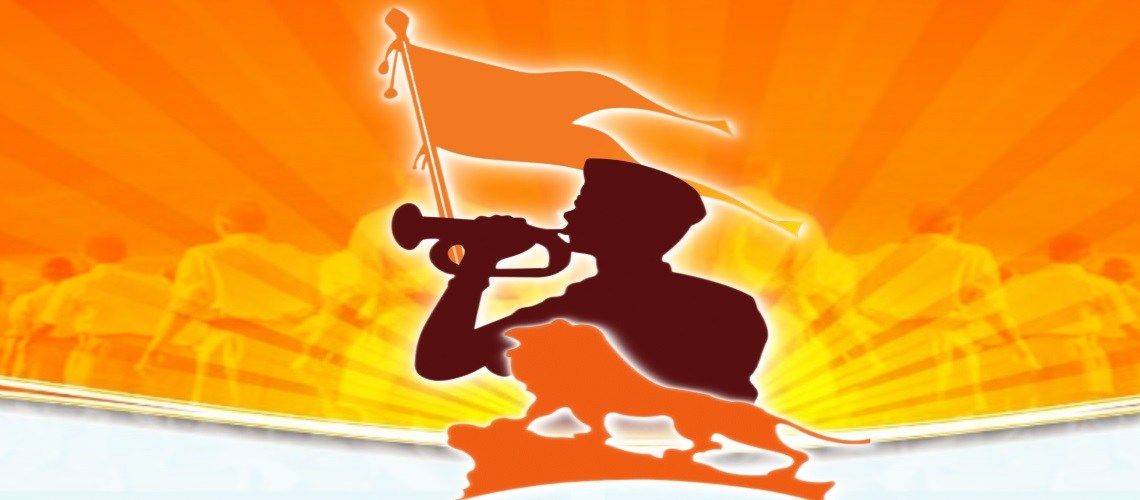 RSS occupies an 'irreplaceable and fundamental' position, in our society and what Swayamsevaks do, makes 'unparalleled' contribution to our nation; It is the only example of patriotism which stood tall in all weathers since inception and still marching on the same track with an unshakable spirit.
What Was The Necessity Of Raising A Nationalist Organisation Like RSS:
Swami Vivekananda Had Once Said: Our sacred Motherland is a land of religion and philosophy - the birthplace of spiritual giants - the land of renunciation, where and where alone, from the most ancient to the most modern times, there has been the highest ideal of life open to man.
The more, therefore, the Hindus study the past, the more glorious will be their future, and whoever tries to bring the past to the door of everyone, is a great benefactor to his nation. The degeneration of India came not because the laws and customs of the ancients were bad, but because they were not allowed to be carried to their legitimate conclusions.
Mark Twain (American Writer) Has Said About India: India is the cradle of the human race, the birthplace of human speech, the mother of history, the grandmother of legend, and the great grandmother of tradition. Our most valuable and most artistic materials in the history of man are treasured up in India only!
Being the oldest, glorious and most influential civilization, great Indians have taught world universal tolerance, universal acceptance, inclusiveness and human values which no one in the world could have done; then why we fell and became slaves.
There may be many reasons for this but one thing is certain that there was something tremendous wrong; wrong with leadership, with social structure, people in power, government, etc. and not only we have had to become independent but also attain an unshakable position which no one could ever challenge.
The focus of Congress was only on first and therefore not going to the fundamental root cause. Therefore a new revolutionary was needed who could fill up this vacuum (this has been further detailed below in Hedgewar's perspective).
Also Read:  
1. RSS- Historical Journey after foundation and Brilliant achievements
2. This is how RSS has been Misrepresented for political scores
Narendra Modi on RSS During One Of His Public Lecture:
The tallness of their life is such that it requires considerable efforts to understand otherwise we are bound to miss. There was the adverse time when people were ideologically against & used to write editorials, would discuss in seminars, argue all nonsense, and would say: "An ordinary person Hedgewar has been wrongly broadcasted as 'intellectual giant' and people are being misled".
However, I remember those times when 4th Sarsanghchalak Mr. Rajendra Singh (popularly known as Rajju Bhaiya) had given straight answer to their blunt question and said "when people say Doctor Keshav Baliram Hedgewar is an ordinary human being they are right, specialty is not this that people are ordinary or non-ordinary, but ordinary people have done exemplary work".
They were people who offered consumption of their own lives for the nation; great beings who had only one principle in their life 'one life one aim'.
Lines Which Became Life Mission Of Young Keshav Baliram Hedgewar:
On return to India Vivekananda had called upon all countryman: For the next fifty years, worship only Bharat Mata, your nation is only your God. This message struck like the thunderstorm and got registered forever in memories of young Keshav Baliram Hedgewar; now the words of Swami Vivekananda were his life mission and base of his main life task.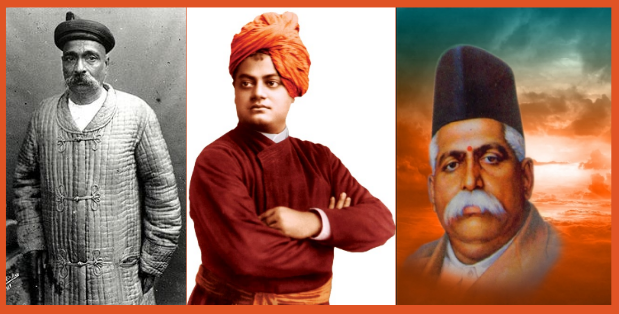 Keshav Baliram Hedgewar: First Ebullience Of Nationalism
When British Government banned the Slogan of 'Vande Mataram', then Doctor Hedgewar who was just a student at that time, led his classmates and welcomed school inspector with the slogan of "Vande Mataram", this instance displayed his great skills to organize, lead and revealed his innate virtue of unshakable patriotism. Later he was rusticated and he joined Rashtriya Vidyalaya in Yavatmal located in Pune to pursue his high school.
He was a great serviceman, that's why when he was studying at National College of Medicine in Kolkata and once nearby places were drowned due to flood in Damodar river; he helped victims day and night with great devotion. 
He completed his doctorate in 1915 and at that time there were only 75 doctors all over middle India and therefore he had bright opportunity to earn big fame but rather he vowed to serve Mother India and pledged to devote his whole life for her wellness.
Influence of  Bal Gangadhar Tilak (Lokmanya Tilak)
Bal Gangadhar Tilak is known as the first leader of the Indian Independence Movement and the remarkable advocate of Swaraj. He was also from the first generation who received the college education and completed his graduation from Deccan College of Pune in 1877.
The Swadeshi movement started by Tilak at the beginning of the 20th century became a flame till 1920 when he took his last breath however by then it had become part of the larger Independence movement and remained unwavering until that mission was finally achieved in 1947.
To take guidance from a man of such stature was a rare opportunity and how young Hedgewar could miss this chance, therefore, we went to Pune and learned the lesson of Swarajya is my birthright and I shall have it!
Why Keshav Baliram Hedgewar was unwilling for marriage:
Likewise, it happens with every youth, he was also insisted on marriage; then he wrote a letter to his uncle, After a serious thought, I have decided to remain unmarried throughout the life as I want to Serve motherland and committed to renouncing heart, body, mind and all possessions I have in service of the nation.
Impact of Jallianwala Bagh incident on Hedgewar:
Jallianwala Bagh massacre, is one of the darkest episodes which displayed the oppressive and brutal policies of Britishers in India, it took place on 13 April 1919 when a crowd of Mahatma Gandhi followers, along with Baishakhi pilgrims, had gathered in Jallianwala Bagh, Amritsar, Punjab; were fired upon by British army troops under the order of Colonel Reginald Dyer.
Also Read:  
1. Biography reveals M. S. Golwalkar (RSS): Paramount Influencer in Modi's Life
2. Indian National Congress turns 131 years; interesting facts one should know
More than one thousand people died and 1200 were wounded, After this incident, obviously, the point might be had occurred in Hedgewar's mind that this was the reward and honor Britishers had bestowed upon India for providing around 1.25 million soldiers and laborers during the first world war- along with large supplies of food, money, and ammunition.
By then Indian National Congress had been struggling for almost 35 years (i.e. 1985) and nothing was happening perhaps it didn't have the teeth required to reciprocate to wicked Englishmen or perhaps it was not picking the right nub or was too soft and Britishers had become habitual of non-violent protests and small disturbances which would rise and settle down next day. This pattern was the great point of worry to nationalist Hedgewar.
Incidents Which Motivated Hedgewar To Constitute Rashtriya Swayamsevak Sangh:
Since Congress was largest Political Pre-Independence Group, Hedgewar had chosen to follow Indian National Congress and participated in Non-Cooperation Movement led by Mahatma Gandhi from 31st August 1920 to March 10, 1922, which was the answer to Britishers for Jalianwala Bag cruelty.
Movement motivated millions of citizens and its effect was a great set back to Britishers, however, Mahatma Gandhi resorted to three weeks fast to withdraw movement; he was later imprisoned for 6 years and this followed the suppression of movement. This unsuccessful movement disappointed Hedgewar who was now thinking for an alternative; not for independence but something which could last forever.
Questions Surfaced After The Non-cooperation Movement and Reaching Ultimate Answer
During Non-Cooperation Movement Keshav Baliram Hedgewar protested aggressively and was jailed for one year, on return from jail he went into deep contemplation and introspection and tried to find out answers of many questions which had been haunting him or any common nationalist whosoever did the precise observation of national movements and social weaknesses:
The total number of British subjects in India in 1921 as per the 1921 census was 165,485 and the total population of India was 25132213 then why we couldn't get rid of Britishers; were the bunch of Britishers so powerful?
Indian National Congress was established by Allan Octavian Hume (Englishman from South East England); Bal Gangadhar Tilak had joined the Indian National Congress in 1890 and had opposed its moderate attitude especially towards the fight for self-government and later was compelled to leave Congress in 1907. If Congress was too soft towards Britishers during all the time passed by or not? If yes then what is the alternative; if no then why movements like 'Non-Cooperation' could not yield independence?
What would be the value of independence if it is bestowed upon us by Britishers and we are inefficient to get this by force; people who exploited us for centuries shall leave seeds of evil forever, so what would be the virtue and self-respect of countrymen after independence. Can such independence bring about prosperity and social well-being when we have deviated from indigenous values & great heritage in the name of pseudo-secularism?
Why was the core team of Congress body unable to grill opportunists like Motilal Nehru (Father of Pandit Jawaharlal Nehru) who has quit on account of being close to Britishers & has created his Swaraj Party after the Non-cooperation movement?
What would be the future remedy of the outbreak of the Hindu-Muslim riot in 1923? Night and day and 24x7 he was seeking the answer to his questions; finally, a tender beam of light flashed upon his intelligence when this occurred to his mind:


The root cause is division, we are divided on the name of caste, creed, religion and different communities, this has caused foreign invaders & Britishers to dominate upon us. We have to free ourselves from these limitations & unite with unshakable patriotism forever. 
New state cannot simply fall from the sky instead it has to grow from within the people- therefore  If we could cultivate oneness then that would automatically give birth to a new independent Prosperous Nation.
The Objective Of Founding; "Rashtriya Swayamsevak Sangh"
It was finally apparent to Keshav Baliram Hedgewar that In the awakening process of people: until and unless a group from the masses, a leader of masses, which beholds moral perfection, inspired from patriotism and righteousness is not created country cannot move on the path of excellence and reach independence.
In fact, the main goal was the revitalization of the Indian value system based on universalism, selfless service, peace and prosperity to all. Therefore for taking India to the pinnacle of glory Rashtriya Swayamsevak Sangh (RSS) was established on 27 September 1925.