It is indeed sad to note that Ramchandra Vinayak Godse (Nathuram Godse) had dastardly murderer the Mahatma Gandhi who is regarded as father of our nation, a great saint, and founder of nonviolent philosophy of passive resistance, who successfully led us to freedom; therefore Godse can never be depicted as a national hero like Bhagat Singh or Rani of Jhansi.
Every murder is a crime irrespective of its motive, and the murder of a world figure who was an apostle of peace and love, and to whom the whole nation owes its deep respect and veneration even to this date, is the most despicable and cowardly crime.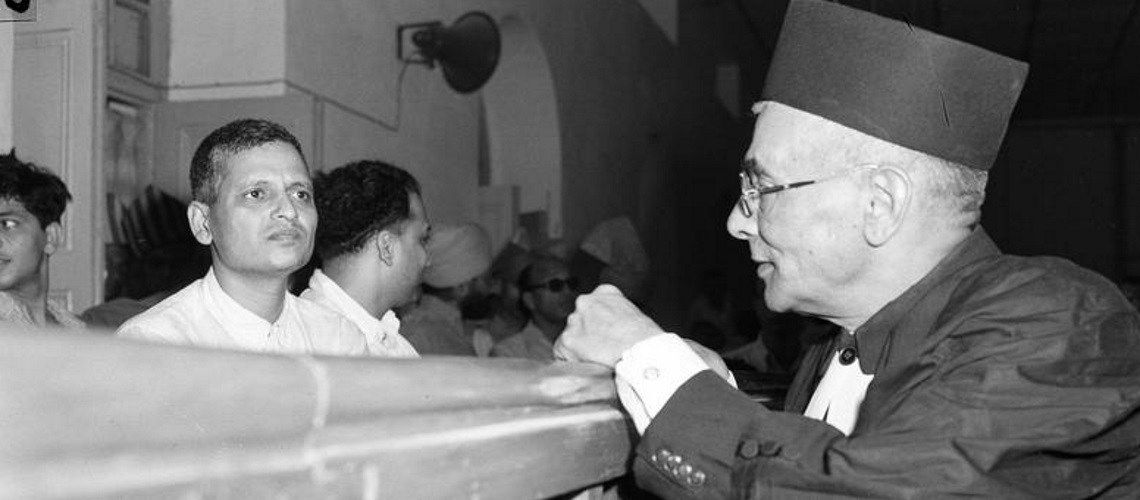 It was the unfortunate day of 30th January 1948 when Ramchandra Vinayak Godse (Nathuram Godse) killed the embodiment of non-violence, Millions of Indians mourned on Gandhi's sudden death and later Godse was sentenced to death on 8th November 1949. 
But this is also very unfortunate that just to earn brownie points, then Government had cleverly labeled charges of this heinous crime on RSS which has not only deeply harmed the ethos and culture of this nation.
But, also encouraged intolerance in Public Life, by this act government incited that class of majority people who were ever ready to tolerate the opposite view in public affair & to always create harmony among all sections.
Also Read:  
1. RSS- Historical Journey after foundation and Brilliant achievements
2. Hedgewar's RSS: Circumstances behind origin, It's Inspirational Sources and Objectives
Main Reasons Nathuram Godse had stated for Gandhi's Assassination:
What Gandhiji said was the testimony for Congress; main Political grand party before and after independence, and Congress was not in the position to neglect any of his commandments because of his sheer weight inside Congress and tremendous mass following across the nation. 
When Sardar Vallabhbhai Patel and the majority of congressmen were not in the favor of Rs 50 Crore loan to Pakistan then Mahatma Gandhi insisted upon and persuaded all for doing so.


Note: Pakistan is yet to clear a pre-partition debt which amounts in billions to India; it has been carrying forward year after year in its Budget account as a "liability".
Mahatma Gandhi had earned the great name as the civil right activist in South Africa (from 1893 to 1914) and by the return to India, he had become a great public figure. He developed a subjective mentality among people that he was the final judge of what was right or wrong and later Gandhi's pro-Muslim policy is clearly illustrated in his perverse attitude on the question of the national language of India. Note: Each state is allowed to have its own official language based on its own linguistic demographics and this way we have around 22 official languages but we don't have any National Language. Later Lal Bahadur Shastri announced this decision: "English shall continue as an additional official language of India as long as the non-Hindi speakers want."
From August 1946 onward, the private armies of the Muslim League began a massacre of Hindus. The then Viceroy, Lord Wavell, though expressed distress at what was happening but was not ready to use powers under the Government of India Act of 1935 which describes the large measure of autonomy to the provinces of British India and therefore he kept the Administration & Police action-less to prevent the rape, murder, and arson Noakhali riots & Direct Action day riots in Bengal were the live examples of brutality and massacres done against Hindus.
During India-Pakistan Partition around 2000000 people had died, among them most were Hindus; One of the conditions imposed by Gandhi for his breaking of the fast in September 1947 (which was his last fast) related to the mosques in Delhi occupied by the Hindu refugees was to throw them out. Had he imposed conditions on the Muslims in Pakistan or did any fast? In fact never, indeed he was aware that Indian Muslims would not support him or have any grief if he dies due to fast.


Psychological background of Nathuram Godse:
Before the birth of Ramachandra Vinayak Godse (Nathuram Godse), the unfortunate incident took place with his parents when all three boys died in infancy and his parents took this as superstition.
Fearing the death of a newborn child they grew him in the form of Girlchild (nose pierced and being made to wear a nose-ring) this was the reason he was named as "Nathuram". Political psychologist Ashis Nandy in his book, At The Edge of Psychology, wrote, "Perhaps it was given in the situation that Nathuram would try to regain the lost clarity of his sexual role by becoming a model of masculinity." Further, he mingled idea of his social status with extreme religiosity which he inherited being a Brahmin.
He was failed person in his later life- he dropped high school, he opened a clothe shop which could not succeed, he also could not run tailoring work, he belonged to Chitpavan Brahmin family but he could not deliver on parameters of his noble family whose ancestors have once enjoyed ascendancy; this generated anxiety & depression in him.
So he wanted to build power to instill fear and sacrifice for Hinduism was imperative as per his rational and killing Mahatma Gandhi could give some meaning to his life, therefore he conspired & executed the assassination along with Digambar Badge, Gopal Godse, Narayan Apte, Vishnu Karkare and Madanlal Pahwa.
Also Read:  
1. Why Nehru Chose the Minority and Caste Based Politics
2. Owing to His Horrendous Mistakes, Was Jawaharlal Nehru Unfit for Bharat Ratna?
Did investigations revealed RSS link to Mahatma Gandhi's Assassination:
Rashtriya Swayamsevak Sangh was banned on 4th February 1948 and its several prominent leaders were jailed. However valid evidence & opinions, after a detailed investigation has revealed that RSS was not the part of the conspiracy to kill Mahatma Gandhi; even Supreme court Itself had acquitted all Rashtriya Swayamsevak Sangh leaders from the conspiracy charges and finally by the intervention of Supreme court ban was lifted. 
Ideological opponents of RSS were in the favor of defaming RSS by all means; therefore Kapur Commission was also set out on 1966 which submitted the report in 1970 and reached upon the conclusion that RSS was not responsible for Gandhi's murder and has no direct or indirect role therein.
Was RSS an influencing factor for Godse's radical views:
As everyone knows Gandhiji was the tallest figure in last century and no established group could even imagine doing this shameful blunder. Undoubtedly Ramachandra Vinayak Godse was former RSS member who resigned from it in the early thirties and joined Hindu Mahasabha, but RSS was just a halt in his own style of life journey. 
Further, if a misguided person rests below Banyan tree and next day opens fire on innocents then it would be a grave error to declare tree as conspirator on account of providing life-support oxygen to the criminal one.
"Vasudhaiva Kutumbakam", perspective that the whole world is one family, propounded by the ancient thinkers of India, is considered as the ultimate mission of the Rashtriya Swayamsevak Sangh and this is the most accurate way of looking at RSS.

Also, have you ever noticed RSS doing:
Suicide bombing?
Public provocations to invade any country in the name of religion?
Proxy wars or destruction of holy places like the ISIS does?
How many rapes or trafficking cases have been registered against RSS?
Has any country in the world declared RSS a terrorist organization?
Has RSS ever released any video to ask you to chop off someone's head?
If RSS is being funded by foreign countries? If not, then how one can conclude that RSS holds and preach radical views, it might have strongly differed on subjects of national interest but never rubbished other religions.
Even the staunch opponents of RSS will be speechless on the above questions as no one can ignore the fact that RSS remained a spotless organization throughout history and it has proudly promoted nationalism and patriotism, they have selflessly worked for the organization and for the betterment of the country at large.


Final Take
Undoubtedly, Godse was a misguided patriot, fired by a warped love for the "motherland" but killing Gandhi demonized him forever and earned him the hatred of his beloved countrymen. Godse killed Gandhi and did so in full knowledge of the consequences of his action. 
But his radical views and action unfits completely with RSS and linking Nathuram's objective to RSS is immensely wrong and should be condemned, history proves that Sangh has many times collaborated with the government to counter communism, did outstanding work towards reforming Hindu Society and did great sacrifices for the betterment of mother nation.