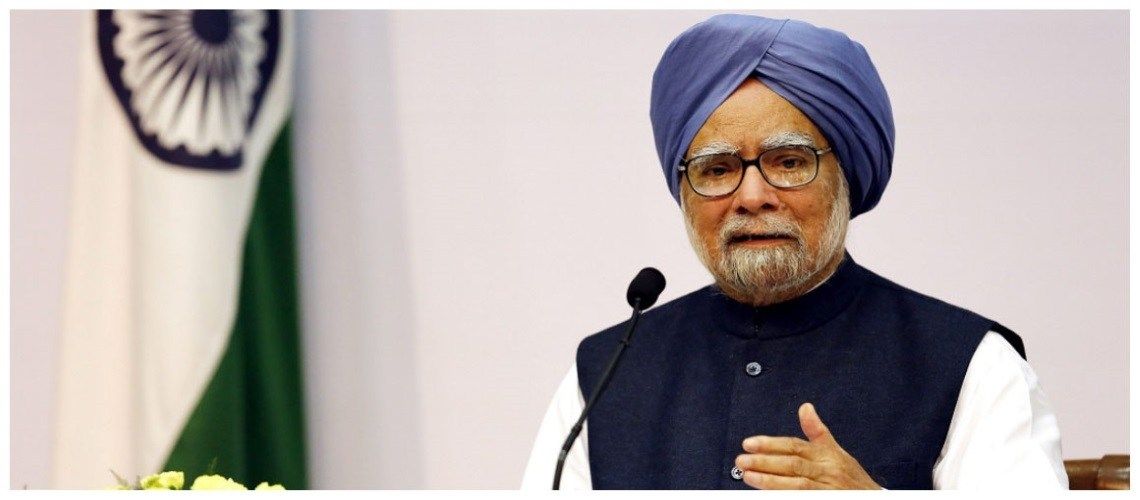 History seems to be kind to Dr Manmohan Singh: He maintained his clean image despite all the allegations. The thirteenth Prime Minister of India, Dr. Manmohan Singh, turns out to be a politician and an Indian economist. From the year 2004 to 2014, he served as the Prime Minister of India. He was also the Finance Minister of India from the year 1991 to 1996. He even served as an RBI governor. He was a Prime Minister under whose reign corruption of 10 lakh crore took place.
Contributions of Dr. Manmohan Singh
During UPA I, he turned out to be the highly qualified, honest and experienced economist in India. He was the one who helped India to prevent the economic downturn. During Manmohan Singh's government, India achieved the best economic growth and India was ranked as one of the fast-developing nations. 
There was 8.5% GDP growth under his reign but did the reverse in UPAII. He reduced import taxes and implemented various policies which totally changed India's economy and it became a more capitalistic one. Singh grabbed the offer when George Bush offered him the membership of the nuclear club.
Read More
1. Indian National Congress turns 131 years; interesting facts one should know
2. Top 10 Logic, Rahul Gandhi has Chosen the Wrong Profession
During this second tenure that is, UPA2, he was charged with several allegations of corruption. We all know that the mega corruption included sectors like telecom, coal, etc. There were high figures of lost revenue and even when the telecom was re-auctioned it failed to generate high revenues. The coal was re-auctioned and their allotments were canceled. For this reason, there was no increase in the revenue. 
Under his reign, the government made an understanding with the Reserve Bank of India but no considerable work was done at the ground. For the past over three decades, he has been influencing our country's economy but his government helped Vijay Mallya to get bank loans, and when asked about it, he claimed that it was nothing but an ordinary piece of paper with a normal routine transaction.
Manmohan was More Like a Right Person in Wrong place
This gentleman wasn't a politician and had no political clout, he was the lovely doll of her highness Mrs. Sonia Gandhi, the last indirect ruler of Nehru Dynasty. She was undisputed leader and highest authority of Congress who ruled with full control. Manmohan Singh was intelligent but it was not because of his intelligence he reached the apex, but he was handpicked for PM's chair. 
Even though Manmohan Singh has been projected as the puppet of Mr. Gandhi by opponents but this man has certain qualities which no one can deny. He had been highest qualified Prime Minister in the world who was known for his integrity, honesty, knowledge of economic and financial matters. Indeed he is a live example of loyalty, his was loyalty was not only directed towards Sonia Gandhi but it was his very nature, he is bound to loyal to his bosses. 
But experts also question that, was it justified to put such a submission person at the most important chair in this country? If yes then why so many scars have been put on mother nation during his reign? Manmohan Singh could have been greatest Prime Minister of this country if he would not allow the meddling of Gandhi Family.
Manmohan Vs Modi, Who is Best Prime Minister
Manmohan Singh's biggest contribution to India was not as Prime Minister but as Governor of RBI between 15th Sep 1982 to 15th Jan 1985 and as Deputy Chairman of Planning commission between 15th Jan 1985 to 31st Aug 1987. He has undoubtedly contributed in opening the Indian Economy from Socialist to a Capitalist. 
He can also be appreciated for Indo-US Nuclear deal, in spite of opposition. He was known for being a person of high honor and regard but still, he failed country at many fronts. Indian people have seen one of the darkest phases during his PMship and he appeared to had lost the script mid-way through UPA-II due to battling a flurry of scams. In Feb 2017 PM Modi created great stir by targeting Manmohan Singh as:
For the past 30-35 years, Manmohan Singh ji has been directly associated with financial decisions. There were many scams around him, but his own image remained clean. Dr Sahab is the only person who knows the art of bathing in a bathroom with a raincoat.
However many experts were convinced that Modi was not wrong in his saying as he had already proven himself as best CM from BJP in Gujrat who was one of the worst states in terms of development before he took over. 
Under Modi GDP growth rate of Gujrat had outpaced rest of India, he took many steps like made 20 river interlinks with the Narmada river, met the target of 24-hour electricity to 18000 villages, established perfect law and order, made Gujarat as Industrial Hub of India. 
Many people tried to malign his image but very few know that since Independence there have been hundreds of riots. However, Gujarat was the only state to set up a court to investigate and jail the culprits. 
As a prime minister, Narendra Modi took the strong stand against divisive politics and even before clocking over a year at the wheel he took steps like Make in India, Swachh Bharat Abhiyan, Creation of NITI Aayog in Place of Planning commission, Jan Dhan Yojana, Economic reforms and Policy Implementation, Investment-oriented Foreign Policy etc.
Despite So Many Allegations Why Manmohan Singh is Able to Keep his Image Clean?
Corruption is like cancer. He was charged with unending scams which turned out to be the worst electoral defeat for the Congress party. During UPA2, he was even charged with an inflation which averaged around 10% for the rest five years of his tenure. 
The economic growth also halved and went down to 4.5% from 9%. The crash in the rupee increased the price of the petrol which was rather planned to be phased out. He was criticized for everything but it never shook his great faith in silence perhaps this was one of the reasons who keep project himself as clean.
Read More
1. Who is More dictatorial, Narendra Modi, Arvind Kejriwal or Rahul Gandhi?
2. Has Rajiv Gandhi Taken the Bribe? Congress on Back Foot on Latest Bofors Expose?
Record Scams have been made under his leadership:
2008 - 2G Spectrum Scam - Rs.1.76 Lakh Crore
2009 - Satyam Scam - Rs.14000 Crore
2010 - Commonwealth Scam - Rs.70000 Crore
2012 - Coal Scam - Rs.1.86 Lakh Crore
2012 - AgustaWestland Chopper Scam - Rs.3600 Crore
2012 - Tatra Truck Scam - Rs.14 Crore
2012 - Adarsh Scam - Rs. 4000 Crore


Neither is Manmohan Singh remembered for his dirty scandalous tricks nor for the bribes to get his way
People would forget all the failures that Manmohan Singh had undergone and remembered him for serving the nation's economy for its super fast growth, perhaps people are fond of his silence. Here, the media also played a major role in masking all the scams and allegations that were against the Prime Minister of India. 
Similarly, the scams were rendered boring statistics under the Prime Minister of India. They were nothing but zero-loss theory. The whole nation still condemns him for his poor leadership but meanwhile pays respect to him for all his gentleness as a human being.