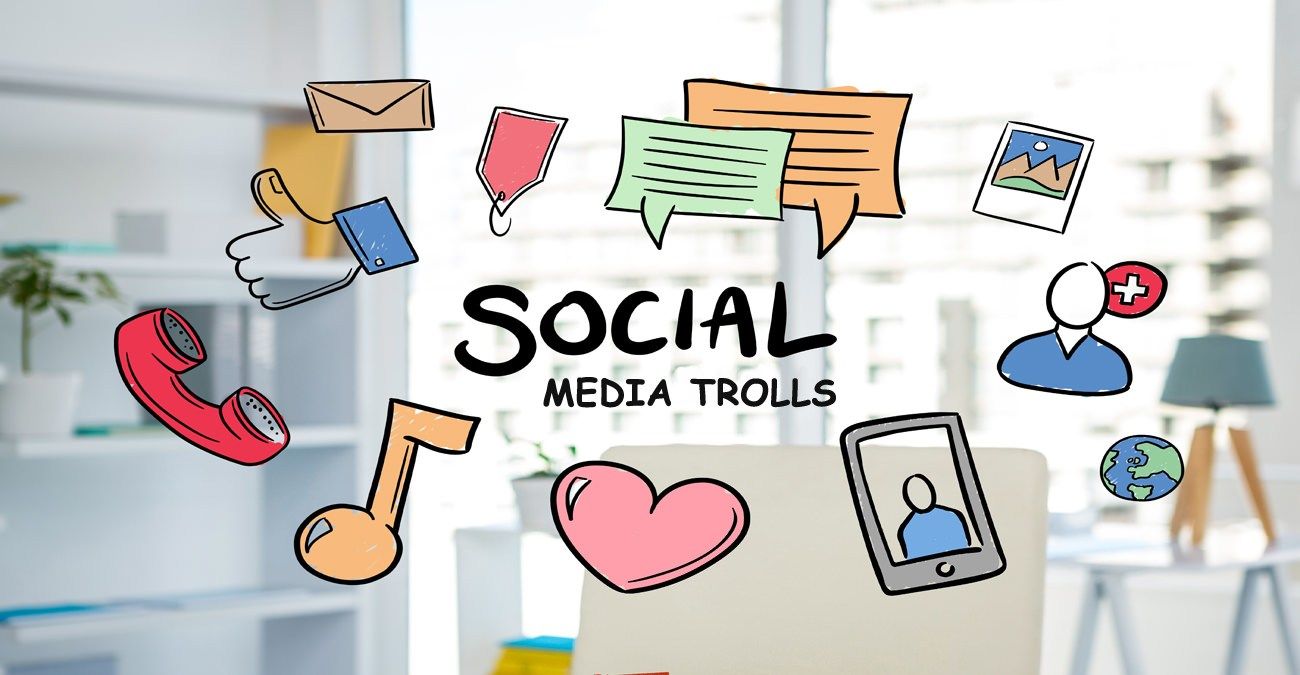 Today trolling has become equally famous words as the word internet is. Very few people know that there are many new words which have been invented by internet like Avataras, Hashtags, Scunthorpe problems, Trolling, Memes, Spam, LOLs, Meh, Cupertino, Geeks etc. 
Internet surveys and comments prove that humans are the greatest troll on the internet, even sometimes people have been made celebrities by trolling as same was the case with Ken M who reached legendary prestige among online trolls. He was trolled for faux-dumb comment and he became so prolific, he was recently named one of the 30 most influential people on the internet. We come across a number of new names and words on social media every day. 
Some of which are not used to imply the literal meaning of the words. Trollers invent new words and names for people online and soon these become colloquial. There are some nicknames are often used for some particular people or a group or party and soon people start using these nicknames so frequently that they soon become famous enough to be related.
1. Troll Against Followers of Narendra Modi
Also Read:
1. Narendra Modi: Fascinating Unknown Moments of Childhood & Earlier Young Life
2. Who is More dictatorial, Narendra Modi, Arvind Kejriwal or Rahul Gandhi?
You might have heard word 'Bhakts' on the internet. Indeed bhakt is a very divine word but used in a very cheap mean. This word is used for the followers of Modi or the supporters of BJP. Trollers refer to people who blindly support and follow the words and actions of Modi as Bhakts. They are the true devotees of the present Prime Minister of India, Narendra Modi. 
The word actually has a positive meaning when considered the Indian history, like Patriots are referred to as Desh Bhakts, but according to the present scenario, trollers are using the word in a much negative way so as to mean that the Bhakts are unable to judge between the right and wrong things that Modi is doing and defending him constantly at all time. Many think that perhaps, it was coined by Rajdeep Sardesai who is famously known for his anti-Modi and sometimes anti-India campaigns.
2. Trolls for Narendra Modi
'Feku' is the nickname that is given to Narendra Modi. After we became the Prime Minister of India, many memes have been published under his name. This name was given to him by the general secretary of Congress, Digvijaya Singh who himself is trolled on social media by the name Diggi Chachu. He said that Modi's claims over Gujarat are all false because the state is already suffering in debts.
3. Kejriwal is Most Favorite Troll on the Internet
Kejriwal is the person perhaps who is trolled most on the internet, he has been named: Drama queen, Conspiracy theorist, PR chief, Santa Claus, New Communist ideologue, Event manager, the Poor victim, Disruptive activist, and Twitterpati.
4. Aam Aadmi Party on Trolls
Another word which is very popular these days is 'AAPtards'. This word is used to refer to the supporters of the Aam Aadmi Party (AAP). The parties which were traditionally functioning in India considered AAP to be a party comprising of retards. Therefore, the blind followers of the traditional parties used this term to refer to any person who exhibits faith for AAP or has condemned the traditionally functioning parties for their actions. Thus, they are considered as retards named as AAPtards.
5. Trolls on Rahul Gandhi
The vice president of Congress, Rahul Gandhi, has also earned some nicknames by the trollers of social media, of course in a negative sense. He is known as 'Pappu'. Pappu is generally referred to people who are dumb or innocent in Indian culture. The trollers obviously think that Rahul Gandhi is inexperienced for his post and not mature enough for it.
Also Read:
1. Top 10 Logic, Rahul Gandhi has Chosen the Wrong Profession
2. Know the Top Reasons – Why Arvind Kejriwal has Failed Blatantly in Delhi
6. Trolls on Mayawati
Whole India is going to paperless work and Mayawati says EVMs are faulty let's go back to paper ballots. But this is not only the reason that she is trolled on the internet. She is trolled for her caste-based politics, minority politics, and anti-development stands. Mayawati is referred to as 'behenji'. A political biography has also been published by this name by the author Ajoy Bose. The book neutrally portrays the life of Mayawati. This nickname has become even more famous after the launch of this biography.
7. Online Fight Between Kejriwal and Narendra Modi
You can't get away from social media trolling because it is not only started by followers or foes but also people who itself gets trolled. Just to show himself as savior Kejriwal must create a big demon who is highly popular and he finds no one better than PM Mr. Narendra Modi for this drama. But since his act is motivated by jealousy, therefore, he gets the same attention the way a dog gets who barks and runs after car. 
Arvind Kejriwal is common in Indian Newspapers and televisions and he is referred to by a number of nicknames. 'Kejru' being one of them. #kejru is also used by users on the social media while referring to him or his actions. However, he had also earned the nickname of 'AK-47' by his supporters who feel that his quest of fighting corruption in India will be successful. But, Modi has called him 'AK-49' and considered him to be India's enemy.