There is a period of Modi's life little known to common person, span which, even his dedicated followers and staunch opponents are unaware of, earlier account's of Narendra Modiwhich are filled with fascinating incidents, episodes of bravery, affinity towards army, character of stubborn child, attitude of serviceman, great resolve for the call of motherland, his family, friends, Situations related to Marriage, bend towards Sanyas and Swing towards RSS, diving into those days capture great interest, tickle minds & infuse hearts with the spirit of righteousness.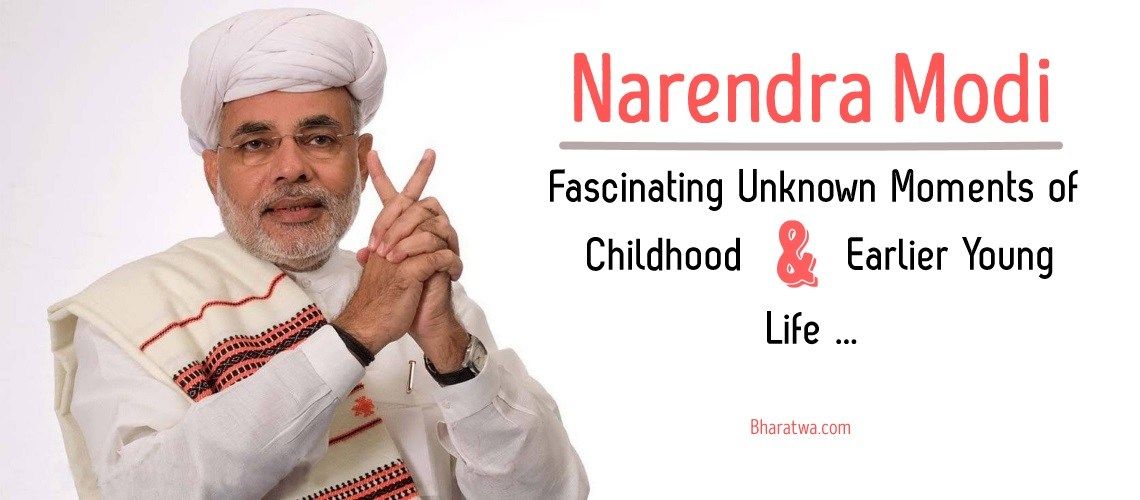 "Modi", a tea-seller boy on railway station:
Much before reaching 7 RCR, the residence of the strongest man of India, he used to be a normal human being, that too from a marginalized section of society and a tea seller at the railway station. Born to a Gujarati OBC family on 17th September 1950 in Vadnagar, at the age of 7 years he used to assist his father Mr. Damodar Das Modi by selling tea. 
Those times only two trains would pass through small Vadnagar Railway Station, therefore small Modi would come to help his father even during school lunch and when school bell would ring then would race with his schoolbag to the classroom which was just two minutes of running distance.
Narendra Modi's old dwelling and family:
A splendid house stands in the narrow street of Vadnagar today where around 66 years before, when Narendra Modi born, was a poverty-stricken old house built up of mud & stones and was of the appearance of 3 conjunctive train bogies where Modi would live with his parents and five other brothers and sisters. He is very clever and really a brave kid since childhood.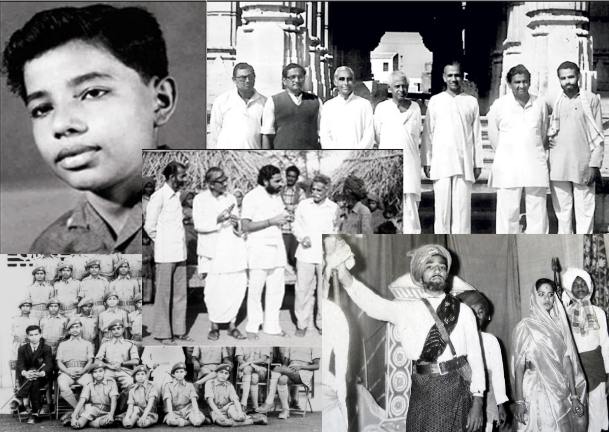 How childhood friends and teachers memorize Narendra Modi
Pratapbhai Shah his school friend memorizes old days as:
"School & station were at just 50 meter distance and as a child Modi used to cover this in just two minutes."
In his school years he was rebellious, but a gifted student, and acquired reputation as a formidable debater.  His school teacher Prahladbhai Patel recalls moment In 1962, VN High School Vadnagar during one assignment as how small Modi would not present his slate to Monitor but to him only;
Narendra Modi; " Guruji I shall not present my notebook to class Monitor" Teacher; "Why? when your fellow classmates could, then why can't you, after all, what is wrong with this?" Narendra Modi; "Because only you can correct my notebook, not he, that is why I shall present it to you only"
Another teacher says that Modi used to not get impressed by anybody but impress everybody. He was a great influencer even at very young age. During school days Narendra Modi was a stubborn child and was known to convince other children of his age on his terms. His friend Sudhir Joshi says;
"He used to take challenges just to test his own limits & that is why once he stood and won the election of Class Representative (CR)."

This is how at the small age Narendra Modi had earned the name of audacious explorer
The 4500 years old Sharmishtha Talav which is a mound of earth or stone built to hold water is an interesting example of the water retaining systems of the Solanki period, as it is still in use. It is an ancient lake created by the waters of the river Kapila flowing from the hills of Aravalli. 
Today this holds the good reputation for excursions and small outings among nearby localities. However, according to witnesses a few decades earlier this was a dwelling place of dangerous alligators, however adventurous little Modi would jump into the river and once even he brought a juvenile offspring of the alligator to his house and then dropped back to the lake when his mother scolded & dared not to harm any creature.
One word that defines Narendra Modi's true character is "Service", this is how
Tapi river is one of the largest river in India which covers an area of 65145 km², whose basin lies in states; Gujrat, Maharashtra and Madhya Pradesh and which is also known for great floods and hence bringing calamity. No one has ever become poor by giving and willingness & extent of giving is not confined to rich alone, this is what small Modi proved. 
Once when flood swallowed most of the terrain in the vicinity 9-year-old Modi along with his friends started a food stall and donated generously and worked day and night in relief work. During the battle with Pakistan, he set out on the railway station and served tea to the Soldiers who were traveling towards the border. There is no exercise better for the heart than reaching down and lifting people up and Modi has displayed this at remarkably young age.
AlsoRead: 
1. Biography reveals M. S. Golwalkar (RSS): Paramount Influencer in Modi's Life
2. Mesmerizing History of BJP: Interesting Facts since Inception to Till Date
Young Modi's Quest to be a soldier:
His fearlessness traits and ever-readiness to respond to call of Mother India were the qualities suitable for Indian Army and as a child, he had cherished this dream which later got shattered and he dropped the plan, due to intense family resistance. He was fascinated by the idea of joining Army School, a very famous Sainik School Established in 1961 in Jamnagar, with wide campus along the golden sands of the Gulf of Kutch, having the rare wealth of flora and fauna and which got its final colors by Lal Bahadur Shastri itself. 
But his penniless father was not in the position to assist and young child had to kill his desperate desires for the same.
How Narendra Modi came in Contact with RSS
When he reached his high school in Shri BN High-School of the town then got many opportunities to develop, groom and nurture skills which fall outside the realm of normal curriculum and he would aggressively jump into such activities like drama, debate or many social activities organized by the school. 
He studied in this school till 10th however as stated his studies were not limited to his books alone as unlike other classmates he would not return to his home, after whole day classes but would run to Police ground of Vadnagar to attend the programmes of Rashtriya Swayamsevak Sangh (RSS). His majority of evenings would pass in the fellowship of RSS now.
"Modi", As a Cause of Worry in His Family
On one side his spiritual taste and on another his bend towards RSS caused worry among his family, young Narendra could renounce everything and become ascetic. Very few people today know that Narendra Modi has been holding Navratri Fast since last 35 years, twice in a year and each for 9 days in one stretch and during that time he survives with the diet of lemon water only.
Why Narendra Modi Got married at early age
MV Kamat in his book "The Man of The Movement" has explained the fear of his mom, Mrs. Heeraben Modi of losing her child if he would go to exile in search of God. His growing detachment to the world created distress among family and now the only solution they could offer was his marriage.Because he thought that marriage can improve all kinds of odds.
AlsoRead: 
1. Who is More dictatorial, Narendra Modi, Arvind Kejriwal or Rahul Gandhi?      
2. Who is the most Cunning Politician in India and Why?
Circumstances that led Modi to become a Sanyasi:
According to Modh-Ghanchi tradition which Narendra Modi belongs to, his marriage was fixed with a girl of neighboring town Brahmanwada. He got married to Jashodaben at the age of 13 (according to some sources his age at the time of marriage was 18), and when after four years family was preparing for gauna, an Indian custom associated with consummation of marriage (a ceremony after which adult bride leaves her natal home & gets authorization to live with her groom), 
Modi took this act as bondage and opposed, soon thereafter became a monk and didn't come to home for three years, he remained in the Himalayas, was totally cut off from world as well as his dear ones. Very less detail is available about his exact whereaboutsand specific information about that period and only Narendra Modi himself can ever solve this mystery.
Narendra Modi's Return back from Sanyas However followed once again goodbye to his family:
Narendra Modi facedFaith and hope work hand in hand, hope focuses on the future, faith focuses on the now, Heeraben had the faith in God that her son would be alright and she also had the hope that one day he would return. Her devotion brought fortune and oh! after three years all of a sudden Modi appeared on the door. 
But alas, now he was no more her old son but a Sanyasi, he had no plans to go back to the Himalayas however not to join family either, Sanyas had taken deep roots in him and now how could he limit himself to one family only when whole humanity was his family. Therefore he said goodbye to his family and left to Ahmedabad which was at the distance of 80 Kms from Vadnagar.
How Narendra Modi began the new life at Ahmedabad and eyed on the path of RSS:
His first shelter in Ahmedabad was his uncle Babu Bhai who used to run a canteen at the Bus Stand of Gujrat Roadways State Corporation and this was the place where Narendra Modi first met with Ambalal Koshti (local Sangh Pracharak), who got highly impressed with Narendra Modi, who initially hand-held him and put him on the highway to 7, Race Course Road in New Delhi. It was on his invitation, Modi went to local RSS office and got introduced to other volunteers and finally, at the tender age of just 21 years, he became full-time Sangh Pracharak. 
He was greatly influenced from RSS leaders, among whom second sarsanghchalak, Madhav Sadashiv Golwalkar (also known as MS Golwalkar or Sri Guruji) was at the top and later in 2007 he had written his biography also. Modi's story is also linked to those organizations under whose shadow Narendra Modi got the ideological training, therefore before we go further into his life mysteries we must go through the story of Rashtriya Swayamsevak Sangh (RSS). 
It was RSS, under whose refuge and directions he learned management skills, developed his intrinsic capabilities and finally emerged as a charismatic leader.