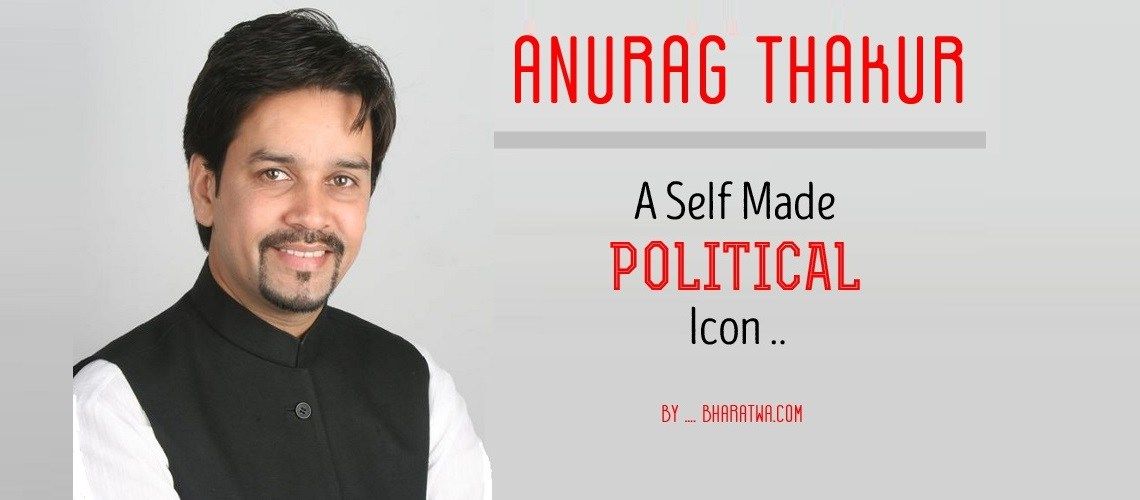 Anurag Thakur, The winning streak of the BJP is hailed by Masses in Himachal Pradesh; this metaphor of BJP is visualized as the embodiment of victorious politics who is capable of luring voters to the ballot in party's favor.
At present when lotus flag is marching on the Modi wave, of course, young leader would like to return in Vidhansabha through 'Himachal Pradesh Assembly Elections 2017' with same landslide win as they did in UP and Uttrakhand.
Anyway, it is not about Modi wave only, indeed, Anurag Thakur is applauded by cool and intelligent voters of Himachal Pradesh as: he enjoyed prestige and ascendancy but also walked on footprints of Prem Kumar Dhumal and emerged as a Self Made Political Icon, he is known to be an active sportsman but meanwhile respected for- harnessing vast political knowledge and experience to drive fear into opponents, his idea of social work mimicked that of the Vivekananda,
He is well acquainted with political background of Himachal Pradesh, known for clean politics and is regarded as a patriot, fired by tremendous love for the "motherland".
Himachal Pradesh- Cool Terrains with Cool Voters
When we talk about Himachal Pradesh, then the image that floats in our minds is of high mountains, snow-covered peaks, deep valleys, and great temples but very few know that it is one of the most geographically diverse lands in whole India.
Height from sea level varies between 350 meters to 6965 meters and the whole state is divided into twelve districts (Bilaspur, Chamba, Hamirpur, Kangra, Kinnaur, Kullu, Lahaul and Spiti, Mandi, Shimla, Sirmaur, Solan, and Una) which cover 55,673 km² Area and each district represents unique form of topography.
The Himalayan range runs along many boundaries and contributes to various latitudes like Shivalik Range, Dhauladhar Range, Pir pandal Range, Rohtang pass, Zaskar Range and lead cold weather in upper areas and pleasant weather in low altitude areas like Hamirpur and Una.
Literacy rate in Himachal Pradesh is 83.78% (Males 90.83% and Females 76.60%) which is undoubtedly far better than other states and determines the tendencies of voters who analyze on performance grounds. Temperament of voters is cool but is the main basis of the comparatively clean political system in Himalayan State.
Also Read:
1. Transforming Indian Politics: Exterminating Religious and Caste Based Ugliness
2. Politics in India: This is How one can become a Most Influencing Political Leader in India
Political Background Of Himachal Pradesh
According to 2011 Census, the total population of Himachal Pradesh is 68,64,602 persons, the strength of the Vidhan Sabha is 68 and it's contribution to Loksabha is 4 seats. At present state is the battlefield of two largest parties- Congress and BJP.
However, it took many decades for BJP to secure an esteemed place in Himachal Politics; it was not able to challenge Congress hegemony till the defining win of 1990, and if we look at the 65 years history since the foundation of Himachal Pradesh then Congress has ruled during most of the period.
In 1990, saffron party was not bestowed with handsome win and fallen apart in just two years, but it impacts on common minds was long lasting, this is why in 1998 public mandate was big and decisive, now it's rooted were fully established in rich soil and in total, it has ruled thrice so far.
Anurag Thakur- Synopsis of Biography
Profile Of Anurag Thakur Include Following Points:
Sr. No. Points Basic Details
Name - Anurag Singh Thakur
Date of Birth - 24 October 1974
Spouse and Children Wife - Shefali Thakur, has two sons (Udayveer Thakur and Jaiaditya Thakur)
Parents - Prof. Prem Kumar Dhumal & Smt. Sheela Devi
Brother's Name - Arun Singh
Home Address - Vill. & P.O. Samirpur, Distt. Hamirpur, Himachal Pradesh
Schooling - His schooling was done at Jalandhar in Dayanand Model School and he completed his BA from Doaba College, Jalandhar (Punjab).
Profession aside from Politics - Agriculturist, Ex-Cricketer and Industrialist
Member of Parliament since May 2008
Follow up on Twitter #Anurag Thakur on Twitter
Facebook Account @Anurag Thakur on Facebook


Anurag Thakur Walks On The Footprints Of Prem Kumar Dhumal
Prem Kumar Dhumal has excelled in all walks of life- may it be educations (MA, LLB) or family life, may it be social work or politics with principles; even his opponents recognise the hardship and honesty of this veteran Politician.
He held the position of vice-president of Bharatiya Janata Yuva Morcha in 1982, president of the Bharatiya Janata Party (BJP) in Himachal Pradesh from 1993, Leader of the Opposition in 2003 and served as chief minister of Himachal Pradesh two times.
As a chief minister he had worked with the mantra "sincere, serious and clear", and took many initiatives such as: reforming the system of potable drinking water and connecting it to remote villages, enforcing good law and order, Strengthening Panchayati Raj Institutions, Women empowerment, helping farmers to increase apple yield to record points, endorsing corruption free environment to promote industrial investment, Concept of 'Eco Tourism', Anti-pollution measures etc.
Prem Kumar Dhumal has emerged as a national figure who has managed to do something about corruption with his economically beneficial and popular moves and has evidently, it has paid off as the voters have firmly supported him election after election and being a sincere boy of this formidable leader, Anurag Thakur followed him like a shadow.
Today, Anurag Thakur easily connects with the band width of commoners is because he has well received the development agenda of Prem Kumar Dhumal. His down to earth and man to man contact; are the indications of his following footprints of his dad and political father.
Also Read:
1. Why Nehru Chose the Minority and Caste Based Politics
2. Donald Trump, Mind-Blowing Journey to the Political Apex & Super-Interesting Life-Facts
Political Background Of Anurag Thakur
Anurag Thakur is the popular voice of his Bamsan constituency in Hamirpur District as he remains vociferously vocal for development at all platforms; Though Hamirpur is the smallest district of Himachal with the population of 3,69,128 still comes in the elite category and hold top ranks on many parameters.
The region is mainly BJP dominating and of course, maximum credit goes to Prem Kumar Dhumal for remaining on a meridian for many decades. At present Anurag Thakur is a 3rd time elected member of Loksabha and is one of the youngest Parliamentarians in our country.
Because of his distinctive, straight and growth-oriented approach, he received the Best Young Parliamentarian Award in 2011 and has been recognized as "Young Global Leader 2014" by the World Economic Forum.
Every time he fought election from Hamirpur Constituency, his wave has surged beyond all imaginations and he has won with great margins while sweeping others:
Member of Parliament (M.P) – 14th LokSabha
Member of Parliament (M.P) – 15th LokSabha
Member of Parliament (M.P) – 16th LokSabha


This Is How Anurag Thakur Has Built Persona Of A Clean Politician
Being a sitting MP from Hamirpur constituency, Anurag Thakur has taken some very good steps like:
He is the pet choice of BJP workers not only in Bamsan or Hamirpur Constituency but in the whole country as he remained President of All India Bharatiya Janata Yuva Morcha for conjunctive three terms.
He has effectively raised the voice for the introduction of new trains and extension of rail links to Himachal Pradesh.
Himachal Pradesh is the homeland of great martyrs and soldiers and he had strongly advocated the One Rank One Pension for ex-servicemen as well other issues related to our great army men.
Anurag Thakur has become the first serving BJP MP to join Territorial Army as a Lieutenant.
Focus on Extension/maintenance of national highways.
He has been the instrument of constructing community centers, empowering rural areas and villages through Mahila Mandal bhavans, yuvak Mandal Bhawan, shamshan ghats, path/link roads, solar lighting, and playgrounds throughout the length and breadth of his constituency.
He has been able to secure his honest image by redressing grievances with impartial aids, discouraging appeasement politics and following uniformity in the allocation of MPLADS funds.
He has taken concrete steps to empower women through his Honour Our Women (HOW) Foundation.


Also Read:
1. Nathuram Godse: Reasons behind Mahatma Gandhi's assassination and links to RSS
2. This is how RSS has been Misrepresented for political scores
Anurag Thakur- Fine Sportsman
He is known for his highly interactive and multidimensional traits which he exhibits time to time.
He was the Captain of the Punjab U-19 cricket team and North Zone U-19 team that won the All India Championship, being a sports enthusiasts not only he remained active player (still active in many) but also Incharge/ 2nd In charge of many sports bodies like BCCI, Himachal Pradesh Cricket Association, Himachal Pradesh Olympic Association, Indian Olympic Association, Asian Cricket Council and Hockey India etc.
Himachal Pradesh Assembly Elections 2017
According to Anurag Thakur, landslide wins in Uttar Pradesh and Uttarakhand dictates that BJP and Narendra Modi have been able to sing in people's mind and same will continue in Himachal Pradesh Assembly Elections 2017.
Anurag Thakur has asserted: Victories in Uttar Pradesh and Uttarakhand Assembly polls are special as the BJP has got 3/4th majority. Similar trend will continue in Himachal Pradesh where BJP will win 60 seats. Bhoranj bypoll will be the beginning of a Congress-free Himachal Pradesh.
To elect the 68 members of the Himachal Pradesh Legislative Assembly elections are being held in late 2017.