Success is no accident. It is hard work, perseverance, learning, studying, sacrifice and most of all, and when it happens then this becomes motivation for all.
Donald Trump is one such tall figure who has done great journey from a stubborn child to political peaks and there are many personal & professional facts which will amuse a common man like- Inauguration Day Ceremony on January 20, 2017, his history of switching over to different Political-Parties, why he dislikes shaking hands, Trump's multiple marriages, make America great again campaign, his detailed Bio-Data, E-Mail controversy of Hillary Clinton and it's advantage to Trump, Prophecies about Donald Trump, Role of Russia in Trump's win, his mind-blowing Tweets, etc.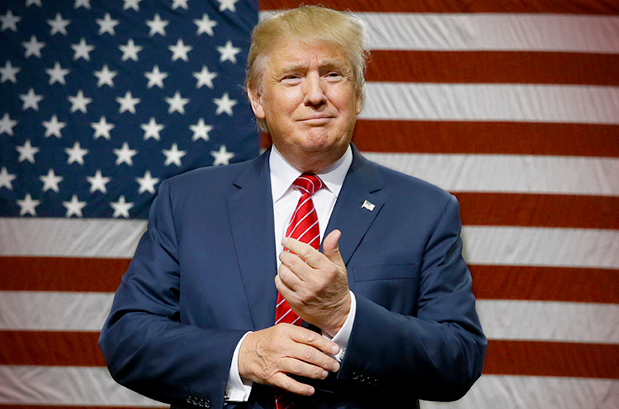 All these offer great flavors to readers who may like, dislike or get motivated by this patriotic world leader of our times. Donald Trump, Mind-Blowing Journey to the Political Apex & Super-Interesting Life-Facts
His Exceptional Bio-data
Also Read:  
1. If Donald Trump Is Right or Wrong, Anti Muslim Policies
2. Biography reveals M. S. Golwalkar (RSS): Paramount Influencer in Modi's Life
Let's have a glimpse over Trump's Bio-data in relation to his lifestyle, social status, and profile:
Age - 70 years as on Jan 2017 (DOB- 14/06/1946)
Birth Place - New York City
Residence At - Trump Tower located at Manhatten New York
What is special about his residence - Donald Trump along with his wife Melania lives on the Top Three Floors of Super Luxurious Penthouse, which has been decorated with 24 KG Gold 
Children/Kids - Donald Trump Jr., Ivanka Trump, Eric Trump, Tiffany Trump and Barron Trump
Net worth - $4.5 billion
Recently Enrolled with Republic Party since - 2012
Detail of Wives - He did three marriages, his first wife is Ivana Zelníčková (from 1977 to 1992), then Marla Maples (from 1993 to 1999), and his present wife Melania Knauss (since 2005 to at present)
Taking office as President of the USA - On 20th January 2017 as Successor of Barack Obama
If Trump Gamer is associated with him - No, indeed he does not own any & this is different professional video game player from US   
Donald Trump's Girlfriends - He has been known to dated many famous models and girls like Gabriela Sabatini, Rowanne, Brewer Lane, Carla Bruni, Allison Giannini, Jackie Siegel, Kara Young
Donald Trump's Favorite Cars - His top five favorite cars are Mercedes-Benz SLR McLaren, Rolls-Royce Silver Cloud, Rolls Royce Phantom, 1997 Lamborghini Diablo VT and Chevrolet Camaro Indianapolis 500 Pace Car
Most Famous Topics During Election - On immigration, Muslims ban, personal attacks on Hillary Clinton, Patriotism etc.
Ancestry - Paternal ancestors were German and maternal were Scottish
Education - Bachelor of Science
Twitter Account of Donald Trump - Donald Trump #Twitter
Facebook account of Donald Trump - Donald Trump @Facebook
Official Website of Trump - Donald Trump-Official Website
Trump's biography available online - Donald Trump-Biography


Donald Trump- From A Stubborn Child To A Successful Businessmen:
He was very naughty and stubborn child, that is why he was sent to New York Military School so that he could learn more discipline. However as he grew up then he positioned himself as a very successful businessman and today he owns more than 500 businesses; according to Bhartwa sources, he is running more than 500 real estate developments under his brand name. 
This is what Trump said about starting a business:
It has not been easy for me, it has not been easy for me. And you know I started off in Brooklyn, my father gave me a small loan of a million dollars.
Very Few People Know that he Loves His Family too Much
Since his brother died in 1982 due to drinking excessive & continuous alcohol, it was very hard for him to touch it again in his later life. Trump belonged to a family who was very rich i.e. if he hadn't gone into real estate business, he would still be rich as his father left him a huge wealthy inheritance. 
At present, he with his family lives at Trump Tower located at Manhattan in New York City which the tallest residential building in the world and has total 90 floors. He was very close to his mother and had said:
My mother had a sense of the grand. I can remember her watching the coronation of Queen Elizabeth and being so fascinated by it. My father had no interest in that kind of thing at all.
Donald Trump: Swing-over between Political Parties
Earlier, he has run for the presidential election through Reform Party in 2000 from California when he could not succeed and swang between different parties since he has his friends almost in every big Political Entity in America. He joined Republican Party in 1987, In 1999 switched over to Independence Party, in 2000 Reform Party, In 2001 he enrolled to Democratic Party and in 2009 he returned back to Republicans again and finally enrolled in 2012.
Why Trump Dislikes Shaking Hands
According to sources Trump is germaphobe i.e. he has the pathological fear of contamination and germs that is why he avoids shaking hands; He even avoids pushing lift button since that may have been touched by many people. 
Donald Trump has written in his book 'The Art of the Comeback,'
One of the curses of American society is the simple act of shaking hands, and the more successful and famous one becomes the worse this terrible custom seems to get.
If he is compelled to shake hands then he has a very interesting tactic of vigorously pulling the other person close to his body.
Trump's Make America Great Again Campaign
By this Donald Trump refers to 1940s and 50s era and considers that time as a golden period of American History in terms of world dominance, employment and law and order. Trump has said:
A big issue, a horrible issue, and a very important one. It's called law and order. We want law and order.
According to the FBI, rape cases have become threefold and murder rates are now higher than in the mid-1950s or 60s, Robbery has risen 70%, and burglary is up by 260%. There is a substantial rise in unemployment also- in 1950, 86% of men aged 16 and older in America were working. Now the figure is below 69%. People are now struggling for the job and are not able to find any due to the large competition and lack of opportunities. Industrial workers have suffered the most, with mining, IT and manufacturing jobs have been largely outsourced.
America has now greatly receded from its glorious past, now it is playing a less dominating role in world politics which instead it used to play earlier. America's stature has been greatly truncated due to China's possession in the South China Sea, Restraints of Retreat from Syria due to Russia's military blow, Situations in Iraq, the emergence of ISIS despite its great past involvements in middle-east and ever-threatening North Korea, etc.
Now developing countries like Pakistan are also not in alignment with America now. Trump connects all above issue to irresponsible policies of previous governments and call upon the nation, that we have to work together to Make America Great Again. His Slogan and rallies have won the heart of millions in America, whose intern responded with great support and elected Trump as by 45th President of America.
Also Read:  
1. What Will Happen If A War Breaks Out Between America And North Korea
2. Narendra Modi: Fascinating Unknown Moments of Childhood & Earlier Young Life
Email Controversy of Hillary Clinton who led the backdrop for her during Presidential Elections and Advantage to Donald Trump
Hillary Clinton who was united states secretary of state, was supposed to use SIPRNET (Secret Internet Protocol Router Network) for official correspondence and records, however she thwarted the Freedom of Information Act (FOIA) and maintained the connection with internet through her private family server, that too over unsecured connections, and this mishandling of classified information which is under the investigation through FBI could lead to punishment, if proved. It has also been said that her private server was synced to her Blackberry and therefore those emails could be accessed if her Blackberry was compromised.
How Donald Trump Reacted To Hillary Clinton's E-Mail Controversy
This is magnitudes worse, in my opinion and in the opinion of many people in law enforcement, this is worse than Watergate. Trump Said.
All the information which she had put on private servers was later hacked and released to the public domain through unknown hacking groups which came to public notice in March 2015. Revelations were not only damaging but devastating as there were thousands of secret emails about her Democratic Party and favor she had made for individual gains, confidential emails were sent or received by Clinton while she was outside the US, including some to or from her Ex- Boss President Barack Obama. 
The twist came when FBI Director James Comey announced the identification of 110 emails as containing information that was classified at the time it was sent and this was a great lead for Donald Trump during his political campaigns.
Did Russia Helped Donald Trump To Win Presidential Election
It is astonishing fact that American media responded very softly on Hillary Clinton's Email - Scam Controversy though it was a great point of national interest and was highly unethical and immoral. Afterwards when CIA publication revealed that there were some Russian Social Media groups who were presenting themselves as Trump Supporter and those may be favorable to trump and may be hostile to image of Hillary Clinton on Social Media Platforms, then Democrats started this using as weapon to falsify the public opinion and use 'Russian Name' to stigmatize the image of Donald Trump and even linked Clinton's hacking with Russia.
Certainly, it did not affect the mainstream public opinion during the election but it certainly has had some influence on how people voted, but the question is Whoever is careless with the truth in crucial matters cannot be trusted with important matters or greatest matter like electing president which not only matters for America but for the whole world.
America's Rivalry With Russia is Very Old;
The United States conducted its first nuclear test in 1945, Soviet Union conducted it's the first test in 1949. There has been an arms race and cold war and there is also the history of long conflicts, and unification of America-Russia can avoid ultimate ecological catastrophe & even make the earth spin in a different direction (which is highly unlikely). 
If Russians helped bring about power change in the USA then this would have parallels in the way the USA has regularly sought to alter, preserve, influence, modify or replace foreign governments, but in case of USA this is almost impossible and the point goes in Trump's favor as:
Donald Trump is not a spy, no links with Russia have been proved so far and whatsoever he says, he says fearlessly & openly in public.
Trump is a self-made person and a media Icon, his thoughts & ideologies are already disclosed in society.
If Trump had spoken about restoring the relationship with Russia; what is wrong with that, is it not the duty of country head to reduce tensions and endorse harmony-at least up to the extent it goes in the favor of nation. He is better than others who are developing a public excuse to punish Russia which is in nobody's favor, especially at the time when world spends $ 1.7 Trillion per annum for armaments.
China and Russia are poised to come together against US in future, therefore this is the critical time for America to break the duo and Trump's initiation could help the country address future great conflicts like- conflict of South China Sea.
Why has Barack Obama taken strict action against Russia at the conclusion of his 8 years reign and not earlier? This may just be to reduce the public bitterness towards Democrats by shifting public viewpoint towards Russia, otherwise, he could have simply passed this to Trump. This seems to be widespread misunderstanding only an act of linking Trump to Vladimir Putin seems to be just an attempt to malign the image of Donald Trump, a proven winner of presidential elections. Democrats must accept the truth and introspect as the act of spilling ink on Trump will result in witnessing of their on demonization.


Prophecies About Donald Trump
Predictions are based on some techniques like the study of different positions of celestial objects, however, do these ever come true is always a matter of debate. Just recall the example of Baba Vanga's 1979 prophecy about mighty Russia rising as the world's single superpower and claiming Barack Obama as the Last-Potus, both prophecies have been proved false. 
However, the fact is no prophecy can be "legitimate" until after it's been fulfilled and surprisingly there are some people who go on prophesying even when their 90% prophecies do not come true on scrutiny of time. However, this may be just coincidence or by chance or through the unimaginable display of intuition that Prophecy of Mark Taylor's prophecy about Trump has come true.
According to Mark Taylor In April 2011 he had received the message of god about Great future of America in which God Said to him:
Donald Trump had been chosen to lead the United States of America to "bring honor, respect, and restoration." He has mentioned the incident in detail much before the outset of Presidential Elections on TruNews—Radio Interview with Mark Taylor about Prophecy related to Donald Trump.
Also Read:  
1. See How One Realistic Idea Can Change Your Entire Life!
2. Know the Top Reasons – Why Arvind Kejriwal has Failed Blatantly in Delhi
Trump's Mind-Blowing Tweets Which Marginalized His Opponents
According to research- Donald Trump's celebrity-type Tweets have helped him win the US presidential elections. He goes by many names on Twitter like Entertainer, Savior, Funnyman, Strong Man, etc. which his supporters have given, and also many Bad Names which he received from his opponents in hate.
The name he has given to his opponents has withdrawn great media attention, for example- Crazy Bernie, Crooked Hillary, Little Marco, Lyin' Ted, Low Energy' Jeb, 1 for 38 Kasich, Goofy Elizabeth Warren……….and so on. Certainly having bestowed catchy nicknames upon his friends and foes gave him great publicity and he got registered in people's mind as highly interactive personality.
Inauguration Day Ceremony of Donald Trump- As 45th President of America on January 20, 2017
There is a tradition of the inauguration of President of US in a great public ceremony since 1937, during this ceremony Chief Justice (current-John Roberts)  administers the oath to presidential office on the West Front of the United States Capitol Building in Washington, D.C.
Jan. 19 - Programme Related to Oath Ceremony (Previous day schedule): Trump and Pence will present garland on the memorial of Unknown Soldier in Arlington National Cemetery. Afterwards, there will be Band March at the -Voices of the People. Band March will follow several events - "Make America Great Again! Welcome" concert at the Lincoln Memorial, evening concert- 4 to 6 PM will include performances from Toby Keith, Jon Voight and the Band of doors and this will finally end with the fireworks show.
Department of Homeland Security and Emergency Management is expecting 800,000 to 900,000 citizens to attend the inauguration festivities on January 20, 2017. On that day before concert President Barack Obama and President-elect Trump will share a cup of tea and will also attend church services at St. John's Episcopal near the White House.